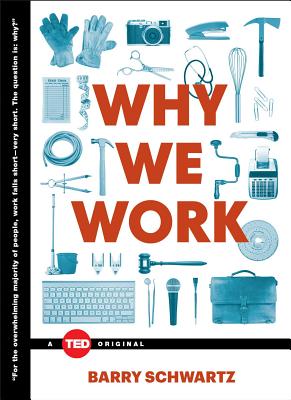 Why We Work (TED Books)
Hardcover

* Individual store prices may vary.
Other Editions of This Title:
Digital Audiobook (8/31/2015)
Digital Audiobook (3/22/2021)
Compact Disc (4/1/2021)
Description
An eye-opening, groundbreaking tour of the purpose of work in our lives, showing how work operates in our culture and how you can find your own path to happiness in the workplace.

Why do we work? The question seems so simple. But Professor Barry Schwartz proves that the answer is surprising, complex, and urgent.

We've long been taught that the reason we work is primarily for a paycheck. In fact, we've shaped much of the infrastructure of our society to accommodate this belief. Then why are so many people dissatisfied with their work, despite healthy compensation? And why do so many people find immense fulfillment and satisfaction through "menial" jobs? Schwartz explores why so many believe that the goal for working should be to earn money, how we arrived to believe that paying workers more leads to better work, and why this has made our society confused, unhappy, and has established a dangerously misguided system.

Through fascinating studies and compelling anecdotes, this book dispels this myth. Schwartz takes us through hospitals and hair salons, auto plants and boardrooms, showing workers in all walks of life, showcasing the trends and patterns that lead to happiness in the workplace. Ultimately, Schwartz proves that the root of what drives us to do good work can rarely be incentivized, and that the cause of bad work is often an attempt to do just that.

How did we get to this tangled place? How do we change the way we work? With great insight and wisdom, Schwartz shows us how to take our first steps toward understanding, and empowering us all to find great work.
Praise For Why We Work (TED Books)…
"Barry Schwartz has long been one of the most astute — and compassionate — observers of American life. In Why We Work, he makes a compelling case for building organizations that run with the grain of human nature rather than against it. If you want to make work more meaningful, for yourself or for your team, you need to read this wise and powerful book."
— Daniel H. Pink, author of Drive

"In a masterful book that delivers a deep understanding why we work, Schwartz makes a convincing case that getting the answer wrong bears profound costs for employees and managers in any organization. A highly recommended, thought-provoking read."
— Amy Wrsesniewski, Professor of Organizational Behavior, Yale University

"A meaningful look at why we've lost meaning at work, and where we can find it."
— Adam Grant, Wharton professor and New York Times bestselling author of Give and Take

"A delightful, accessible book that glides across centuries of business and industry to reveal the underpinning moral foundations of how and why we work. If you have a job, or hope to have one, read Why We Work"
— Laszlo Bock, Senior Vice President of People Operations at Google and author of Work Rules!

"Invoking plenty of Adam Smith, Karl Marx, John Maynard Keynes, and even a bit of Bruce Springsteen, Schwartz's inspiring manifesto forces us to question the very nature of modern-day work… Via fascinating anecdote and plenty of data, the book forcefully claims that how we work isn't working."
— HuffPost Books

"A concise 90-page treatise on work that should be required reading for every boss and manager."
— Chicago Tribune

"A terse and engaging book…[a] fine book."
— Forbes.com
Simon & Schuster/ TED, 9781476784861, 112pp.
Publication Date: September 1, 2015
About the Author
Barry Schwartz is a professor of psychology at Swarthmore College and the author of Why We Work, The Paradox of Choice, and Practical Wisdom. His articles have been published in The New York Times, The New York Times Magazine, the Chronicle of Higher Education, Parade Magazine, USA TODAY, Advertising Age, Slate, Scientific American, The New Republic, Harvard Business Review, and The Guardian, and he has appeared on dozens of radio shows, including Morning Edition, Talk of the Nation, Anderson Cooper 360, and CBS Sunday Morning.
or
Not Currently Available for Direct Purchase