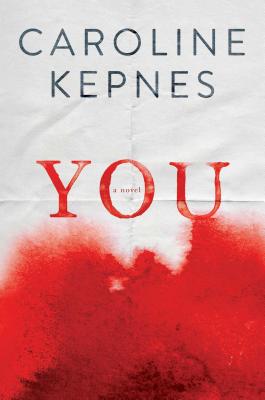 You
A Novel
Hardcover

* Individual store prices may vary.
Other Editions of This Title:
Digital Audiobook (9/29/2014)
Paperback (8/28/2018)
Paperback (6/16/2015)
Library Binding, Large Print (10/1/2020)
CD-Audio (9/30/2014)
Mass Market (8/28/2018)
Paperback (6/18/2015)
Description
*Soon to be a Lifetime drama series*

"Hypnotic and scary." —Stephen King

"I am RIVETED, AGHAST, AROUSED, you name it. The rare instance when prose and plot are equally delicious." —Lena Dunham

From debut author Caroline Kepnes comes You, one of Suspense Magazine's Best Books of 2014, and a brilliant and terrifying novel for the social media age.

When a beautiful, aspiring writer strides into the East Village bookstore where Joe Goldberg works, he does what anyone would do: he Googles the name on her credit card.

There is only one Guinevere Beck in New York City. She has a public Facebook account and Tweets incessantly, telling Joe everything he needs to know: she is simply Beck to her friends, she went to Brown University, she lives on Bank Street, and she'll be at a bar in Brooklyn tonight—the perfect place for a "chance" meeting.

As Joe invisibly and obsessively takes control of Beck's life, he orchestrates a series of events to ensure Beck finds herself in his waiting arms. Moving from stalker to boyfriend, Joe transforms himself into Beck's perfect man, all while quietly removing the obstacles that stand in their way—even if it means murder.

A terrifying exploration of how vulnerable we all are to stalking and manipulation, debut author Caroline Kepnes delivers a razor-sharp novel for our hyper-connected digital age. You is a compulsively readable page-turner that's being compared to Gone Girl, American Psycho, and Stephen King's Misery.
Praise For You: A Novel…
"Hypnotic and scary...never read anything quite like it."
— Stephen King

"I am RIVETED, AGHAST, AROUSED, you name it. The rare instance when prose and plot are equally delicious."
— Lena Dunham

"YOU is superb. So funny, apart from anything else, and properly clever. It is: different, hot."
— Sophie Hannah, New York Times bestselling author of The Monogram Murders and The Other Woman's House

"An impending sense of dread hangs over Kepnes' cleverly claustrophobic debut, in which love takes on a whole new meaning...Kepnes keeps the reader guessing."
— Kirkus Reviews

"Compelling."
— Entertainment Weekly

"Intense and deeply disturbing, You is a dark story told in a fresh voice, and an addictive read from beginning to end. Being inside Joe Goldberg's head was both a thrill and a nightmare, and yet I didn't want to wake up. I look forward to more from the very talented Caroline Kepnes."
— Jennifer Hillier, author of THE BUTCHER

"Chilling...[Kepnes' YOU] will have readers looking over their shoulders."
— Publisher's Weekly

"Chilling...unrelenting."
— USAToday.com

"A deeply dark yet mesmerizing first novel of two people caught in a romantic tangle with an ever-tightening knot."
— Booklist

"This beautifully crafted thriller... will give you chills."
— People

"Ominous."
— Us Weekly

"Both original and compelling. If you only read one new thriller this year, make it this one. It will stay with you long after you have put it down."
— Geoffrey Wansell

"You think you know the story: girl meets boy, boy turns out to be a murderous stalker. US journalist Kepnes' debut is a fantastically creepy thriller...the kind of book you put your life on hold for."
— Glamour

"A page turner...clever and chilling."
— Elle (UK)

"A brilliant tale of obsessive love...it's GONE GIRL meets a sinister version of GIRLS."
— Marie Claire (UK)

"Is Caroline Kepnes' 'You' the next GONE GIRL? It'll take you inside a psychopath's head... and might even make you like him. A mad and macabre love story."
— TimeOut Australia

"Could be the next GONE GIRL...a perverse suspense romance about obsession, sex, and secrets."
— PopSugar.com

"All-consuming – a book that will not release its hold on you, even when you are not actively reading it."
— BoloBooks.com

"You…had the page-turning quality of classic (Stephen) King at his peak."
— The Devil's Advocate

"Kepnes'debut novel is gripping in both substance and style."
— Closer Magazine

"You is a deliciously terrifying stalker tale that grabbed hold of me on page one and kept me captivated right until the very end…Utterly unputdownable."
— Kathryn's Inbox

"If you like twisted psychological horror with a liberal dose of hip and more than a dollop of perversion, this one's for you!"
— Pages Podcast

"If you liked GONE GIRL'S portrayal of a marriage in decline, the demented love story at the heart of YOU will have you gripped….This book will give you Stockholm syndrome."
— Harpers Bazaar (UK)

"You by Caroline Kepnes completely blew me away…It's an exceptional thriller that is chillingly passionate, dangerous, and quite often left me speechless."
— The Book Ramblings

"Dark and disturbed,You is definitely a must read."
— That's What She Read

"You was addicting and compelling."
— Books with Cass

"A very sexy page turner."
— Chester County Books

"Wholly engrossing…I will not be forgetting this one for a while!"
— The Insomniac Bibliophile

"To say You was intense would be the understatement of the year... Nothing I have read remotely compares... It's so sick and twisted and yet magnificently brilliant. Read YOU."
— Book Addicts NSA

"One of the best books that I have read this year…From page one of this book, I knew it was going to be something that gripped me…I cannot wait to read what comes next from Caroline. Her voice is original and her writing style captures modern society down to every hashtag."
— Art Books Coffee

"Couldn't get the story out of my mind…Joe's complex and flawed character and [the] suspenseful tone of his story will...keep you turning the pages."
— Way Too Hot Books

"Kepnes has penned her own version of the 'stalker' novel. It's different – and it's darn good."
— A Bookworm's World

"Gripping, erotic, suspenseful... yes, it's the next Gone Girl."
— Splice Today

"I finished You a day ago, and Joe's voice is still in my head…I was so impressed with everything about this book, I have no choice but to give it 5 stars. I look forward to reading her work in the future."
— The Literary Gossip

"An absolutely creepy novel of obsession, You is told from a rare point of view—that of the stalker—and is as absolutely chilling as it is absorbing. Fans of psychological thrillers shouldn't miss this intriguing debut."
— Skrishnasbooks.com

"[I] devoured every page and enthusiastically recommended others do the same…I'm going to scoop up everything Kepnes writes... Probing, visionary and intricate, [You] makes me excited to read whatever she comes up with next."
— The Joplin Globe

"Compulsively readable... deliberately seductive."
— Curled Up with a Good Book

"Completely unique...it scares me to the core."
— Fictional Candy

"Reminiscent of Gone Girl, but with a darker, more chilling tone."
— Pubslush

"Completely and utterly scary, but masterful all the same."
— The Insatiable Bookie

One of The Daily Mail's Crime Book Picks of 2014
— The Daily Mail (UK)

"Stunningly marvelous...Highly recommended."
— Peter Kelton

"Evilly fantastic."
— Leah Raeder, author of UNTEACHABLE and CAMGIRL

"YOU is punch-you-in-the-face stunning. Caroline Kepnes takes her readers by the hand and masterfully leads them into an ever darkening, twisted and delicious tale full of sharp psychological edges. This book needs to find its way onto the bookshelf of every reader of mysteries and thrillers."
— Allen Eskens, author of The Life We Bury

"This is one of the most unsettling books I've read this year, but despite being thoroughly creeped out, I couldn't put it down even for a second. It's narrated by the villain, which makes for a rather unnerving read. I even found myself accidentally rooting for him as he was about to commit pretty heinous crimes. Whoops."
— Bustle

"Kepnes does a brilliant job of letting us into the brittle mind of a beguiling psychopath."
— Boston Globe
Atria/Emily Bestler Books, 9781476785592, 432pp.
Publication Date: September 30, 2014
About the Author
Caroline Kepnes is from Cape Cod, Massachusetts. Her first novel You was translated into nineteen languages, shortlisted for a CWA New Blood Award, and made into a TV series airing on Lifetime. Her second novel Hidden Bodies is a sequel that Booklist describes as "the love child of Holden Caulfield and Patrick Bateman." Her most recent novel is Providence. Caroline earned a BA in American Civilization at Brown University and worked as a pop culture journalist on Entertainment Weekly and a TV writer on 7th Heaven. She now writes full-time and lives in Los Angeles.
or
Not Currently Available for Direct Purchase