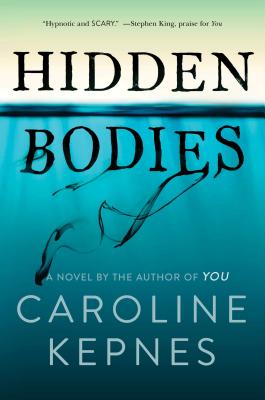 Hidden Bodies
(A You Novel)
Hardcover

* Individual store prices may vary.
Other Editions of This Title:
Digital Audiobook (2/22/2016)
Paperback (11/1/2016)
Library Binding, Large Print (11/1/2020)
Compact Disc (1/15/2019)
Description
THE RIVETING SEQUEL TO THE HIT BOOK YOU, NOW A NETFLIX SERIES

"Kepnes hits the mark, cuts deep, and twists the knife." —Entertainment Weekly

"Delicious and insane...The plot may be twisty and scintillating, but its Kepnes's wit and style that keep you coming back." —Lena Dunham

"Hypnotic and scary." —Stephen King

"Obsessed." —Jessica Knoll, New York Times bestselling author of Luckiest Girl Alive

In the compulsively readable sequel to her widely acclaimed debut novel, You, Caroline Kepnes weaves a tale that Booklist calls "the love child of Holden Caulfield and Patrick Bateman."

Joe Goldberg is no stranger to hiding bodies. In the past ten years, this thirty-something has buried four of them, collateral damage in his quest for love. Now he's heading west to Los Angeles, the city of second chances, determined to put his past behind him.

In Hollywood, Joe blends in effortlessly with the other young upstarts. He eats guac, works in a bookstore, and flirts with a journalist neighbor. But while others seem fixated on their own reflections, Joe can't stop looking over his shoulder. The problem with hidden bodies is that they don't always stay that way. They re-emerge, like dark thoughts, multiplying and threatening to destroy what Joe wants most: true love. And when he finds it in a darkened room in Soho House, he's more desperate than ever to keep his secrets buried. He doesn't want to hurt his new girlfriend—he wants to be with her forever. But if she ever finds out what he's done, he may not have a choice…
Praise For Hidden Bodies: (A You Novel)…
"There's something deeply insidious about the storytelling of Caroline Kepnes. As satire of a self-absorbed society, Kepnes hits the mark, cuts deep, and twists the knife."
— Entertainment Weekly
"Delicious and insane as its predecessor....The plot may be twisty and scintillating, but its Kepnes' wit and style that keep you coming back."
— Lena Dunham
"Obsessed."
— Jessica Knoll, New York Times bestselling author
"With
Hidden Bodies
(out today), Caroline Kepnes delivers a more riveting, more chilling, more fascinating sophomore novel as our favorite sociopath Joe Goldberg takes on Hollywood… suspenseful, charming and unexpectedly poetic…With her singular style, endearing antihero and captivating social satire, Kepnes will leave you entirely satisfied and ready for more."
— USA Today: Happy Ever After
"[A] clever, canny and creepy tale that's every bit as delectable as YOU. Caroline Kepnes is my latest obsession."
— Mary Kubica
"The next
Gone Girl
is a title that's been tossed around considerably in literary circles, but Kepnes' sophomore effort is worthy of the comparison."
— Instyle
"You will need this book.
Caroline Kepnes
just became my new favorite writer."
— Colleen Hoover, #1 New York Times Bestselling Author
"A dark, fun and frightening character study that deeply (and I do mean deeply) explores the hypocrisy of the trendsetters of the moment and those who follow them."
— bookreporter.com
"With its scathing social satire and loathsome yet strangely charming leading man, Kepnes' sophomore effort is well worth the read."
— Kirkus
"The story reads like the love child of Holden Caulfield and Patrick Bateman but without the gore and misogyny, which means nothing stands in the way of the reader enjoying Joe's cynical, murderous charm. Though it is a sequel to
You
(2014),
Hidden Bodies
may be even better on its own."
— Booklist
"His running commentary on life in L.A. brings to mind the
American Psycho
narrator's cynical views, and Joe's twisted attempts at relationships will appeal to fans of
Dexter
."
— Library Journal
"Remarkably, the author convinces the reader to empathize with her killer protagonist."
— Publishers Weekly
"[Kepnes] shows us our essential vulnerability, and how easy it is to fall in love with someone not because of who they are but because they reflect back to us our most cherished ideals and secret points of pride."
— Literary Hub
"Compulsively readable."
— BookBub
"What's truly killer about this book is Kepnes' verbal pyrotechnics."
— New York Daily News
"Both a tense story of a monster and a fascinating psychological study, the book dares you to empathize with a killer while keeping you guessing as to what will happen next."
— Barnes & Noble
"For a tale as dark as a winter day, tuck into Caroline Kepnes' psychological thriller
Hidden Bodies,
the sequel to Kepnes' lauded
You
."
— Watch! Magazine
"Chilling...[Kepnes' YOU] will have readers looking over their shoulders."
— Publisher's Weekly
"An impending sense of dread hangs over Kepnes' cleverly claustrophobic debut, in which love takes on a whole new meaning...Kepnes keeps the reader guessing."
— Kirkus Reviews
"Chilling...unrelenting."
— USAToday.com
"A deeply dark yet mesmerizing first novel of two people caught in a romantic tangle with an ever-tightening knot."
— Booklist
"This beautifully crafted thriller... will give you chills."
— People
"Ominous."
— Us Weekly
"Both original and compelling. If you only read one new thriller this year, make it this one. It will stay with you long after you have put it down."
— Geoffrey Wansell
"You think you know the story: girl meets boy, boy turns out to be a murderous stalker. US journalist Kepnes' debut is a fantastically creepy thriller...the kind of book you put your life on hold for."
— Glamour
"A page turner...clever and chilling."
— Elle (UK)
"A brilliant tale of obsessive love...it's GONE GIRL meets a sinister version of GIRLS."
— Marie Claire (UK)
"Compelling."
— Entertainment Weekly
"Is Caroline Kepnes' 'You' the next GONE GIRL? It'll take you inside a psychopath's head... and might even make you like him. A mad and macabre love story."
— TimeOut Australia
"Could be the next GONE GIRL...a perverse suspense romance about obsession, sex, and secrets."
— PopSugar.com
"If you liked GONE GIRL'S portrayal of a marriage in decline, the demented love story at the heart of YOU will have you gripped….This book will give you Stockholm syndrome."
— Harpers Bazaar (UK)
"YOU is superb. So funny, apart from anything else, and properly clever. It is: different, hot."
— Sophie Hannah, New York Times bestselling author of The Monogram Murders and The Other Woman's House
"[I] devoured every page and enthusiastically recommended others do the same…I'm going to scoop up everything Kepnes writes... Probing, visionary and intricate, [
You
] makes me excited to read whatever she comes up with next."
— The Joplin Globe
"Seductive."
— Curled Up with a Good Book
"Joe is a horribly funny, strangely seductive narrator to spend time with—bitingly intelligent and simultaneously misanthropic and desperate for love. . . It's hard not to end up rooting for him."
— The Observer
"5 Stars for
Hidden Bodies
which is a witty, laugh-out-loud, testimony to our culture and frightening enough to leave your heart racing."
— Reads & Reviews
"Kepnes' writing style has gotten rave reviews from a ton of acclaimed authors including Stephen King, who calls it, 'hypnotic and scary.' If Stephen King finds it scary, you know it's going to be a wild ride!"
— Redbook
Atria/Emily Bestler Books, 9781476785622, 448pp.
Publication Date: February 23, 2016
About the Author
Caroline Kepnes is from Cape Cod, Massachusetts. Her first novel You was translated into nineteen languages, shortlisted for a CWA New Blood Award, and made into a TV series airing on Lifetime. Her second novel Hidden Bodies is a sequel that Booklist describes as "the love child of Holden Caulfield and Patrick Bateman." Her most recent novel is Providence. Caroline earned a BA in American Civilization at Brown University and worked as a pop culture journalist on Entertainment Weekly and a TV writer on 7th Heaven. She now writes full-time and lives in Los Angeles.
or
Not Currently Available for Direct Purchase