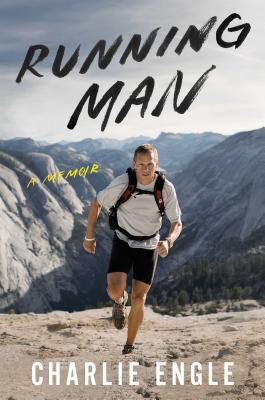 Running Man
A Memoir
Hardcover

* Individual store prices may vary.
Other Editions of This Title:
Digital Audiobook (9/12/2016)
Paperback (9/5/2017)
Hardcover (9/8/2016)
Compact Disc (4/2/2019)
Description
A compulsively readable, remarkably candid memoir from world class ultra-marathon runner Charlie Engle chronicling his globe-spanning races, his record-breaking run across the Sahara Desert, and how running helped him overcome drug addiction…and an unjust stint in federal prison.

After a decade-long addiction to crack cocaine and alcohol, Charlie Engle hit bottom with a near-fatal six-day binge that ended in a hail of bullets. As Engle got sober, he turned to running, which became his lifeline, his pastime, and his salvation. He began with marathons, and when marathons weren't far enough, he began to take on ultramarathons, races that went for thirty-five, fifty, and sometimes hundreds of miles, traveling to some of the most unforgiving places on earth to race. The Matt Damon-produced documentary, Running the Sahara, followed Engle as he lead a team on a harrowing, record breaking 4,500-mile run across the Sahara Desert, which helped raise millions of dollars for charity.

Charlie's growing notoriety led to an investigation and a subsequent unjust conviction for mortgage fraud. Engle would spend sixteen months in federal prison in Beckley, West Virginia. While in jail, he pounded the small prison track, running endlessly in circles. Soon his fellow inmates were joining him, struggling to keep their spirits up in dehumanizing circumstances.

In Running Man, Charlie Engle tells the gripping, surprising, funny, emotional, and inspiring story of his life, detailing his setbacks and struggles—from coping with addiction to serving time in prison—and how he blazed a path to freedom by putting one foot in front of the other. This is a propulsive, raw, and triumphant story about finding the threshold of human endurance, and transcending it.
Praise For Running Man: A Memoir…
"Running Man is Charlie Engle's rigorous and humane reckoning with his own extraordinary life. It follows him to wondrous and painful places—from triumphant determination on Andean peaks to desperation on the streets of Wichita, from camaraderie in the middle of the Gobi desert to despair and community in a West Virginia federal penitentiary.

Engle is a man drawn to the sensation of pushing himself fully, and he's found various kinds of extremity in all sorts of places—in a crack pipe and in a brutal four-month run across the length of the Sahara. He has also found himself, in powerful ways, in ordinary relationships—in partnership and fatherhood—and this book is a moving account of his attempt to reconcile his hunger for extremity with his commitments to the ones he loves.

Engle reports on the difficult and joyous places to which his suffering has delivered him, but he reports on them with wit, and candid self-interrogation, and genuine curiosity. He never takes himself too seriously, but he does take seriously the questions of where we find meaning and freedom, as well as the question of what might grant him—or anyone—the sense of a life well-lived."--Leslie Jamison, New York Times bestselling author of The Empathy Exams

"Running Man is a fascinating story about a man who has shattered the limits of human endurance and lived life on the edge."--Dean Karnazes, endurance athlete runner and best-selling of author of RUN! 26.2 Stories of Blisters and Blissand Ultramarathon Man

"Running Man will make you cry, laugh, cheer out loud, redefine what you think is possible and leave you in awe. Most of all, it is a powerful and unfailingly authentic testimony to something we all share — what it means to be truly human."--Rich Roll, endurance athlete, best-selling author of Finding Ultra: Rejecting Middle Age, Becoming One of the World's Fittest Men, and Discovering Myself

"Riveting. Running Man gets at the heart—better than anything I've ever read about endurance sports—of what compels a person to compete in the world's toughest foot races. Charlie probes his own life and psyche with remarkably honesty, offering the reader a portrait of a world class athlete, but also an addict, an inmate, a son, a father and a man committed to his own sobriety and sanity. Thanks to this book I finally understand what drives the spirit of ultra runners."--Chris Kostman, Chief Adventure Officer and Race Director AdventureCORPS, Inc.

"Running Man is a fascinating read, proving something I always believed, that running is the ultimate faith healer, restoring belief not only in oneself but in life's possibilities."--Bart Yasso, author of My Life on The Run and Chief Running Officer at Runners World

"Whether surviving the pain of ultra marathon running or of incarceration, this is a story of redemption and courage in the face of adversity. "--Mary Gadams, Founder, RacingThePlanet, 4 Deserts Race Series

"An open tale of one mans battle with two addictions. When he finally puts the substance addiction in check, the power of the human spirit shines and his need to run prevails!"--Matt Long, author of The Long Run



"Ignore the title of this book, the cover shot of its author, along with his staggering running resume. For this is not a book about running, but rather a tale about human capacity: for misery, for self-destruction, for rebirth, for redemption, for grace, and most importantly, for love. This one's got it all."--Caleb Daniloff, author of Running Ransom Road and co-author of November Project

"First-time author Engle's fascinating account of the high and low points of his life as an ultramarathon runner is written with cinematic quality…uplifting and inspirational."--Publishers Weekly

"Running Man is a captivating insight into how Engle forged the ability to conquer the impossible by overcoming physical and mental challenges so brutal they would break most people." --Joe De Sena, Founder & CEO, Spartan Race

"A fast-paced, well-written account of a man who accepts pain, pushes beyond imagined limits, and ultimately finds redemption and peace."--Booklist

"[A] turbulent journey from addiction to recovery to sports world fame."--New York Post

"Harrowing."--The New York Times
Scribner, 9781476785783, 304pp.
Publication Date: September 13, 2016
About the Author
Charlie Engle is a world-renowned ultra-marathon runner, having won or placed in some of the planet's most punishing long-distance footraces. In 2007, Matt Damon produced and narrated Running the Sahara, a film about Engle and his successful bid to become the first person to run 4500 miles across the Sahara Desert. Engle has been featured in Men's Journal, Outside, National Geographic Weekend, Oxford American, Runner's World, The Huffington Post, PBS's Need to Know, NBC's Rock Center with Brian Williams, The Tonight Show with Jay Leno, and NPR's All Things Considered. He lives in North Carolina.
or
Not Currently Available for Direct Purchase