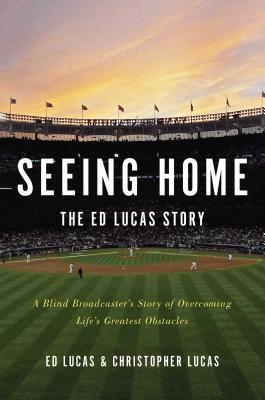 Seeing Home
The Ed Lucas Story: A Blind Broadcaster's Story of Overcoming Life's Greatest Obstacles
Hardcover

* Individual store prices may vary.
Other Editions of This Title:
Digital Audiobook (4/20/2015)
Paperback (12/31/2045)
Description
Soon to be a major motion picture, Seeing Home: The Ed Lucas Story is the incredible true tale of a beloved Emmy-winning blind broadcaster who refused to let his disability prevent him from overcoming many challenging obstacles and achieving his dreams.

In 1951, when he was only twelve years old, Ed Lucas was hit between the eyes by a baseball during a sandlot game in Jersey City. He lost his sight forever. To cheer him up, his mother wrote letters to baseball superstars of the day, explaining her son's condition. Soon Ed was invited into their clubhouses and dugouts, as the players and coaches personally made him feel at home.

Despite the warm reception he got from his heroes, Ed was told repeatedly by others that he would never be able to accomplish anything worthwhile because of his limitations. But Hall-of-Famer Phil Rizzuto became Ed's mentor and encouraged him to pursue his passion—broadcasting. Ed then overcame hundreds of barriers, big and small, to become a pioneer—the first blind person covering baseball on a regular basis, a career he has successfully continued for six decades.

Ed may have lost his sight, but he never lost his faith, which got him through many pitfalls and dark days. When Ed's two sons were very young, his wife walked out and left him to raise them all by himself, which he did. Six years later, Ed's ex-wife returned and sued him for full custody, saying that a blind man shouldn't have her kids. The judge agreed, tearing Ed's sons away from their father's loving home. Ed fought the heartbreaking decision with appeals all the way up to the highest level of the court system. Eventually, he prevailed, marking the very first time in US history that a disabled person was awarded custody over a non-disabled spouse.

Even in his later years, Ed is still enjoying a remarkably blessed life. In 2006, he married his second wife, Allison, at home plate in old Yankee Stadium, the only time that such a thing ever happened on that iconic spot. Yankee owner George Steinbrenner himself catered the whole affair, which was shown live on national television.

Seeing Home: The Ed Lucas Story is truly a magical read and a universally uplifting and inspirational tale for everyone, whether or not you happen to be a sports fan. Over his long and amazing life, Ed has collected hundreds of anecdotes from his personal relationships and encounters with everyone, from kings and presidents to movie stars and sports Hall-of-Famers, many of which he shares in this memoir, using his trademark humorous and engaging style, cowritten with his youngest son, Christopher.
Praise For Seeing Home: The Ed Lucas Story: A Blind Broadcaster's Story of Overcoming Life's Greatest Obstacles…
"A memoir of faith and perseverance after a dramatically life-altering circumstance...a marvel of a story. Easy to read, this tender, occasionally sappy narrative shines most as an illustration of faith at work...Most importantly, Lucas's contributions to sports journalism are invaluable, and the book is a testament to the experiences of a man intimately tied to the game throughout the modern era. Filled with a life-affirming sincerity that challenges us to put our lives in greater perspective."
— Kirkus

"Lucas has an admirable and irresistible capacity for genuine introspection, and his inviting, straightforward narrative, written with his son, shows a fearful teen who thought his life was over evolving into a young man who views his blindness as "not a handicap [but] an inconvenience" with unstinting family support...For the fans of America's favorite pastime, this book..will only enhance the legacy of one of the broadcasting pioneers of the sport."
— Publishers Weekly

"For Ed Lucas to be able to do what he's done on a daily basis for all of these years is amazing. I have an incredible amount of admiration for him, and am inspired by his story."
— Don Mattingly

"Ed Lucas is a truly remarkable man. He is an inspiration to many parents who seek the very best for their children. Everyone with dreams should realize that with determination it is often possible to achieve great things - as Ed Lucas did - in our wonderful country."
— Justice Samuel Alito

"We have spent our lives as screenwriters trying to invent stories as emotional, as exciting, as funny, and as triumphal as Ed Lucas' real life. We're still trying."
— Lowell Ganz and Babaloo Mandel, screenwriters of A League of Their Own and Parenthood

"Ed's compelling story reads so well because he's been so blessed. He may be blind, but he's got lots of vision."
— Ron Swoboda

"An American hero with a winning smile and a wonderful way with words, Ed Lucas' life story is touching and inspirational. He's a great example for us all."
— Tony Lo Bianco

"Ed Lucas, a blind man, sees more deeply than most. His life shows us the important things we might miss."
— Bob Dotson, NBC's TODAY Show Correspondent, New York Times Best Selling Author of American Story

"Ed is a special individual that never let his lack of eyesight stop him. He always has a smile and a handshake to make you feel at ease. He's a great guy and an even better friend."
— Rick Cerone

"Ed Lucas not only overcame blindness, he has taken his adversity and become a trailblazer, doing things people said could never be done, helping thousands of others along the way."
— Karl Nelson (New York Giants 1986 Super Bowl XXI champion)

"What is remarkable about Ed Lucas is that people don't pity him for his disability, because he acts as if it were a mere inconvenience. His life story, his sense of humor, and his dedication to helping those who are also facing challenges and disabilities are all truly inspirational."
— Don Gould (NBC New York sports anchor)

"Ed Lucas has consistently shown how knowledgeable he is. He's also very funny. I love to spend time around him, listening to his many stories."
— Tommy John

"Despite his share of setbacks, Ed Lucas has always kept his unique perspective and observation of life, for the last sixty some-odd years as a successful broadcaster."
— Warner Wolf

"Hearing Ed's story always makes me feel like a twenty game winner. He has overcome every single challenge he's faced in his life and stands as a positive inspiration to everyone."
— Al Santorini

"I can't recall any encounter with Ed that didn't end with a smile. No matter what life has placed in his path, he's always been a helper, a selfless giver. Just ask the many families who have benefitted from, and been inspired by, his remarkable story."
— Bill Daughtry (ESPN radio host)

"Ed's story is a reflection of the possibilities that exist when a desire is there in a person to succeed - no matter what the obstacles – by calling on strong faith, hope, and persistence. Then Ed gave back by helping to motivate others. The Good Lord chose a very special person in Ed Lucas to carry out a mission that has had a positive impact on so many."
— Fred Cambria

"Ed Lucas had his eye sight taken from him as a youth, but it's far from a handicap for this courageous and talented man. His inner vision exceeds most. I always enjoy taking a trip through Ed's life. From his rough beginnings, to his friendships with some of the biggest stars of our time, to his struggles and successes as both a single father and a broadcaster, Ed Lucas is a true inspiration."
— Spencer Ross, Hall of Fame broadcaster
Gallery/Jeter Publishing, 9781476785837, 288pp.
Publication Date: April 21, 2015
About the Author
Ed Lucas is an Emmy Award-winning broadcaster who has been covering professional sports since 1955. A member of three different Halls of Fame, Ed travels the world as a motivational speaker. He and his wife, Allison, live in New Jersey. Look for him on the web at EdLucasOnline.com.

Christopher Lucas, Ed's youngest son, is an actor, author, New York City tour guide, and Disney historian. He lives in New Jersey with his two young sons. Look for him on the web at ChristopherPatrickLucas.com.