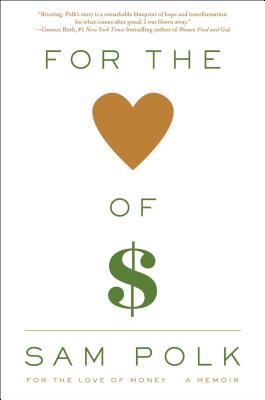 For the Love of Money (Hardcover)
A Memoir
Scribner, 9781476785981, 288pp.
Publication Date: July 19, 2016
Other Editions of This Title:
Digital Audiobook (7/18/2016)
Paperback (7/11/2017)
* Individual store prices may vary.
Description
In 2014, a former hedge fund trader's New York Times Sunday Review front page article about wealth addicition instantly went viral. This is his unflinching memoir about coming of age on Wall Street, fighting to overcome the ghosts of his past—and the radical new way he now defines success.

At just thirty years old, Sam Polk was a senior trader for one of the biggest hedge funds on Wall Street, on the verge of making it to the very top. When he was offered an annual bonus of $3.75 million, he grew angry because it was not enough. In that moment he knew he had lost himself in his obsessive pursuit of money. And he had come to loathe the culture—the shallowness, the sexism, the crude machismo—and Wall Street's use of wealth as the sole measure of a person's worth. He decided to walk away from it all.

For Polk, becoming a Wall Street trader was the fulfillment of his dreams. But in reality it was just the culmination of a life of addictive and self-destructive behaviors, from overeating, to bulimia, to alcohol and drug abuse. His obsessive pursuit of money papered over years of insecurity and emotional abuse. Making money was just the latest attempt to fill the void left by his narcisstic and emotionally unavailable father.

As in Liar's Poker, Polk brings readers into the rarefied world of Wall Street trading floors, capturing the modern frustrations of young graduates drawn to Wall Street. Raw, vivid, and immensely readable, For the Love of Money explores the birth of a young hedge fund trader, his disillusionment, and the radical new way he has come to define success.
About the Author
Former hedge fund trader Sam Polk is a writer; cofounder and CEO of Everytable, a social enterprise that sells fresh, delicious meals at prices everyone can afford; and the founder and executive director of Groceryships, a nonprofit that helps low-income families struggling with obesity. Polk graduated from Columbia University in 2002 with a BA in English and holds the Chartered Financial Analyst (CFA) Designation. His writing has been published in The New York Times, Los Angeles Times, Huffington Post, and CNBC.com. He lives in Los Angeles with his wife and their daughter. For the Love of Money is his first book.
Praise For For the Love of Money: A Memoir…
"A page-turning journey of radical transformation with rare insights into the dysfunction of Wall Street and our achievement-obsessed culture, written with a level of honesty and depth that is rare for any author, let alone a former hedge-fund trader!"--Jack Canfield, bestselling co-author of the CHICKEN SOUP FOR THE SOUL series

"Beyond a cautionary tale on wealth addiction and the toxic culture of Wall Street, For The Love of Money is also a tender and clear story of the transformation of a soul in search of self and healing. Along with a vivid entry into the world of a hedge fund trader, the reader finds resonance in Sam Polk's excavation of his essential wound and is likewise brought into the bright light of wholeness."--Gregory Boyle, S.J., founder of Homeboy Industries and New York Times bestselling author of Tatoos on the Heart: The Power of Boundless Compassion

"For the Love of Money is one of the most important memoirs of our time. Sam Polk takes us on a journey through the upper echelons of Wall Street, where money and self-worth are often inseparable. Polk shows how he got swept up in a culture of accumulation, and how he managed to extract himself by making peace with his past. Polk's humility and unflinching honesty offers us hope for tomorrow, and an account of what truly matters. This is a must read."--Christina McDowell, author of After Perfect: A Daughter's Memoir

"Riveting. Polk has managed to write a fast-paced thriller, while at the same time exploring the pain underneath our desire for money, power, and success with startling honesty, brilliance, and depth. But perhaps the best part (and there are so many best parts in For the Love of Money), is that Polk's story is a remarkable blueprint of hope and transformation for what comes after greed. I was blown away."--Geneen Roth, #1 New York Times bestselling author of Women Food and God

"A compelling, mesmerizing, and deeply psychological memoir. Polk's journey is both courageous and inspirational, and a reminder to all of us that there are pursuits far more fulfilling than the accumulation of material wealth."--Robin Berman, MD Associate Professor of Psychiatry, UCLA author of Permission to Parent

"I read Sam Polk's For the Love of Money in one night. It's an engrossing and important book—required reading for the legions of bright, young students who assume that money brings well-being. As Polk shows, the quest for money never ends, and only becomes more urgent. Instead, enduring happiness comes from a career grounded in passion and meaningfulness. As long as you're happy and have enough to live on, the rest takes care of itself."--Adam Alter New York Times bestselling author of Drunk Tank Pink and Associate Professor of Marketing and Psychology, New York University Stern School of Business

"Engrossing....A heartfelt andcautionary success story incorporating both the deceptive promises of wealthand the life-changing power of self-awareness."--Kirkus Reviews

"A journey of self-discovery."--Forbes.com

"Compellingly written...unflinchingly honest...a book that seems, on the surface, to be about finding professional fulfillment, ends up being, at its core, about the inner journey Polk undertakes to redefine success."--Forbes

"Part coming-of-age story, part recovery memoir and part exposé of a rotten, money-drenched Wall Street culture."--Salon

"A raw, honest and intimate take on one man's journey in and out of the business...It really gives readers something to think about."--CNBC.com

"Though it glosses at first as a trading desk memoir, [For the Love of Money] is in fact an account of addiction and recovery, similar in structure to classics of the genre such as Jerry Stahl's 'Permanent Midnight' or Caroline Knapp's 'Drinking: A Love Story.'...A vivid picaresque...riveting."--NewYorker.com

"Raw...compelling."--The Times (UK)

"Polk's redemptive one-step-forward, one-stepback story, along with his insider's view of Wall Street and the larger issues of income inequality, make for a memoir that's not only revealing but also timely."--BookPage

"This memoir reads like a thriller, and also makes you cry. Staggering."--Richard Price
or
Not Currently Available for Direct Purchase