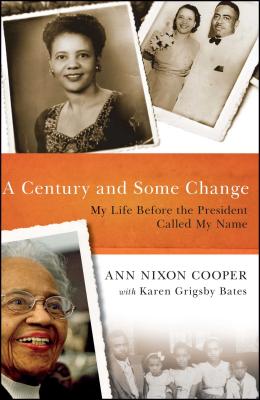 A Century and Some Change
My Life Before the President Called My Name
Paperback

* Individual store prices may vary.
Description
On Tuesday November 4, 2008, President-elect Barack Obama reflected on the life of Anne Nixon Cooper: "she's seen throughout her century in America—the heartache and the hope; the struggle and the progress; the times we were told we can't; and the people who pressed on with that American creed: Yes, we can."?
Empowered and energized by this history-making presidential campaign, Mrs. Cooper will tell her story in her own voice. A Century and Some Change is the portrait of an American who lived a rewarding and culturally rich life despite racial discrimination and economic struggles.
Beloved by her extended family and in her community of Atlanta, where she is celebrated by both the famous and the nameless, Mrs. Cooper will share what she has learned throughout her 107 years of life.
Along with Mrs. Cooper's story, A Century and Some Change will include photographs and the perspectives of those who know her. Like President Obama said, Mrs. Cooper's life story reveals the character of everyday Americans and of society as a whole.
Atria Books, 9781476786353, 224pp.
Publication Date: April 12, 2014
About the Author
Ann Nixon Cooper lives in Atlanta. At age 107, this is her first book.

Karen Grigsby Bates is a Los Angeles-based correspondent for NPR News, the author of the Alex Powell mystery series, and co-author, wih Karen Elyse Hudson, of the best-selling etiquette book Basic Black: Home Training For Modern Times. She and her husband, photographer Bruce W. Talamon, are the parents of a college-aged son.