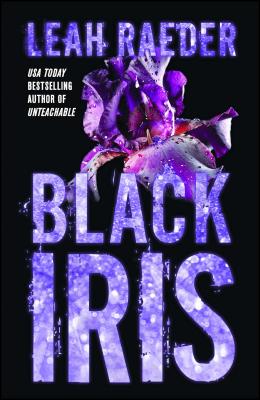 Black Iris
Paperback

* Individual store prices may vary.
Other Editions of This Title:
Digital Audiobook (4/27/2015)
Description
The next dark and sexy romantic suspense novel from the USA TODAY bestselling author of Unteachable, praised for its "lush, haunting prose, deft storytelling, and scorching sensuality" (M. Pierce, bestselling author of the Night Owl trilogy), and called "one of the best forbidden romances" (Lauren Blakely, New York Times bestselling author).

Love is not a thing that we create. It's an undoing.

It only took one moment of weakness for Laney Keating's world to fall apart. One stupid gesture for a hopeless crush. Then the rumors began. Slut, they called her. Queer. Psycho. Mentally ill, messed up, so messed up even her own mother decided she wasn't worth sticking around for. If Laney could erase that whole year, she would. College is her chance to start with a clean slate.

She's not looking for new friends, but they find her: charming, handsome Armin, the only guy patient enough to work through her thorny defenses—and fiery, filterless Blythe, the bad girl and partner in crime who has thorns of her own.

But Laney knows nothing good ever lasts. When a ghost from her past resurfaces—the bully who broke her down completely—she decides it's time to live up to her own legend. And Armin and Blythe are going to help. Which was the plan all along. Because the rumors are true. Every single one. And Laney is going to show them just how true. She's going to show them all.
Praise For Black Iris…
Praise for Black Iris:

"Like an afternoon special on bullying gone impossibly dark, Raeder's dizzyingly intense, drug-addicted queer teenage revenge fantasy takes its reader on a sexy, bloody journey of pure emotion...A twisting timeline dancing over a year's events makes every moment seem both immediate and angrily steeped in memory. Major themes include depression, mania, and the ways that the use and abuse of drugs affect access to the reality of self and the world's essential nature; but the soul-searching always comes in the context of action,everyone around hit by the shrapnel of exploding feelings. This is an exhilarating ride for our inner underdog, craving a taste of what it would feel like to just get back at everyone if we were reckless enough not to care about the consequences."
— Publishers Weekly, starred review

"Not for the faint of heart…gritty, intense, and lyrical…Raeder's compelling and unnerving dysfunctional love story is about revenge and survival."

— Booklist

"Raeder is a true, original talent."
— Jennifer L. Armentrout


"Risky, brave, bold. Heart-breaking, captivating, and sensual. There aren't enough words to describe this suspenseful powerhouse of a novel. Raeder's gorgeous prose and raw characters will keep you flipping to the very end. Black Iris is one of the best books I've read this year."
— Karina Halle

"Intense and visceral, Black Iris is as sharp as a knife and beats with a heart that is double-edged and dangerous."
— Lauren Blakely


"Provocative, seductive, and skillfully written, Black Iris is a story that stands out from the crowd."
— K.A. Tucker

"Raeder masterfully weaves a dark, twisted, dangerously sexy quest for revenge with a raw, honest search for kinship and self-acceptance. Black Iris demands your attention, your heart, and an immediate reread."
— Dahlia Adler

"Lyrical, vivid, and poignant, Unteachable is one of best forbidden romances I've ever read."
— Lauren Blakely

"Unteachable infuses the complicated dynamics of forbidden sexual tension and untamed passion, all while managing to break your heart. Easily one of my favorite reads."
— Gail McHugh

"With lush, haunting prose, deft storytelling and scorching sensuality, Leah Raeder weaves a love story that obliterates convention. The best book I've read this year."
— M. Pierce

"Leah Raeder's writing is skillful and stunning. Unteachable is one of the most beautifully powerful stories of forbidden love that I have ever read."
— Mia Sheridan

"Equally wicked as it is beautiful. This story is one of the best reads I've read to date. My book hangover afterward was real. It honestly opened my eyes to all things LGBTQIA+ and the importance of treating mental illness. Overall a very note-worthy read that everyone should digest at least once."
— Book Baristas

Praise for Cam Girl:

"Raeder's beautifully broken characters are so full of life that they leap off the page and demand that the reader pay attention to them…it's a must read for anyone wanting a sexy deep dive into a tangled psyche and a difficult life."
— Publishers Weekly (starred review)

"Cam Girl is a beautiful exploration of gender and sexuality that begs readers to question how well we know those closest to us, including ourselves. Raeder's trademark sensual lyricism is in full effect here, but it's the fraught yet tender relationship between Vada and Ellis that will have you glued to the pages until the oh-so-perfect ending."
— Dahlia Adler, author of UNDER THE LIGHTS

"Raeder keeps the action moving as readers try to figure out the dual mysteries—what happened on the road that night, and who is Blue?"
— Booklist

"Gripping, emotional, relatable, and yes, romantic (in all the best ways) read. Whatever Raeder writes, I will always want to read and recommend."
— RT Magazine

"Raeder's best book yet. It has the grit, language, and heat you'd expect, but there's more. Raeder has clearly dug down and bled and studied the mirror to reveal the ugliest and most beautiful parts of herself, and human nature. CAM GIRL is a rich and unflinching narrative."
— Emery Lord, author of Open Road Summer
Atria Books, 9781476786421, 384pp.
Publication Date: April 28, 2015
About the Author
Leah Raeder—known now as Elliot Wake—is the author of Unteachable, Black Iris, Bad Boy, and Cam Girl. Aside from reading his brains out, he enjoys graphic design, video games, fine whiskey, and the art of self-deprecation. Visit him at LeahRaeder.com.