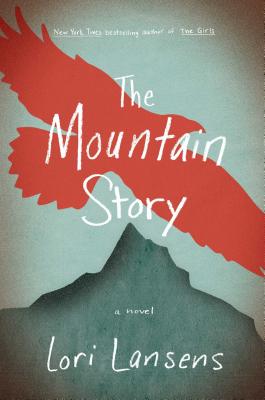 The Mountain Story
A Novel
Hardcover

* Individual store prices may vary.
Other Editions of This Title:
Digital Audiobook (5/18/2016)
Digital Audiobook (6/29/2015)
Paperback (7/12/2016)
Paperback (8/25/2016)
Library Binding, Large Print (8/1/2015)
Description
Four lost hikers are about to discover they're capable of something extraordinary.

Nola has gone up the mountain to commemorate her wedding anniversary, the first since her beloved husband passed. Blonde, stick-thin Bridget is training for a triathalon. Vonn is working out her teenage rebellion at eight thousand feet, driven by family obligation and the urge to escape her mistakes. Still reeling from the tragic accident that robbed him of his best friend, Wolf Truly is the only experienced hiker among them, but he has come to the cliffs on his eighteenth birthday without food or supplies because he plans to take his own life.

When a series of missteps strands this unusual group together in the wilderness, they soon realize that their only defense against the brutality of nature is one another. As one day without rescue spirals dramatically into the next, and misadventure turns to nightmare, these four broken souls begin to form an inextricable bond, pushing themselves and one another further than they ever could have dreamed possible. The three who make it home alive will be forever changed by their harrowing days on the mountain.

From the New York Times bestselling author of The Girls, The Mountain Story is a fast-paced, suspenseful adventure and a gorgeous tribute to the resilience of the human spirit. Braving a landscape both unforgivingly harsh and breathtakingly beautiful, Nola, Bridget, Vonn, and Wolf find themselves faced with an impossible question: How much will they sacrifice for a stranger?
Praise For The Mountain Story: A Novel…
"The Mountain Story is an expertly crafted novel about how ordinary lives can be changed by an extraordinary mountain. If climbing speaks to how we can find truth and beauty in hardship, Lansens shows that it is also a way to see inside our souls. This is a survival story with a strong, beating heart. I loved this novel."
— Claire Cameron

"Lori Lansens has created a heart-pounder of a book that is every bit as much of an emotional roller-coaster as an adventurous one. Filled with richly drawn characters, unexpected twists, and gritty details about survival, you'll want to read this right now. Unless, that is, you happen to be camping!"
— Jodi Picoult

"The Mountain Story isa gritty, nail-biting tale of survival and self-revelation. Lori Lansens' lushand potent landscape is painted as vividly as her characters, whose afternoonnature walk becomes a terrifying trek to the very precipice of mortality.Pitted against the impartial elements and their own inner demons, four soulsdiscover that shared humanity is their only dependable lifeline."
— Carol Cassella, bestselling author of Gemini

"Lansens has written a colorful, adventurous wilderness survival novel…The realistic details, such as the traditional herbal medicine used to fight Nola's broken-bone infection and threatening coyotes and vultures, provides the narrative's raw edge. Genre readers will also be swept along as the suspense builds in this first-rate character driven thriller."
— Publishers Weekly

"At last an adventure story where everyone is not supremely competent. At last a wilderness story which because it's fiction has an actual arc and not just a series of encounters. Wolf is one of the most incredible voices I've come across in fiction recently and his trailer park environment is stunningly described; at once as absurd as farce and yet hauntingly real. On the mountain, bad judgment and bad luck are the order of the day and your heart will be in your throat as the inevitability of death draws ever closer to one young man and three generations of city women lost in a very real and dangerous mountain wilderness. You may think twice about piling the kids in the car for your next hike!"
— Helen Simonson, author of Major Pettigrew's Last Stand

"Four hikers get lost on a mountain, struggling desperately to stay alive, and it's all as chilling and gorgeous and full of suspense as a cracking line of ice on a frozen lake. A breathtaking look at how the past footholds the future and how even the bleakest terror can find its way to unfathomable beauty."


— Caroline Leavitt, New York Times Bestselling Author of Is This Tomorrow and Pictures of You

"An adventure that pits spectacular danger in the present against the ever-present danger of the past."
— Marina Endicott, author of Good to a Fault

"A riveting novel of heartbreak, heroism, and redemption. . .[with] equal measures of high drama and humanity that will keep readers spellbound until the last word."
— Carol Shaben, author of Into the Abyss

"The Mountain Story is a feat of storytelling, sure to be one of the most memorable novels of the year, a skilled balance of thriller and domestic drama, of family secrets and struggle for survival. By its closing pages, it gains an almost devastating emotional force that accompanies the irresistible quality of its narrative drive: It's a master class in fiction and its potential."
— The Globe and Mail

"We discover the truth behind the trio's relationships as we learn what led Wolf to think he has nothing left to live for. Thanks, Lori; this one was definitely worth the wait."
— Library Journal, Editor's Pick

"[Lansens] portrays strong, not-soon forgotten characters in this suspenseful, psychologically rich tale…Lansens brings the reader intimately into their plight: four harrowing days with barely any food or water, trapped in a canyon with seemingly no way down. Their ordeal profoundly affects the four survivors and changes the course of each of their lives."
— Booklist

"[Lansens] knows a thing or two about life-changing transformations and the rich territory from which she builds memorable worlds filled with exceptional experiences…What is obvious to her readers is her astonishing talent for writing distinct stories about people who do amazing things in extraordinary circumstances."
— Library Journal, Feature Interview

"The Mountain Story brims with twists and turns that keep readers turning the pages… Immensely readable, beautifully written and incredibly heart-breaking…it's an extraordinary story of survival, heroism and redemption that will stay with you long after you read the last page."
— Associated Press, UK

"A thoroughly delightful reading experience. The Mountain Story isthe best kind of binge read: exhilarating, inspiring, and life-affirming."
— Quill & Quire (starred review)

"Like a secret mountain trail, [this novel] twists, turns, and keeps surprising you until the very end…Well-paced and beautifully written, readers will find themselves missing sleep as they read on late into the night."
— Winnipeg Free Press

"A harrowing tale becomes anengrossing saga of renewal and redemption. Lori Lansens has written an epic work suffused with raw emotional powerand resonance."
— Toronto Star

"Poignant and heartbreaking, this book rivets with its examination of what the body and soul need to stay alive."
— Maclean's

"A superbly crafted, tension-filled tale."
— NOW Magazine

"As Wolf makes one failed attempt after another to get help, he relives his troubled childhood and becomes caught up in the history and complicated relationships of the women."
— Kirkus Reviews

"A captivating tale of courage, love, and sacrifice, The Mountain Story is transporting. A young man and three women accidentally take a hero's journey that inspires the better angels in all of us."
— Amy Scheibe, author of A Fireproof Home for the Bride
Simon & Schuster, 9781476786506, 320pp.
Publication Date: June 30, 2015
About the Author
Lori Lansens is the author of Rush Home Road, which was translated into eight languages and published in eleven countries, and The Girls, which was sold in thirteen territories and featured as a book club pick by Richard & Judy in the UK. She was born and raised in Chatham, Ontario, and now makes her home in Los Angeles with her husband and two children.
or
Not Currently Available for Direct Purchase