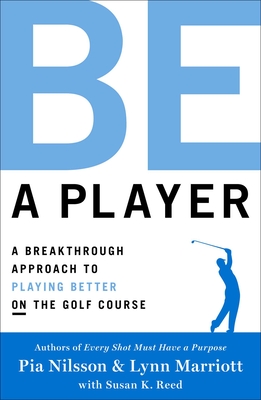 Be a Player: A Breakthrough Approach to Playing Better on the Golf Course (Hardcover)
A Breakthrough Approach to Playing Better on the Golf Course
Atria Books, 9781476788036, 256pp.
Publication Date: June 6, 2017
Description
The founders of the world-renowned VISION54 training program and the authors of the bestselling Every Shot Must Have a Purpose take golf instruction to the next level in this groundbreaking new approach to mastering the game. Golf is a beloved yet technical game, so a sound swing and precise technique are essential. Most golfers who want to improve their skills go to the range and work painstakingly on their swings, not realizing it's often their performance state on the course that needs work, not their technique. Simple things such as awareness of your balance, tension, and tempo, as well as the ability to control mental, emotional, and social variables you encounter while playing can quickly take your game to a new performance level. Pia Nilsson and Lynn Marriott, founders of VISION54's groundbreaking and innovative golf program are here to help. Aimed at both the weekend golfer and the advanced player, each chapter presents a series of "human skills"--including assignments, explorations, and mini-lessons--that strip away the complexity surrounding swing technique and playing consistency--the conditional variations that plague golfers. Be A Player is the must-have book for any golfer who wants to unite technical skills and on-course performance seamlessly and effectively. With this cutting-edge text by your side, you will become a true student of VISION54 and a better player better on the course...where it matters most.
About the Author
Susan K. Reed is former Editor-in-Chief of Golf for Women magazine and a writer whose work has appeared in Golf Digest, The New York Times Book Review, Conde Nast Traveler and other publications. She is the co-author of the book Yoga for Life: A Journey to Inner Peace and Freedom with Colleen Saidman Yee. An avid recreational golfer, Susan lives in Sag Harbor, New York.
Advertisement