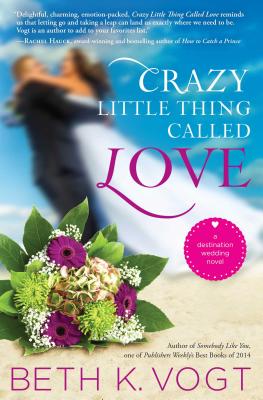 Crazy Little Thing Called Love
A Destination Wedding Novel
Paperback

* Individual store prices may vary.
Other Editions of This Title:
Digital Audiobook (4/13/2020)
MP3 CD (4/14/2020)
Compact Disc (4/14/2020)
Compact Disc (4/14/2020)
Library Binding, Large Print (9/1/2015)
Description
Wedding bells and storm clouds collide in the first engaging novel in a brand-new series about destination weddings, the power of love, and the possible mishaps and missteps that happen on a couple's journey down the aisle to "I do."

Paramedic Vanessa Hollister has put her adolescence behind her, including the unwanted label of being the new kid in town over and over again, thanks to her father's military career. She's overcome what her mother called "the biggest mistake of her life" and is planning an elegant destination wedding in Destin, Florida with her new fiancé. But will the reappearance of her first husband from her what-were-you-thinking teenage elopement disrupt her dream of an idyllic beach wedding?

As a professional storm chaser, Logan Hollister is used to taking risks. However, a reckless decision during the last tornado season has him questioning the future of his team, the Stormmeisters. Coming face to face with his ex-wife eight years after their divorce compels him to confront his greatest regret: losing Vanessa. Does their past give him the right to interfere with her future?

A fast-moving, powerful hurricane throws Vanessa and Logan together as they evacuate to a storm shelter along with other residents of the Florida Gulf Coast. Forced to spend time together, the pair battles unexpected renewed feelings for each other.

Vanessa and Logan are faced with a choice: Should they accept, once and for all, their teenage marital mistake? Or is God offering them a second chance at happily ever after?
Praise For Crazy Little Thing Called Love: A Destination Wedding Novel…
"Take the safe way or risk it all for love? In Crazy Little Thing Called Love, Beth Vogt takes her characters (and readers) on a journey where the choice must be made. Move forward or stay mired in the results of the past. Take the safe path or risk everything for a love that takes your breath away? Settle or fly? In the journey, readers will be reminded that God can turn our old mistakes into a beautiful present."
— Cara Putman, Award-winning author of Shadowed by Grace and Where Treetops Glisten

Crazy Little Thing Called Love is another winner! I truly love Beth Vogt's voice, and the characters she has created here are authentically honest. Logan and Vanessa's love story is one that will stick with me for a long time. They're imperfect people with a past, trying to make it through on their own steam, like everyone else. But God has other plans for their future. Better plans, more than they could ever imagine. I loved every page I turned, eager to discover what would come next! A wonderful story with a heartfelt message of forgiveness and redemption.
— Catherine West, award-winning author of Yesterday's Tomorrow

Second chances at love, storm-chasing danger, and a destination wedding? I'm in! Beth K. Vogt's newest book, Crazy Little Thing Called Love, hits all the right notes, touching on more serious subject matter without losing any of Beth's signature charm. This is sure to be a favorite addition to any fan's Christian romance library.


— Carla Laureano, RITA® award-winning author of Five Days in Skye and London Tides

In A Crazy Little Thing Called Love, Beth Vogt shows us that, indeed, love is crazy, in the best possible way! This story had everything I've come to expect from a Beth Vogt novel: high-quality writing, a deep spiritual journey, and a poignant love story. Throw in the fun of a destination wedding and you have yourself a story that is sure to touch hearts and entertain readers. I can't wait for the next installment!
— Katie Ganshert, award-winning author of The Art of Losing Yourself

Curl your toes into the sand and relish the delicious warmth of Destin, FL in Vogt's Crazy Little Thing Called Love. A must read with engaging characters, rich scenery and the high tension of a hurricane that carries us into love, forgiveness and the joy of discovering treasures once lost.
— Katherine Reay, author of Lizzy & Jane

With CRAZY LITTLE THING CALLED LOVE, author Beth Vogt has unequivocally established herself as a master storyteller. Her characters leap off the page and invade my life, making putting the book down almost impossible. Her novels have a place of honor on my shelves, with others I return to again and again.
— Edie Melson, Senior Editor at NovelRocket.com

"Logan Hollister is a storm chaser by profession, but he's never been able to tame the storms in his personal life. Crazy Little Thing Called Love is an exciting, romantic adventure as Logan and his ex-wife, Vanessa, are forced to confront both a hurricane and the emotional storm that wages between them. Beth Vogt takes readers on a heart-pounding journey through both the present and past even as her characters try to sort out their future. Second chances are a rare gift, and Beth unwraps this present (OR this one) perfectly."
— Melanie Dobson, award-winning author of Shadows of Ladenbrooke Manor and Chateau of Secrets

"Delightful, charming, emotion-packed, A Crazy Little Thing Called Love, reminds us letting go and taking a leap can land us exactly where we need to be. Vogt is another author to add to your favorites list."
— Rachel Hauck, award-winning, best selling author of How To Catch A Prince

Second-chance love at its crazy best! Beth Vogt is a master at wringing tears from the eyes and sleep from the soul in a tender love story that both heals and haunts.
— Julie Lessman, award-winning author of The Daughters of Boston, Winds of Change, and Heart of San Francisco series

Beth K. Vogt's amazing ability to create complex, true-to-life characters with realistic flaws and emotions keeps me hungering for her novels before they're even available for sale. The depth of her stories pulls me in, leaving me to ponder the spiritual truth she has woven into the plot long after I've finished the book. Beth's novels are automatic buys for my keeper shelf.
— Lisa Jordan, award-winning author of Lakeside Redemption

"Beth Vogt is a master at capturing the sometimes stormy emotions of the human heart. In Crazy Little Thing Called Love, Vogt takes the reader on Vanessa and Logan's road back to each other - a journey that is both deeply felt and realistic. She makes us believe in the power of second chances, all the while reminding us that it's never too late to have faith in our first love."
— Kristy Cambron, author of The Butterfly and the Violin and A Sparrow in Terezin

I was swept up and sweetly undone by this delightful whirlwind of a romance about love lost and found again. It made me believe anew in happily ever after!
— Susan May Warren, Best-selling, RITA award-winning author of the Christiansen family series

"Engaging… A touching inspirational romance that weaves faith and love together in a convincing and heartfelt way."
— Kirkus
Howard Books, 9781476789781, 368pp.
Publication Date: June 30, 2015
About the Author
Beth K. Vogt is a nonfiction writer who said she'd never write fiction. After saying she'd never marry a doctor or anyone in the military, she is now happily married to a former Air Force family physician. Beth believes God's best is often behind the door marked "never." An established magazine writer and editor, she now writes inspirational contemporary romance because she believes there is more to happily ever after than the fairy tales tell us.