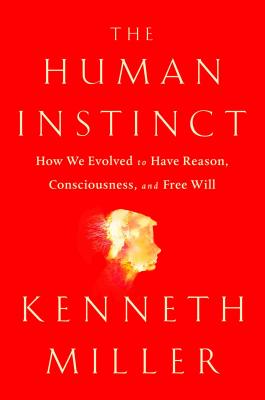 The Human Instinct
How We Evolved to Have Reason, Consciousness, and Free Will
Hardcover

* Individual store prices may vary.
Other Editions of This Title:
Digital Audiobook (4/16/2018)
Paperback (4/23/2019)
Description
A radical, optimistic exploration of how humans evolved to develop reason, consciousness, and free will.

Lately, the most passionate advocates of the theory of evolution seem to present it as bad news. Scientists such as Richard Dawkins, Lawrence Krauss, and Sam Harris tell us that our most intimate actions, thoughts, and values are mere byproducts of thousands of generations of mindless adaptation. We are just one species among multitudes, and therefore no more significant than any other living creature.

Now comes Brown University biologist Kenneth R. Miller to make the case that this view betrays a gross misunderstanding of evolution. Natural selection surely explains how our bodies and brains were shaped, but Miller argues that it's not a social or cultural theory of everything. In The Human Instinct, he rejects the idea that our biological heritage means that human thought, action, and imagination are pre-determined, describing instead the trajectory that ultimately gave us reason, consciousness and free will. A proper understanding of evolution, he says, reveals humankind in its glorious uniqueness—one foot planted firmly among all of the creatures we've evolved alongside, and the other in the special place of self-awareness and understanding that we alone occupy in the universe.

Equal parts natural science and philosophy, The Human Instinct is a moving and powerful celebration of what it means to be human.
Praise For The Human Instinct: How We Evolved to Have Reason, Consciousness, and Free Will…
"Highly recommended."

"Absorbing, lucid, and engaging. An eloquent and deeply grounded case that it was evolution that gave us our humanity."

"Fascinating.... [The Human Instinct] confronts both lay and professional misconceptions about evolution from both scientific and philosophical perspectives."

"Miller wants to show that the contemporary consensus around natural selection leaves room for things that have long given meaning to human life."

"Insightful.... [Miller's] universe is a kaleidoscope of dazzling evolutionary possibilities."

"Following in Darwin's footsteps, Miller makes the slam-dunk case for why, in light of our origins, humans are still special."

"Here is a clear-eyed look at the use and sometime misuse of evolutionary theory."

"Readers seeking a modification of doctrinaire Darwinism will find a thoughtful, scientifically sound, evolution-based exponent in Miller."
Simon & Schuster, 9781476790268, 304pp.
Publication Date: April 17, 2018
About the Author
Kenneth R. Miller is professor of biology at Brown University and the critically acclaimed bestselling author of Only a Theory, Finding Darwin's God, and The Human Instinct. He has appeared frequently on radio and television as a public advocate for evolution. In 2005 he was the lead expert witness for the victorious plaintiffs in the landmark Kitzmiller v. Dover trial, where he testified in favor of evolution and against "intelligent design." Among his honors are the Stephen Jay Gould Prize from the Society for the Study of Evolution, the Laetare Medal from the University of Notre Dame, and the Award for Public Engagement with Science from the American Association for the Advancement of Science.