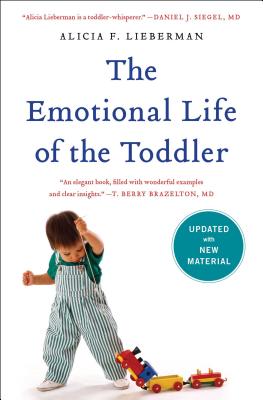 The Emotional Life of the Toddler
Paperback

* Individual store prices may vary.
Other Editions of This Title:
Digital Audiobook (12/11/2017)
Paperback (5/1/1995)
Description
Now updated with new material throughout, Alicia F. Lieberman's The Emotional Life of the Toddler is the, detailed look into the varied and intense emotional life of children aged one to three.

Anyone who has followed an active toddler around for a day knows that a child of this age is a whirlwind of explosive, contradictory, and ever-changing emotions. Alicia F. Lieberman offers an in-depth examination of toddlers' emotional development and illuminates how to optimize this crucial stage so that toddlers can develop into emotionally healthy children and adults.

Drawing on her lifelong research, Dr. Lieberman addresses commonly asked questions and issues. Why, for example, is "no" often the favorite response of the toddler? How should parents deal with the anger they might feel when their toddler is being aggressively stubborn? Why does a crying toddler run to his mother for a hug only to push himself vigorously away as soon as she begins to embrace him? This updated edition also addresses 21st-century concerns such as how to handle screen time on devices and parenting in a post-internet world.

Hailed as "groundbreaking" by The Boston Globe after its initial publication, the new edition includes the latest research on this crucial stage of development. With the help of numerous examples and vivid cases, Lieberman answers these and other questions, providing, in the process, a rich, insightful profile of the roller coaster emotional world of the toddler.
Praise For The Emotional Life of the Toddler…
PRAISE FOR THE EMOTIONAL LIFE OF THE TODDLER BY ALICIA LIEBERMAN



"Alicia Lieberman is a toddler-whisperer, illuminating the art and science of this important period of life in informative ways that will enable parents to gain important insights into the mind and behavior of their child. With clear and concise summaries of research findings highlighting developmental milestones of this age woven with practical examples families face in everyday life, this second edition of her classic work is a gift to parents and children alike."
—Daniel J. Siegel, M.D., Clinical Professor, UCLA School of Medicine

"A gift to all—not only to today's parents—but to all those who work with toddlers and their parents. From tantrums to screen-time, from toilet training to trauma—and so much more, Lieberman illuminates every aspect of toddlerhood with understanding, empathy, care, experience, research, and wisdom, while at the same time respecting cultural differences and values and the fast-paced lives of today's families."
—Robie H. Harris, celebrated children's book author of It's Perfectly Normal and It's so Amazing

"Dr. Alicia Lieberman is a brilliant clinician and one of the most sage voices of our era in the field of early childhood development. As we learn more and more about the critical nature of the earliest years in forming the foundation of lifelong health, this second edition of The Emotional Life of the Toddler could not come at a more important time. Clear and wise, The Emotional Life of the Toddler is an essential guide for clinicians, parents, caregivers and anyone who has a little one in their lives. For me, a pediatrician and the parent of a toddler, this book is a blessing."
—Nadine Burke Harris, MD, Founder and CEO, Center for Youth Wellness

"The Emotional Life of the Toddler is a wise and kind book about a fascinating and sometimes exhausting stage of life; it will help parents understand and appreciate all that is happening as their young children develop, and it will also help them navigate the complexities of life with toddlers."
—Perri Klass, MD, Professor of Journalism and Pediatrics, NYU
Simon & Schuster, 9781476792033, 352pp.
Publication Date: December 12, 2017
About the Author
Alicia F. Lieberman, PhD, is the Irving B. Harris Endowed Chair in Infant Mental Health and professor in the department of psychiatry at the University of California San Francisco. The author of The Emotional Life of the Toddler, Psychotherapy with Infants and Young Children: Repairing the Effects of Stress and Trauma on Early Attachment, Don't Hit My Mommy: A Manual for Child-Parent Psychotherapy with Young Children Exposed to Violence and Other Trauma, and numerous other publications, she is world-renowned for her work on parent-child attachment. She is the recipient of the 2017 Whole Child Award from the Simms/Mann Institute, 2016 Rene Spitz Lifetime Achievement Award from the World Association of Infant Mental Health, and other honors.