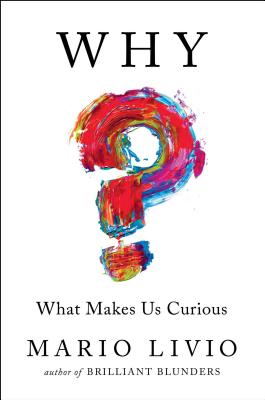 Why?
What Makes Us Curious
Hardcover

* Individual store prices may vary.
Other Editions of This Title:
Digital Audiobook (7/10/2017)
Paperback (5/22/2018)
Description
Astrophysicist and author Mario Livio investigates perhaps the most human of all our characteristics—curiosity—as he explores our innate desire to know why.

Experiments demonstrate that people are more distracted when they overhear a phone conversation—where they can know only one side of the dialogue—than when they overhear two people talking and know both sides. Why does half a conversation make us more curious than a whole conversation?

In the ever-fascinating Why? Mario Livio interviewed scientists in several fields to explore the nature of curiosity. He examined the lives of two of history's most curious geniuses, Leonardo da Vinci and Richard Feynman. He also talked to people with boundless curiosity: a superstar rock guitarist who is also an astrophysicist; an astronaut with degrees in computer science, biology, literature, and medicine. What drives these people to be curious about so many subjects?

Curiosity is at the heart of mystery and suspense novels. It is essential to other forms of art, from painting to sculpture to music. It is the principal driver of basic scientific research. Even so, there is still no definitive scientific consensus about why we humans are so curious, or about the mechanisms in our brain that are responsible for curiosity.

Mario Livio—an astrophysicist who has written about mathematics, biology, and now psychology and neuroscience—explores this irresistible subject in a lucid, entertaining way that will captivate anyone who is curious about curiosity.
Praise For Why?: What Makes Us Curious…
"Have you ever wondered why we wonder why? Mario Livio has, and he takes you on a fascinating quest to understand the origin and mechanisms of our curiosity. I thoroughly recommend it."

— Adam Riess, Nobel Prize Winner in Physics, 2011

"An energetic look at the psychology and neuroscience of our inquisitiveness."
— Dan Jones

"Filled with fascinating stories, tidbits, and psychological insights, Why? is a delightful romp through every aspect of human curiosity. It will surprise you, make you smarter, and put a spring in your step."
— Steven Strogatz, Schurman Professor of Applied Mathematics, Cornell University, and author of The Joy of X

"A lively, expert, and definitely not dumbed-down account of why we're curious."
— Kirkus Reviews

"It's impossible to imagine creativity or invention without curiosity, and one could hardly ask for a richer or more engaging exploration of human curiosity than the one provided by Mario Livio in Why?. This book is an intellectual feast for any curious person."
— Jeffrey M. Schwartz MD, Research Psychiatrist UCLA, author of (with Sharon Begley) The Mind and the Brain and (with Rebecca Gladding) You are Not Your Brain

"Whether in science or art, curiosity is essential to progress—but what is it, exactly? Mixing historical narratives with interviews, and throwing in a dash of neuroscience, Mario Livio explores whether we are inquisitive because curiosity feels good in itself or because finding out something new removes an irritation. It can be both, he concludes, and different types of curiosity serve different purposes. Livio's book doesn't pretend to have all the answers, but it might well spur your own curiosity."


— David Lindley, author of Uncertainty: Einstein, Heisenberg, Bohr, and the Struggle for the Soul of Science, and Where Does the Weirdness Go: Why Quantum is Strange but Not as Strange as you Think

"This cogent book presents the scientific research on curiosity in understandable ways without too much jargon. It answers many (although not all) of our potential questions about curiosity—including what many originally believed killed the cat."
— Joseph Peschel

"Lively. . . . Provocative."
— USA Today

"In Why?, astrophysicist Mario Livio argues that humans are the only species to ask not just what, where or who, but also why. . . . [He} includes some fascinating tidbits along the way."
— Katherine Harmon Courage

"Explores curiosity from a wide variety of angles and shows the author to be astute and 'curious about curiosity.' The book is well worth reading simply for the breadth of information about the subject, but also provides tips and cues readers may use to increase their own level of curiosity."


— Christopher M. Doran

"Leonardo da Vinci has been called 'the most relentlessly curious man in history.' In his fascinating book Why?, Mario Livio investigates Leonardo's curiosity in the broader context of the nature of human curiosity and the mind/brain mechanisms that drive it. This is a spellbinding journey through the latest findings on curiosity in psychology and neuroscience. Anybody who is curious about curiosity will want to read this book."
— Francesca Fiorani, creator of the digital archive Leonardo da Vinci and his Treatise on Painting, associate dean for the Arts and Humanities, University of Virginia

"A colorful, engaging and yet thorough examination of curiosity in its many forms, Why? illustrates how having an inquisitive mind is crucial to creative output in the arts, sciences and business and explains WHY you should encourage curiosity in yourself and your children. Both a fascinating and fun read!"
— Gail Saltz, M.D., Clinical Associate Professor of Psychiatry, The New York Presbyterian Hospital; TV commentator; Host of "The Power of Different" podcast; Author of The Power of Different: The Link Between Disorder and Genius
Simon & Schuster, 9781476792095, 272pp.
Publication Date: July 11, 2017
About the Author
Mario Livio is an internationally known astrophysicist, a bestselling author, and a popular speaker who has appeared on The Daily Show, 60 Minutes, and NOVA. He is the author of the bestsellers The Golden Ratio, Brilliant Blunders, and Galileo. He lives in Baltimore, Maryland.
or
Not Currently Available for Direct Purchase