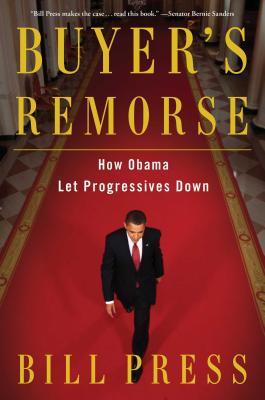 Buyer's Remorse
How Obama Let Progressives Down
Hardcover

* Individual store prices may vary.
Other Editions of This Title:
Paperback (10/4/2016)
Description
The prominent liberal syndicated radio and television host concisely explains the many ways President Obama has failed to live up to either his promises or his progressive potential, leaving Democrats disillusioned on the issues that matter most.

Bill Press—a progressive champion and former chair of the California Democratic Party, a one-time co-host of CNN's Crossfire, and the popular nationally syndicated radio and television host of The Bill Press Show—reflects back on what for many progressives has been a disappointing presidency and comes to a depressing conclusion: Obama grossly misunderstood the mandate of the enthusiastic crowds that swarmed him on the campaign trail. Instead of recognizing their burning desire for strong progressive leadership, Obama tried to be a "post-partisan" president. The tragedy of Barack Obama is that, in trying to become the great uniter, he has instead become a grave disappointment.

From climate change to gun safety to, yes, even health care, Obama's legacy on important issues falls far short of what could have been. Time and again, he let down his most impassioned supporters—the ones who used their powerful voices to vote for change—neglecting their priorities and wasting his potential by either not doing enough or, worse, repeating the errors of his predecessor.

President Obama rode into office on a celebratory tide of liberal jubilation, but as his typically centrist presidency comes to a close, he leaves his supporters haunted by what might have been.
Praise For Buyer's Remorse: How Obama Let Progressives Down…
"Bill Press makes the case why, long after taking the oath of office, the next president of the United States must keep rallying the people who elected him or her on behalf of progressive causes. That is the only way real change will happen. Read this book."
— Senator Bernie Sanders

"Bill Press speaks truth to power: on radio, on television, and in this book. And the truth is, while President Obama has done a lot of good, his Administration has let many progressives down."

— Congressman Keith Ellison

"In Buyer's Remorse, Bill Press outlines why many progressives feel let down by the Obama years. On the one hand there's a massive expansion of health care, more progressive taxes and a long economic crisis, but one nowhere as bad as Europe's. But the 1 percent's hold on the economy still stands, and we see stagnating or falling wages."
— Robert Reich, former U.S. Secretary of Labor

"A stinging but not unreasonable j'accuse."
— Kirkus
Threshold Editions, 9781476792613, 320pp.
Publication Date: February 2, 2016
About the Author
Bill Press is the author of seven books and the host of radio and television's nationally syndicated The Bill Press Show. He is a former host of MSNBC's Buchanan and Press and CNN's Crossfire and The Spin Room, whose professional accolades include four Emmy Awards and a Golden Mike Award. He lives in Washington, DC.
or
Not Currently Available for Direct Purchase