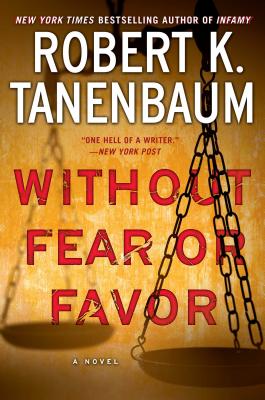 Without Fear or Favor
A Novel (A Butch Karp-Marlene Ciampi Thriller #29)
Hardcover

* Individual store prices may vary.
Description
In the twenty-ninth novel in the New York Times bestselling Karp-Ciampi series featuring "the best fictional prosecuting attorney in literature" (Mark Lane, #1 New York Times bestselling author), Butch Karp and his wife Marlene Ciampi must stop a radical organization of armed militants bent on the cold-blooded murder of uniformed on-duty police officers.

When a cop shoots down the son of a respected inner-city Baptist preacher, the community rises up in anger and demands to have the officer prosecuted to the fullest extent of the law. But there's something more than a call for justice at work here: a plot to bring down the city's police force through a conspiracy so vast and malicious only Butch Karp and his band of truth-seekers can untangle it.

Full of Tanenbaum's signature page turning intense action and heart pounding suspense from "one hell of a writer" (New York Post), Without Fear or Favor will keep you guessing until the final scene.
Praise For Without Fear or Favor: A Novel (A Butch Karp-Marlene Ciampi Thriller #29)…
PRAISE FOR WITHOUT FEAR OR FAVOR

"Energetic…Tanenbaum, himself a lawyer, writes with brio and brings the final, decisive courtroom scenes to satisfying life."
— Publishers Weekly

PRAISE FOR TRAP

"This story has a lot to like...Karp is rock-solid as both prosecutor and as person...The pace is fast, the courtroom scenes make you feel like you're there, and the ending satisfies...This is an enjoyable tale of good vs. evil and the importance of knowing who you are."
— Kirkus

"This is one of the better recent Karp thrillers; it's tightly written and plotted, and the author seems to have rediscovered his passion for his characters...[Trap] signals a definite return to form."
— Booklist

PRAISE FOR ROBERT TANENBAUM'S LEGAL THRILLERS

"Butch [Karp] is doing his courtroom dance, making fools of the smug politicians he believes were behind the murder. Tanenbaum shines in these positively balletic moments...[a] reliable thriller."
— Booklist

"Those outraged by how the government handled the 2012 debacle in Benghazi will find a lot to like."
— Publishers Weekly

"Readers will find a well-constructed novel, including solid courtroom scenes. Prosecutor Butch Karp…is a talented and likable hero…conservatives will likely love the tone of [Fatal Conceit]."
— Kirkus

"ONE HELL OF A WRITER."
— New York Post

"Butch Karp is the best fictional prosecuting attorney in literature. . . . Tanenbaum is a phenomenal attorney and a remarkable storyteller: It is almost unfair to the rest of us. . . . Outrage grabs you at the outset and astonishes at each page . . . Riveting."
— #1 New York Times bestselling author Mark Lane

"WITHOUT FEAR OR FAVOR is yet another page-turning and heart-pounding installment in Robert K. Tanenbaum's long-running legal thriller series. May book #30 be here sooner rather than later!"
— Bookreporter
Gallery Books, 9781476793221, 384pp.
Publication Date: August 15, 2017
About the Author
Robert K. Tanenbaum is the author of thirty-two books—twenty-nine novels and three nonfiction books: Badge of the Assassin, the true account of his investigation and trials of self-proclaimed members of the Black Liberation Army who assassinated two NYPD police officers; The Piano Teacher: The True Story of a Psychotic Killer; and Echoes of My Soul, the true story of a shocking double murder that resulted in the DA exonerating an innocent man while searching for the real killer. The case was cited by Supreme Court Chief Justice Earl Warren in the famous Miranda decision. He is one of the most successful prosecuting attorneys, having never lost a felony trial and convicting hundreds of violent criminals. He was a special prosecution consultant on the Hillside strangler case in Los Angeles and defended Amy Grossberg in her sensationalized baby death case. He was Assistant District Attorney in New York County in the office of legendary District Attorney Frank Hogan, where he ran the Homicide Bureau, served as Chief of the Criminal Courts, and was in charge of the DA's legal staff training program. He served as Deputy Chief counsel for the Congressional Committee investigation into the assassinations of President John F. Kennedy and the Rev. Dr. Martin Luther King, Jr. He also served two terms as mayor of Beverly Hills and taught Advanced Criminal Procedure for four years at Boalt Hall School of Law, University of California, Berkeley, and has conducted continuing legal education (CLE) seminars for practicing lawyers in California, New York, and Pennsylvania. Born in Brooklyn, New York, Tanenbaum attended the University of California at Berkeley on a basketball scholarship, where he earned a B.A. He received his law degree (J.D.) from Boalt Hall School of Law at the University of California, Berkeley. Visit RobertKTanenbaumBooks.com.