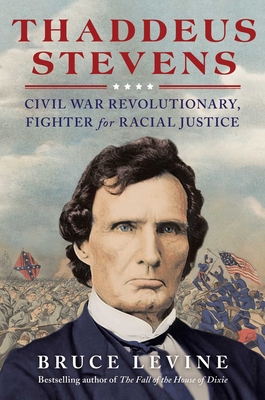 Thaddeus Stevens
Civil War Revolutionary, Fighter for Racial Justice
Hardcover

* Individual store prices may vary.
Other Editions of This Title:
Compact Disc (3/2/2021)
Description
The definitive biography of one of the 19th century's greatest statesmen, encompassing his decades-long fight against slavery, his key role in the Union war effort, and his postwar struggle to bring racial justice to America.

Thaddeus Stevens was among the first to see the Civil War as an opportunity for a second American revolution—a chance to remake the country as a true multiracial democracy. One of the foremost abolitionists in Congress in the years leading up to the war, he was a leader of the young Republican Party's radical wing, fighting for anti-slavery and anti-racist policies long before party colleagues like Abraham Lincoln endorsed them. It was he, for instance, who urged Lincoln early on to free those enslaved throughout the US and to welcome black men into the Union's armies.

During the Reconstruction era following the Civil War, Stevens demanded equal civil and political rights for black Americans, rights eventually embodied in the 14th and 15th amendments. But while Stevens in many ways pushed his party—and America—towards equality, he also championed ideas too radical for his fellow Congressmen ever to support, such as confiscating large slaveholders' estates and dividing the land among those who had been enslaved.

In Thaddeus Stevens: Civil War Revolutionary, acclaimed historian Bruce Levine has written the definitive biography of one of the most visionary statesmen of the 19th century and a forgotten champion for racial justice in America.
Praise For Thaddeus Stevens: Civil War Revolutionary, Fighter for Racial Justice…
"Bruce Levine… restores [Stevens] fully to his place in the American pantheon with Thaddeus Stevens: Civil War Revolutionary, Fighter for Racial Justice, a concise and powerful biography… [and] a fitting monument to one of the most formidable gladiators ever to stride the halls of Congress."
— The Wall Street Journal

"At last, Thaddeus Stevens, one of the nineteenth century's greatest proponents of racial justice, gets the biography he deserves. Drawing on a career of scholarly engagement with the Civil War era, Bruce Levine expertly relates how Stevens navigated the currents of the Second American Revolution, how he helped to bring about the destruction of slavery and was a leader in the effort during Reconstruction to make the United States a biracial democracy. We need Stevens' passion for equality today."
— Eric Foner, Pulitzer Prize-winning author of The Fiery Trial: Abraham Lincoln and American Slavery

"He was called everything from Robin Hood to Robespierre to evil genius to fanatic and worse. He was a "radical" in a time when that was not always derogatory. This book reveals in many dimensions a Thaddeus Stevens, who with vicious wit and shrewd political skill, was a primary founder of the second American republic. Through deep understanding of all the contexts of the Civil War era and vivid writing, Bruce Levine gives us the best biography of this towering figure yet written, and a timely story about the power of racial equality."
— David W. Blight, Pulitzer Prize-winning author of Frederick Douglass: Prophet of Freedom.

"At long last, the principled yet astute Thaddeus Stevens is the subject of a sympathetic modern biography. Bruce Levine's adept book gives us a compelling portrait of the Radical Republican extraordinaire, especially when he was at the apex of his political career during the Civil War and Reconstruction."
— Manisha Sinha, author of The Slave's Cause: A History of Abolition

"Often reviled and generally misunderstood, Thaddeus Stevens has been relegated to a dark corner of the American historical stage. The distinguished historian Bruce Levine not only brings Stevens back into the light but also reveals his significance to the revolutionary dynamic of the Civil War and Reconstruction. Levine's is a riveting read and a thought-provoking biography, more timely than ever."
— Steven Hahn, Pulitzer Prize-winning author of The Political Worlds of Slavery and Freedom

"Spirited."
— The Civil War Monitor

"Vital."
— The Guardian

"Levine writes in lucid prose with a great depth of understanding... It's impossible to read this book without seeing a reflection of our own combustible times."
— BookPage

"This is the fullest, most nuanced, and best written explication of the political career and principles ever written about one of the key figures of nineteenth-century America. It is a major contribution to antebellum, Civil War, and Reconstruction studies and to American political biography. Anyone interested in how the war evolved and why its aftermath was both so promising and so disappointing needs to read this book."
— Stephen V. Ash, author of A Massacre in Memphis: The Race Riot that Shook the Nation One Year after the Civil War

"W.E.B. Du Bois called the pioneering antislavery politician Thaddeus Stevens a 'seer of democracy.' In this superb biography, Bruce Levine has conjured Stevens's bold vision of equality, revealing that Stevens was a profound thinker who saw the essential connection between civil rights and economic rights. Levine deftly traces Stevens's dramatic political journey, with attention to setbacks and missteps as well as to the progress Stevens achieved for America. This is a timely tale of an inspirational leader."
— Elizabeth R. Varon, author of Armies of Deliverance: A New History of the Civil War

"This succinct and compelling biography… casts Stevens as a congressional leader of the drive to abolish slavery and implant civil and political equality in the Constitution, though Congress failed in the end to adopt his plan to attack economic inequality by land reform in the reconstructed South."
— James M. McPherson, Pulitzer Prize-winning author of Battle Cry of Freedom: The Civil War Era

"In this taut, authoritative, and much-needed modern biography of Thaddeus Stevens, the benchmark racial egalitarian of the Civil War era, Bruce Levine elegantly captures the steely moral fibre and unwavering political radicalism of an unsettling colleague and formidable foe. This is very fine history. Additionally, Stevens, implacable in the pursuit of racial justice, provides a relevant, stirring, and essential model for our own times."
— Richard Carwardine, author of Lincoln's Sense of Humor

"[F]ascinating… an accessible and well-researched introduction to one of the most consequential lawmakers in U.S. history."
— Publishers Weekly

"Easily the most detailed and important account of Stevens, this well-written biography belongs in every academic library and all other libraries with an emphasis on American history."
— Library Journal

"[A] fresh approach to the life of abolitionist and congressman Thaddeus Stevens... Levine's biography of the South's much-loathed Northern antagonist is a fine addition to the literature of this ever-relevant era."
— Booklist

"A convincing rehabilitation of a statesman who fought for equality before it became fashionable."
— Kirkus Reviews

"Seeks to remind readers of Stevens' enduring importance."
— Pittsburgh Post-Gazette
Simon & Schuster, 9781476793375, 320pp.
Publication Date: March 2, 2021
About the Author
Bruce Levine is the bestselling author of four books on the Civil War era, including The Fall of the House of Dixie and Confederate Emancipation, which received the Peter Seaborg Award for Civil War Scholarship and was named one of the top ten works of nonfiction of its year by The Washington Post. He is a professor emeritus of history at the University of Illinois.