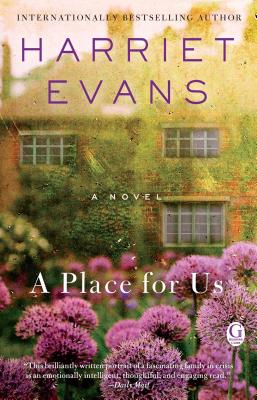 A Place For Us (Paperback)
Gallery Books, 9781476793405, 448pp.
Publication Date: February 23, 2016
Other Editions of This Title:
Hardcover (6/2/2015)
Hardcover, Large Print (10/28/2015)
* Individual store prices may vary.
Description
Major international bestseller and critically acclaimed author Harriet Evans weaves an "absorbing tapestry…with a comic touch even in the midst of tragedy" (Kirkus Reviews) in this stunning family drama that will surprise you at every turn.

When Martha, a wife and mother of three, sits down one late summer's morning to write out the invitations to her eightieth birthday celebration, she knows that what she is planning to reveal at the party could ruin the idyllic life she and her husband, David, have spent more than fifty years building.

But her family must know what she and David have sacrificed. She cannot live a lie anymore.

The invitation goes out far and wide, calling her children and grandchildren back home to Winterfold, their rambling house in the heart of the English countryside. Bill, a doctor, was once a sweet, serious boy, eager to help his mother, but he's not the man Martha thought he'd become. Florence—passionate, intellectual, one might say a little eccentric—is now an art history professor in Italy. And Daisy, the dark heart of the family, left years ago to be a charity worker abroad and never really came home. The reunion becomes a catalyst for a cascade of shocking secrets and unexpected events as the Winters grapple with the joy and the pain of the past.
About the Author
Harriet Evans is the internationally bestselling author of Going Home, A Hopeless Romantic, The Love of Her Life, I Remember You, Love Always, Happily Ever After, Not Without You, A Place for Us, The Butterfly Summer, The Wildflowers. She lives in London. Visit her website at Harriet-Evans.com.
Praise For A Place For Us…
Praise for A PLACE FOR US

"A brilliantly written story that will stay with you long after the last page."

"Lovely and heart-warming, A Place for Us is a thoroughly readable novel filled with tragedy, love and redemption."

"A really superior modern saga, with utterly true to life characters."

"This brilliantly written portrait of a fascinating family in crisis is an emotionally intelligent, thoughtful and engaging read."

"I was blissfully carried away by this intelligent...classy and superbly executed family saga."

Praise for NOT WITHOUT YOU

"Oh, I loved Not Without You! I just couldn't stop reading. Anyone who loves the old-fashioned romance of black and white movies, or wishes they could step into the film or behind the Hollywood sound stages, will love Eve's 1950s story; anyone who wonders what it's really like to be modern-day box office royalty will be gripped by Sophie's. Harriet Evans conjures up the glamour, pressures, and euphoria of life as a star, yet she creates two very real heroines treading the precarious tightrope of fame. It's a novel that your ace through hungrily, yet don't want to end, thanks to characters who feel like friends from the first page."
— New York Times bestselling author Hester Browne

"The shallow LA of today is wittily satirized, and the more glamorous age of the 50s brilliantly recalled."

"This cleverly constructed tale about the interwoven lives of two Hollywood actresses will have you gripped from the very first page. Dripping with dark humour, gritty realism, with a little bit of romance thrown in, too, it's an absorbing read."

"A multifacted tale of fading fame and shifting fortunes."

"This is more than your average chic lit. The stories of Sophie and Eve take center stage here, providing a refreshing and absorbing depth and complexity. A fascinating look at the Hollywood machine of past and present and those who have struggled within it."

Praise for LOVE OF HER LIFE

"Both entertaining and emotional; tissues at hand highly recommended."

"Evans captures the essence of the young 21st–century career woman. . . . Delightful."

"An unputdownable, gripping story of life, loss, and one girl's search for happiness."

Praise for LOVE ALWAYS

"Written in the author's usual warm, witty style, this is perfect for a cozy night in."

"Well written… you'll love it."

"(A) story of heartbreak and rivalry… An effortless and deeply satisfying romantic tale."

"A broken heart and a forbidden affair are the compelling components of this poignant tale of self-discovery…Wonderful."

Praise for I REMEMBER YOU

"A fabulous feel-good love story of friendship lost and love regained."

"This best-friends-fall-in-love novel will make a satisfying sumer read."

"Evans' latest will wrap you in a quaint tale of first loves, self-discovery and second chances . . . the locales are stunning, leading the reader on a romantic journey across Great Britain, from small towns full of Jane Austen historical sites to bustling London . . . a compelling story complete with mystery, unearthed secrets and longing for new adventures and old comforts."