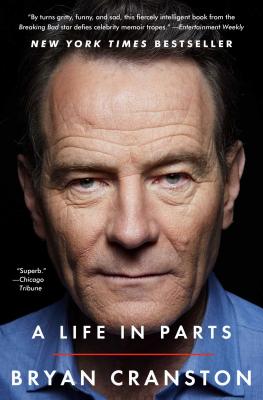 A Life in Parts
Paperback

* Individual store prices may vary.
Other Editions of This Title:
Digital Audiobook (10/10/2016)
Hardcover (10/11/2016)
CD-Audio (10/11/2016)
Description
"Nothing short of riveting...an engrossing first-person account by one of our finest actors" (Huffington Post)—both a coming-of-age story and a meditation on creativity, devotion, and craft—Bryan Cranston, beloved and acclaimed star of one of history's most successful TV shows, Breaking Bad.

Bryan Cranston began his acting career at the age of seven, when his father, a struggling actor and sometime director, cast him in a commercial for United Way. By fifth grade he was starring in the school play, spending hours at the local movie theater, and re-enacting favorite scenes with his brother in their living room. Cranston seemed destined to be an actor. But then his father left. And his family fell apart. Troubled by his father's missteps, Cranston abandoned his acting aspirations and resolved to pursue a steadier career in law enforcement. Then, on a two-year cross-country motorcycle journey, Cranston re-discovered his talent for acting and found his mission and his calling.

In this "must-read memoir" (The Philadelphia Inquirer), Cranston traces the many roles he inhabited throughout his remarkable life, both on and off screen. For the first time he shares the story of his early years as an actor on the soap opera Loving, his recurring spots on Seinfeld, and his time as bumbling father Hal on Malcolm in the Middle, to his tour-de-force, Tony-winning performance as Lyndon Baines Johnson in Broadway's All the Way, to his most iconic role of all: Breaking Bad's Walter White.

"An illuminating window into the actor's psyche" (People), Cranston has much to say about creativity, devotion, and craft, as well as innate talent and its challenges and benefits and proper maintenance. "By turns gritty, funny, and sad" (Entertainment Weekly), ultimately A Life in Parts is a story about the joy, the necessity, and the transformative power of simple hard work.
Praise For A Life in Parts…
"Boy, you think you know a guy! I worked six solid years with Bryan Cranston and figured there weren't any secrets left between us. All those hours I spent watching him wander the desert in his underpants? That alone should make me an expert on the man.

But now, along comes A Life In Parts – and suddenly I'm reading about a whole other Bryan, one who performs weddings in airplanes and camps out at mortuaries. This Bryan bathes in the blood of chickens and stuffs mackerels in air vents. He even accosts poor Alfred Hitchcock.

Yes, it's all in here. Better still, there's an exceedingly honest discussion of his craft, which will be a godsend to struggling thespians everywhere. Think your job waiting tables sucks? One of the world's greatest actors had it worse (what with being under suspicion for murder and all).

I loved this book. It's just the right mixture of funny, sad and heartfelt. If I'd known Bryan could tell stories this well, I would have had him writing episodes of Breaking Bad."--Vince Gilligan

"This splendid, moving, heartbreaking memoir is doubly triumphant. It regales and entertains while at the same time providing inspiration and practical wisdom. A truly gifted storyteller, Cranston captures the reader's imagination and emotions from beginning to end."—Doris Kearns Goodwin



"Bryan Cranston has created a cinematic record of how an actor shapes a career and an identity and a legacy all at the same time." –Tom Hanks

"The highs here—and there are many—are meth-less but addictive."--Kirkus Reviews

"[A] substantial memoir from one of Hollywood's most introspective stars...anyone interested in acting will devour Cranston's savvy advice about honing one's craft and building one's career."--Booklist

"By turns gritty,funny, and sad, this fiercely intelligent book from the Breaking Bad star defies celebrity memoir tropes."--Entertainment Weekly

"Cranston fuses his personal and professional life in a way that's nothing short of riveting....an engrossing first-person account by one of our finest actors."--Huffington Post

"[A] must-read memoir."--Philadelphia Inquirer

"A literary cup that runneth over: A candid portrait of a great actor."--Newsday

"Deeply personal...the way in which Cranston's simple, staccato prose invites readers to empathize with every 'character' he's played elevates this autobiography to more than just a look behind the scenes--it's a look behind a life."--Publishers Weekly

"Genial...funny...a book about ambition and persistence."--The Washington Post

"[Cranston] traces his on- and off-screen life with witty, absorbing candor."--Denver Post

"Superb."--Chicago Tribune

"Brilliant...[Cranston] has a knack for describing the ordinary in a way that makes it fascinating."--The Buffalo News

"Cranston delivers crisp stories about his onscreen performances in everything from daytime soaps to "Malcolm in the Middle" to his 2014 Tony-winning portrayal of President Lyndon B. Johnson in "All the Way." But he also offers many chapters in which the "part" is his real-life experience as a farmhand, hypnotist, dating consultant or even a murder suspect."--Kansas City Star



"Cranston's memoir is an illuminating window into the actor's psyche, as he opens up about his time as Walter White on the show and the fine line he walked playing that character—while looking into himself."—People

Fascinating...The candor and self-introspection of this book are reminiscent of another unflinchingly honest memoir, the late Katharine Graham's magnificent 'Personal History.'"--Pittsburgh Post-Gazette
Scribner, 9781476793870, 288pp.
Publication Date: August 8, 2017
About the Author
Bryan Cranston won four Emmy Awards for Outstanding Lead Actor in a Drama Series for his portrayal of Walter White in AMC's Breaking Bad. He holds the honor of being the first actor in a cable series, and the second lead actor in the history of the Emmy Awards, to receive three consecutive wins. In 2014 he won a Tony Award for his role as Lyndon Johnson in the bio-play All the Way. In film, Cranston received an Academy Award nomination for his leading role in Trumbo. Among his numerous television and film appearances, he was nominated for a Golden Globe and three Emmys for his portrayal of Hal in FOX's Malcolm in the Middle. He is the author of A Life in Parts.