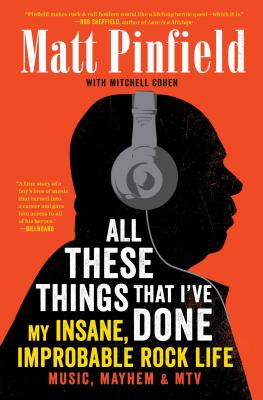 All These Things That I've Done
My Insane, Improbable Rock Life
Paperback

* Individual store prices may vary.
Other Editions of This Title:
Compact Disc (10/18/2016)
Hardcover (9/6/2016)
Description
"The most trusted opinion in rock music" (Billy Corgan, The Smashing Pumpkins), Matt Pinfield offers the ultimate music fan's memoir, an "entertaining and insightful" (Clive Davis) chronicle of the songs and artists that inspired his improbable career alongside some of the all-time greats, from The Beatles to KISS to U2 to The Killers.

Matt Pinfield "makes rock 'n' roll fandom sound like a lifelong heroic quest—which it is" (Rob Sheffield). He's the guy who knows every song, artist, and musical riff ever recorded, down to the most obscure band's B-side single on its vinyl-only import EP. As a child, Pinfield made sense of the world through music. Later, as a teenager, Pinfield would approach his music idols after concerts and explain why he loved their songs. As an adult, rock music inspired his career, fueled his relationships, and, at times, became a life raft.

In this "charming, rambling account of a life saved by rock 'n' roll...Pinfield is a disarmingly likable guide" (Kirkus Reviews) through his lifelong music obsession—from the heavy metal that infused his teenage years, to his first encounters with legends like Lou Reed and the Ramones and how, through his MTV years, he played a major role in bringing nineties alt rock mainstream. Over his long career Pinfield has interviewed everyone from Paul McCartney to Nirvana to Jay-Z, earning the trust and admiration of artists and fans alike. Now, for the first time, he shares his five decades of stories from the front lines of rock 'n' roll, exploring how, with nothing more than passion and moxy, he became a sought-after reporter, unlikely celebrity, and the last word in popular music. Featuring a rousing collection of best-of lists, favorite tracks, and artist profiles, All These Things That I've Done "is an excellent read" (Publishers Weekly) about how a born outsider wound up in the inner circle.
Praise For All These Things That I've Done: My Insane, Improbable Rock Life…
"An entertaining, insightful book on the hold that rock music has on its most passionate and devoted fans. Anyone who's been seduced by the power of music will find something to relate to in it."—Clive Davis

"As intensely as any musician or songwriter, Matt Pinfield has walked the walk of rock and roll for decades and in doing so has made and enhanced the careers of dozens of great artists. He also turns out to be a revelatory writer with an ability to express emotionally powerful detail about both his own journey and those of many rock and roll greats. All These Things That I've Done is one of the deepest and most entertaining books ever about rock culture."--Danny Goldberg, author Bumping Into Geniuses

"Pinfield deftly narrates his musical life, offering a fascinating history of rock music told from his passionate perspective...His encyclopedic knowledge of contemporary sounds makes the memoir as informative as it is personal. This is an excellent read for anyone interested in rock's history."--Publishers Weekly

"Matt was the Man for those of us who beheld his rock wisdom on MTV. This is his life as a raconteur, a bon vivant, but most of all a fan who never lost his raw passion and burning heart and gargantuan music appetite. He makes rock & roll fandom sound like a lifelong heroic quest—which it is."—Rob Sheffield, author of Love is a Mixtape

"A charming, rambling account of a life saved by rock 'n' roll...Pinfield is a disarmingly likable guide through rock 'n' roll's twilight."--Kirkus Reviews

"[Pinfield's] obvious joy for getting to work with the very people who have inspired him since his early days in New Jersey, as a boy listening to records at his parents' home, fills each page with warm humor and insider's knowledge of the rock-and-roll business, from the 1980s through the present."--Shelf Awareness

"Beautifully crafted....Whether its encounters with The Ramones and Lou Reed or interviewing Paul McCartney, Nirvana and Jay Z, Pinfield tells each story with wit, candor and above all a love and an appreciation for the music."--The Interrobang

"A true story of a boy's love of music that turned into a career and gave him access to all of his heroes."--Billboard
Scribner, 9781476793900, 272pp.
Publication Date: April 4, 2020
About the Author
Matt Pinfield is a music personality, TV host, and video deejay on MTV and VH1. He lives in Harrison, New Jersey, and All These Things That I've Done is his first book.

Mitchell Cohen has written on music and film for such publications as Creem, Film Comment, Village Voice, Phonograph Record, Musician and High Fidelity, and was a senior A&R executive at Arista, Columbia and Verve Records. He has won a Clio Award, was nominated for a Grammy, and writes the culture blog Lost In a Fool's Paradise.