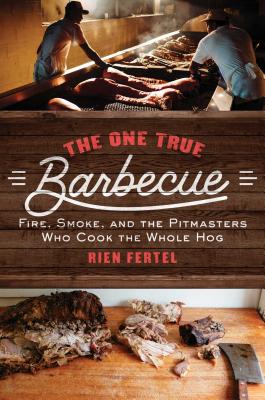 The One True Barbecue (Hardcover)
Fire, Smoke, and the Pitmasters Who Cook the Whole Hog
Touchstone Books, 9781476793979, 288pp.
Publication Date: May 10, 2016
* Individual store prices may vary.
Description
"For anyone interested in the origins, history, methods and spectacle of whole-hog barbecue, this book is essential reading...Fertel leaves readers hungry not only for barbecue but also for the barbecue country he so engagingly maps" (The Wall Street Journal). In the spirit of the oral historians who tracked down and told the stories of America's original bluesmen, this is a journey into the southern heartland to discover the last of the great roadside whole hog pitmasters who hold onto the heritage and the secrets of America's traditional barbecue. In The One True Barbecue, Rien Fertel chronicles the uniquely southern art of whole hog barbecue--America's original barbecue--through the professional pitmasters who make a living firing, smoking, flipping, and cooking 200-plus pound pigs. More than one hundred years have passed since a small group of families in the Carolinas and Tennessee started roasting a whole pig over a smoky, fiery pit. Descendants of these original pitmasters are still cooking, passing down the recipes and traditions across generations to those willing to take on the grueling, dangerous task. This isn't your typical backyard pig roast, and it's definitely not for the faint of heart. This is barbecue at its most primitive and tasty. Fertel finds the gatekeepers of real southern barbecue--including those who tend the fire at legendary spots like Bum's, Wilber's, Sweatman's, Grady's, the Skylight Inn, and three different places named Scott's--to tell their stories and pay homage to the diversity and beauty of this culinary tradition. These pitmasters are now influencing a new breed of chefs and barbecue enthusiasts from Nashville to Brooklyn. To quote Serious Eats The One True Barbeque is "one damn good book about American barbecue.
or
Not Currently Available for Direct Purchase