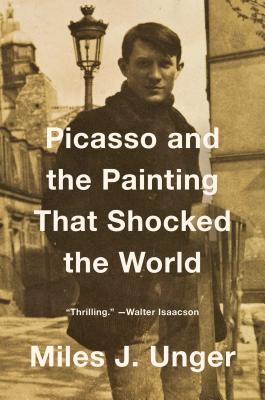 Picasso and the Painting That Shocked the World
Hardcover

* Individual store prices may vary.
Other Editions of This Title:
Paperback (3/26/2019)
Compact Disc (3/13/2018)
MP3 CD (3/13/2018)
Compact Disc (3/13/2018)
Description
One of The Christian Science Monitor's Best Nonfiction Books of 2018

When Picasso became Picasso: the story of how an obscure young painter from Barcelona came to Paris and made himself into the most influential artist of the twentieth century.

In 1900, an eighteen-year-old Spaniard named Pablo Picasso made his first trip to Paris. It was in this glittering capital of the international art world that, after suffering years of poverty and neglect, he emerged as the leader of a bohemian band of painters, sculptors, and poets. Fueled by opium and alcohol, inspired by raucous late-night conversations at the Lapin Agile cabaret, Picasso and his friends resolved to shake up the world.

For most of these years Picasso lived and worked in a squalid tenement known as the Bateau Lavoir, in the heart of picturesque Montmartre. Here he met his first true love, Fernande Olivier, a muse whom he would transform in his art from Symbolist goddess to Cubist monster. These were years of struggle, often of desperation, but Picasso later looked back on them as the happiest of his long life.

Recognition came slowly: first in the avant-garde circles in which he traveled, and later among a small group of daring collectors, including the Americans Leo and Gertrude Stein. In 1906, Picasso began the vast, disturbing masterpiece known as Les Demoiselles d'Avignon. Inspired by the groundbreaking painting of Paul Cézanne and the startling inventiveness of African and tribal sculpture, Picasso created a work that captured and defined the disorienting experience of modernity itself. The painting proved so shocking that even his friends assumed he'd gone mad. Only his colleague George Braque understood what Picasso was trying to do. Over the next few years they teamed up to create Cubism, the most revolutionary and influential movement in twentieth-century art.

This is the story of an artistic genius with a singular creative gift. It is filled with heartbreak and triumph, despair and delirium, all of it played out against the backdrop of the world's most captivating city.
Praise For Picasso and the Painting That Shocked the World…
"The birth of modernism a century ago was one of history's greatest moments of creative disruption, including Einstein's physics, Stravinsky's music, and the writings of Joyce and Proust. One major spark was an astonishing painting by Picasso, and Miles Unger brings us both the drama and brilliance of that creation in this thrilling book."
— Walter Isaacson, author of Leonardo da Vinci

"Riveting. . . . This engrossing book chronicles with precision and enthusiasm a painting with lasting impact in today's art world."
— Publishers Weekly (starred review)

"Bohemian Montmartre comes brilliantly to life, as do the artist's struggles."
— The New Yorker

"An engrossing read. . . . Unger draws not just from his own wide knowledge and considered taste but from an imposing array of journals, memoirs, biographies and periodicals. From these he offers a historically and psychologically rich account of the young Picasso and his coteries in Barcelona and Paris."

— Alexander C. Kafka

"This excellent narrative by art historian and journalist Miles Unger culminates in Pablo Picasso's creation of 'Les Demoiselles d'Avignon' in 1907. In exploring the groundbreaking work, Unger combines the personal story of Picasso's early years in Paris – his friendships, his romances, his great ambition, his fears – with the larger story of modernism and the avant-garde."
— Christian Science Monitor

"[A] vibrant biography. . . . Unger succeeds in making Les Demoiselles d'Avignon, the book's titular painting, accessible. Heady modern art is made over as approachable and exciting."
— Booklist
Simon & Schuster, 9781476794211, 480pp.
Publication Date: March 13, 2018
About the Author
Miles J. Unger writes on art, books, and culture for The Economist. Formerly the managing editor of Art New England, he was a contributing writer to The New York Times. He is the author of Picasso and the Painting That Shocked the World; The Watercolors of Winslow Homer; Magnifico: The Brilliant Life and Violent Times of Lorenzo de' Medici; Machiavelli: A Biography; and Michelangelo: A Life in Six Masterpieces. Visit MilesJunger.com.
or
Not Currently Available for Direct Purchase