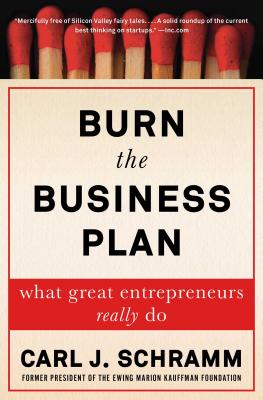 Burn the Business Plan (Paperback)
What Great Entrepreneurs Really Do
Simon & Schuster, 9781476794372, 288pp.
Publication Date: January 8, 2019
Other Editions of This Title:
Hardcover (1/16/2018)
Compact Disc (1/16/2018)
MP3 CD (1/16/2018)
MP3 CD (1/8/2019)
Pre-Recorded Audio Player (1/16/2018)
* Individual store prices may vary.
Description
Business startup advice from the former president of the Ewing Marion Kaufmann Foundation and cofounder of Global Entrepreneurship Week and StartUp America, this "thoughtful study of 'how businesses really start, grow, and prosper'...dispels quite a few business myths along the way" (Publishers Weekly).

Carl Schramm, the man described by The Economist as "The Evangelist of Entrepreneurship," has written a myth-busting guide packed with tools and techniques to help you get your big idea off the ground. Schramm believes that entrepreneurship has been misrepresented by the media, business books, university programs, and MBA courses. For example, despite the emphasis on the business plan in most business schools, some of the most successful companies in history—Apple, Microsoft, Google, Facebook, and hundreds of others—achieved success before they ever had a business plan.

Burn the Business Plan punctures the myth of the cool, tech-savvy twenty-something entrepreneur with nothing to lose and venture capital to burn. In fact most people who start businesses are juggling careers and mortgages just like you. The average entrepreneur is actually thirty-nine years old, and the success rate of entrepreneurs over forty is five times higher than that of those under age thirty. Entrepreneurs who come out of the corporate world often have discovered a need for a product or service and have valuable contacts to help them get started.

Filled with stories of successful entrepreneurs who drew on real-life experience rather than academic coursework, Burn the Business Plan is the guide to starting and running a business that will actually work for the rest of us.
About the Author
Carl J. Schramm is University Professor at Syracuse University and former president of the Ewing Marion Kauffman Foundation. Schramm has served in major corporate roles and chaired the US Department of Commerce's Measuring Innovation in the Twenty-First Century Economy Advisory Committee. He was also a member of the President's National Advisory Council on Innovation and Entrepreneurship. Schramm splits his time between upstate New York and Florida. Visit CarlSchramm.com.
Praise For Burn the Business Plan: What Great Entrepreneurs Really Do…
"Mercifully free of Silicon Valley fairy tales. Schramm is interested in real people starting real companies: Readers will find most of his cases gratifyingly unfamiliar and generally relatable. Burn is a solid roundup of the current best thinking on startups, guiding new entrepreneurs in both introspection and execution."
— Leigh Buchanan

"This business book lives up to its billing. . . . [Schramm] sets forth in real, practical, down-to-earth ways his knowledge of everything from debunking myths to identifying actions for success."

"New businesses are about great ideas, not great plans. Schramm tells it as it really happens."


— Mitch Lowe, co-founder of Netflix, founder of MoviePass

"Required reading for those who want to learn the real entrepreneurial process. It obliterates the useless conventional wisdom urged upon aspiring entrepreneurs of writing business plans and focusing on venture capital. This book, filled with stories of entrepreneurs just like you, is for the 99 percent of people who dream of starting a business but can't find a practical roadmap."
— Eugene Fitzgerald, Merton C. Flemings-SMA Professor of Engineering, MIT; founder, AmberWave Systems Corporation and The Water Initiative; and co-founder of 4Power and New Silicon Corporation

"Business professors, many of whom never started a business, may hate this book because it overturns their view that writing a business plan is the key to success. Instead, this is a book filled with plain-spoken practical advice from one of the country's most thoughtful experts on entrepreneurship who is both a scholar and successful entrepreneur."
— Robert Litan, Director of Entrepreneurial Studies, Council on Foreign Relations