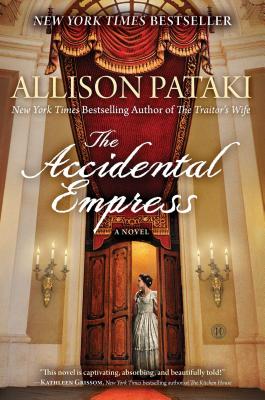 The Accidental Empress
A Novel
Paperback

* Individual store prices may vary.
Other Editions of This Title:
Digital Audiobook (2/16/2015)
Description
A New York Times bestseller, The Accidental Empress is the "captivating, absorbing, and beautifully told" (Kathleen Grissom) love story of "Sisi" the Austro-Hungarian empress and wife of Emperor Franz Joseph.

The year is 1853, and the Habsburgs are Europe's most powerful ruling family. With his empire stretching from Austria to Russia, from Germany to Italy, Emperor Franz Joseph is young, rich, and ready to marry.

Fifteen-year-old Elisabeth, "Sisi," Duchess of Bavaria, travels to the Habsburg Court with her older sister, who is betrothed to the young emperor. But shortly after her arrival at court, Sisi finds herself in an unexpected dilemma: she has inadvertently fallen for and won the heart of her sister's groom. Franz Joseph reneges on his earlier proposal and declares his intention to marry Sisi instead.

Thrust onto the throne of Europe's most treacherous imperial court, Sisi upsets political and familial loyalties in her quest to win, and keep, the love of her emperor, her people, and of the world.

With Pataki's rich period detail and cast of complex, bewitching characters, The Accidental Empress offers "another absolutely compelling story" (Mary Higgins Clark) with this glimpse into one of history's most intriguing royal families, shedding new light on the glittering Hapsburg Empire and its most mesmerizing, most beloved "Fairy Queen."
Praise For The Accidental Empress: A Novel…
"This novel is captivating, absorbing, and beautifully told--I can't wait for the sequel!"
— Kathleen Grissom, New York Times bestselling author of The Kitchen House

"A love match alters the course of history...Pataki deserves kudos for choosing her subject matter well—Sisi's life is ideal fictional fodder."
— Kirkus Reviews

"Intricately plotted, Pataki's latest is engrossing and incredibly real."
— Romantic Times (four stars)

"Another absolutely compelling story. I loved it."
— Mary Higgins Clark

"This novel is captivating, absorbing, and beautifully told--I can't wait for the sequel!"
— Kathleen Grissom, New York Times bestselling author of The Kitchen House

"The Accidental Empress is lush, romantic, and enlightening—a truly lovely novel."
— Therese Fowler, New York Times bestselling author of Z

"Allison Pataki brings to life one of the most enigmatic, intelligent, and stunningly beautiful women ever to have graced a court in Europe. A remarkable novel about a truly remarkable empress!"
— Michelle Moran, bestselling author of Rebel Queen

"Once again Pataki stuns by diving deep into the pages of history and bringing up a heroine who is not only a jewel, but a red-blooded, complicated woman, allowing us to see history through a refreshingly new perspective. Smart, interesting, and chock-full of betrayal, intrigue, and love -- The Accidental Empress had me glued to the page."
— Lee Woodruff, New York Times Best-Selling author and CBS This Morning contributor

"With her meticulous attention to historical detail and powerfully entertaining storytelling skills, Allison Pataki is a force in historical fiction. Set amid the grand landscapes of the Austro-Hungarian Empire and the wilds of the human heart, The Accidental Empress is an epic tale of honor, power, and love. Breathtaking!"
— Erika Robuck, bestselling author of Hemingway's Girl

"A glorious novel about a misunderstood empress...With a sumptuous sense of history and evocative attention to detail, Allison Pataki conjures the rebellious, glamorous spirit of Sisi of Austria."
— C.W. Gortner, bestselling author of The Queen's Vow

"The Accidental Empress is a tale of royal love we don't know but should, and who better to share it with us than the supremely gifted and entertaining historical novelist, Allison Pataki. A delightful gift for readers...The Accidental Empress is enthralling."
— -Allegra Jordan, Author of The End of Innocence

"I felt as if I'd been transported to Austria in this powerful and sweeping novel. A heart wrenching, beautiful story, rich with historical detail and political intrigue. Skillful and utterly captivating."
— M.J. Rose, New York Times bestselling author of The Witch of Painted Sorrows

"The Accidental Empress is a stunning masterpiece of imagination, enriched with lavish historical detail. Utterly riveting, amazingly insightful. A splendid saga sure to capture the heart."
— Jan Moran, bestselling author of Scent of Triumph

Pataki's fully drawn ACCIDENTAL EMPRESS is an indelible portrayal—not only of one of the most complicated and misunderstood Habsburgs, but of a turbulent royal marriage during a tumultuous era.
— Juliet Grey, author of the acclaimed Marie Antoinette trilogy

"Allison Pataki so vividly depicts the world of the Habsburg court, you'll feel the silk of Sisi's gowns under your very fingers as you eagerly turn the pages of THE ACCIDENTAL EMPRESS. As a woman both ahead of her time and wholly situated within it, Sisi makes for a captivating central figure, and rarely has an author so heartbreakingly captured the exquisite tragedy of getting what you want. Sumptuous, surprising, and deeply felt."
— Greer Macallister, author of THE MAGICIAN'S LIE
Howard Books, 9781476794747, 512pp.
Publication Date: October 13, 2015
About the Author
Allison Pataki is the New York Times bestselling author of five adult fiction novels, one nonfiction memoir, and two children's books, Nelly Takes New York and Poppy Takes Paris. Allison's books have been translated into more than twenty languages. A former news writer and producer, Allison graduated cum laude from Yale University with a major in English. An avid traveler and reader, Allison lives in New York with her husband, children, and rescue pup. To learn more and connect with Allison, please visit AllisonPataki.com.