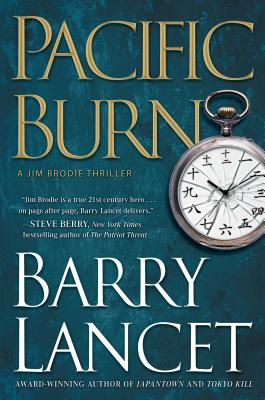 Pacific Burn
A Thriller (A Jim Brodie Thriller #3)
Hardcover

* Individual store prices may vary.
Other Editions of This Title:
Digital Audiobook (2/8/2016)
Paperback (2/28/2017)
Description
"Pacific Burn is a page-turning, globe-spanning tale of murder, suspense, and intrigue that grabs and holds your attention from beginning to end. Barry Lancet is truly a gifted author, and his character of Jim Brodie is unlike any private investigator you've ever encountered in literature." —Nelson DeMille, New York Times bestselling author of Radiant Angel

In the third book in "what will likely be a long and successful series" (San Francisco Magazine), Japanese antiques dealer and PI Jim Brodie goes up against the CIA, FBI, Department of Homeland Security—and a killer operating on both sides of the Pacific.

In recognition for his role in solving the Japantown murders in San Francisco, antiques dealer and sometime-PI Jim Brodie has just been brought on as the liaison for the mayor's new Pacific Rim Friendship Program. Brodie in turn recruits his friend, the renowned Japanese artist Ken Nobuki, and after a promising meeting with city officials and a picture-perfect photo op, Brodie and Nobuki leave City Hall for a waiting limo.

But as soon as they exit the building, a sniper attacks them from the roof of the Asian Art Museum. Quick thinking allows Brodie to escape, but Nobuki ends up hospitalized and in a coma. Brodie soon realizes that, with the suspicious and untimely death of Nobuki's oldest son a week earlier in Napa Valley, someone may be targeting his friend's family—and killing them off one by one.

Suspects are nearly too numerous to name—and could be in the United States or anywhere along the Pacific Rim. The quest for answers takes Brodie from his beloved San Francisco to Washington, DC, in a confrontation with the DHS, the CIA, and the FBI; then on to Tokyo, Kyoto, and beyond, in search of what his Japanese sources tell him is a legendary killer in both senses of the word—said to be more rumor than real, but deadlier than anything else they've ever encountered if the whispers are true.
Praise For Pacific Burn: A Thriller (A Jim Brodie Thriller #3)…
"Jim Brodie is a true 21st century hero…on page after page, Barry Lancet delivers."
—Steve Berry, New York Times bestselling author of The Patriot Threat



"I loved Japantown and Tokyo Kill, but Pacific Burn is Lancet's best book yet. Japan expert, art dealer, and sometimes PI, Jim Brodie makes for a character as layered and nuanced as the Japanese culture. Lancet knows art, knows Japan, and knows how to write a mystery that grabs hold and doesn't let go."
—Marc Cameron, author of the USA Today bestselling Jericho Quinn thrillers

"As ever, Lancet stages some good fight scenes—no one gets beaten up as well as Brodie—and keeps the action going… An action-filled effort."
—Kirkus

"All of these stories have been outstanding, and in this new title, Jim is up against a global conspiracy that is the biggest he has ever seen, while dealing with a killer that even the underworld avoids. Barry Lancet is an incredible suspense author who has "knocked it out of the park" yet again."
—Suspense Magazine

"In Lancet's exciting third Jim Brodie thriller… Brodie faces a 'nightmarish mix of motives and suspects'…[with a] complexity of plot and audacity of story line."
—Publishers' Weekly

"Japantown is an expertly written story with vivid, complex characters. The mystery holds surprises until the very end."

—Larry Bond

"This is a terrific debut from a talented and very promising writer. Nimbly written and atmospheric. Lancet ... depicts a rich mixture of art and violence, the past and the present, east and west."

—T. Jefferson Parker

"Certainly Lancet's best effort to date, Pacific Burn demonstrates that like its bilingual protagonist, the author's been adding more tricks of the trade to his repertoire."
– Japan Times

"The third book in the series, Pacific Burn, offers a potent mix of action, atmosphere, and fascinating cultural details."
– The Los Angeles Review of Books

"With the dazzling array of colorful settings and historical concoctions, Pacific Burn is a sizzling hot tale in the best tradition of Steve Berry and Daniel Silva. Everything a global thriller is supposed to be and featuring a beautifully etched rendition of Japanese culture and lore."
—Providence Journal

"There is really no one quite like the enigmatic Jim Brodie... Lancet created a character much like Lee Child's Reacher and Michael Connelly's Bosch. It's the perfect triad."
—Fairfield Daily Republic

"Lancet does a fine job of taking us into Japanese (and Japanese American) culture without resorting to stereotype. The plotting is tight, the characters are richly detailed, and Brodie continues to prove himself a solid series lead."
—Booklist

"Ripped from the headlines, Brodie's latest outing is already receiving strong buzz and is arguably the best in the series."
—Criminal Element
Simon & Schuster, 9781476794884, 368pp.
Publication Date: February 9, 2016
About the Author
Barry Lancet is a Barry Award­–winning author and finalist for the Shamus Award. He has lived in Japan for more than twenty-five years. His former position as an editor at one of the nation's largest publishers gave him access to the inner circles in traditional and business fields most outsiders are never granted, and an insider's view that informs his writing. He is the author of the Jim Brodie series: The Spy Across the Table; Pacific Burn; Tokyo Kill; and Japantown, which received four citations for Best First Novel and has been optioned by J.J. Abrams's Bad Robot Productions, in association with Warner Brothers. Visit Lancet at BarryLancet.com or on Twitter @BarryLancet.
or
Not Currently Available for Direct Purchase