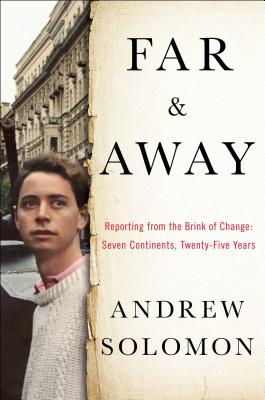 Far and Away
Reporting from the Brink of Change
Hardcover

* Individual store prices may vary.
Other Editions of This Title:
Digital Audiobook (4/18/2016)
Description
A New York Times Notable Book

From the winner of the National Book Award and the National Books Critics' Circle Award—and one of the most original thinkers of our time—a riveting collection of essays about places in dramatic transition.

Far and Away collects Andrew Solomon's writings about places undergoing seismic shifts—political, cultural, and spiritual. Chronicling his stint on the barricades in Moscow in 1991, when he joined artists in resisting the coup whose failure ended the Soviet Union, his 2002 account of the rebirth of culture in Afghanistan following the fall of the Taliban, his insightful appraisal of a Myanmar seeped in contradictions as it slowly, fitfully pushes toward freedom, and many other stories of profound upheaval, this book provides a unique window onto the very idea of social change. With his signature brilliance and compassion, Solomon demonstrates both how history is altered by individuals, and how personal identities are altered when governments alter.

A journalist and essayist of remarkable perception and prescience, Solomon captures the essence of these cultures. Ranging across seven continents and twenty-five years, Far and Away takes a magnificent journey into the heart of extraordinarily diverse experiences, yet Solomon finds a common humanity wherever he travels. Illuminating the development of his own genius, his stories are always intimate and often both funny and deeply moving.
Praise For Far and Away: Reporting from the Brink of Change…
"Andrew Solomon is every bit as magnificent a traveler as he is a writer — in fact, it's difficult at times to determine which is the greater talent. Thankfully, the reader gets to experience both gifts throughout the pages of this deeply impressive and profoundly moving collection. Here is man whose curiosities are vast (politics, art, food, psychology, anthropology), and whose intellect is beautifully honed, but whose spirit is humble and whose heart is enormous. You will not only know the world better after having seen it through Solomon's eyes, you will also care about it more."
— Elizabeth Gilbert

"This is a beautiful book, inspired by love of 'away' and uncertainty about 'home,' a celebration of freedom which valuably warns that freedom must sometimes be learned. Much more than 'travel writing,' it's a portrait of our world, made by someone who has been there."
— Salman Rushdie

"From Cape Town to Bucharest, and Hangzhou to Tripoli, Andrew Solomon's Far and Away is positively Whitmanian in its openness to difficulty and its embodiment of wonder. I felt exposed and expanded. This book is an ecstatic provocation to understand ourselves not as citizens of nations but as citizens of the entire world, a world whose territories are glorious and troubled and desperately connected."
— Leslie Jamison

"Agile, informative, even revelatory pieces that, together, show us both the great variety of humanity and the interior of a gifted writer's heart."
— Kirkus, starred review

"Journalist and psychologist Solomon gamely plunges into global tragedies, hot spots, and cultural ferment. . . . Solomon's writing captures the sweep of history and social upheaval through vivid, fine-grained reportage that's raptly attuned to individual experience."
— Publishers Weekly

"Andrew Solomon's magisterial Far and Away collects a quarter-century of soul-shaking essays."
— Vanity Fair

"The meaty dispatches—from Russia, Afghanistan, Brazil, Myanmar, Antarctica, Libya, and other locales—are brilliant geopolitical travelogues that also comprise a very personal and reflective resume of the National Book Award winner's globe-trotting adventures."
— Elle

"Far and Away is a reminder that, although foreign reporting isn't easy, and that American journalists probably get places wrong as often as they get them right, deep work is worth doing and worth paying for, both to encourage cultural exchange and because a skilled writer who reports at length may create literature."
— Pacific Standard

"Far & Away" is a big, sumptuous collection of those pieces of reportage and travel writing. . . . . Solomon is foremost a keenly sympathetic observer; in every one of these reprinted pieces, he's carefully watching the everyday people on whose homes and plights he's also reporting. . . . . But prevailing mood is a smart, detail-oriented exuberance; this is a shrewd and generous view of the world as few people get to see it."
— Steve Donoghue, Christian Science Monitor

"[A] deeply humane book [that] cuts against the grain, urging readers to exit their comfort zones and engage with new people and unfamiliar points of view. . . . Solomon's reporting from far-flung places is surprisingly powerful, a bighearted response to a divisive era."
— Kevin Canfield, Minneapolis Star-Tribune

"Beautifully written... Solomon's fans, readers of travel literature, and students of long-form journalism will welcome this addition."
— Library Journal

"His prose sparkles with insights and captivating description, whether he is observing camels in Mongolia . . . or eating his way through China."
— Joshua Hammer, New York Times Book Review

"This is an untidy book, but a great one. . . . Intense purposefulness is what makes this book extraordinary. Travel is usually self-serving. Solomon's is seldom that. Hope fuels his voyages. . . . This is a very noble book."
— Gerard DeGroot, Washington Post

"What sets Solomon apart is a genius for exploring with openness and modesty the spirit of the places he is visiting. . . . Solomon's vivid dispatches are a gift to humanity . . . bringing fleeting coherence to a world forever on the brink."
— The Australian
Scribner, 9781476795041, 592pp.
Publication Date: April 19, 2016
About the Author
Andrew Solomon is a professor of psychology at Columbia University, president of PEN American Center, and a regular contributor to The New Yorker, NPR, and The New York Times Magazine. A lecturer and activist, he is the author of Far and Away: Essays from the Brink of Change: Seven Continents, Twenty-Five Years; the National Book Critics Circle Award-winner Far from the Tree: Parents, Children, and the Search for Identity, which has won thirty additional national awards; and The Noonday Demon; An Atlas of Depression, which won the 2001 National Book Award, was a finalist for the Pulitzer Prize, and has been published in twenty-four languages. He has also written a novel, A Stone Boat, which was a finalist for the Los Angeles Times First Fiction Award and The Irony Tower: Soviet Artists in a Time of Glasnost. His TED talks have been viewed over ten million times. He lives in New York and London and is a dual national. For more information, visit the author's website at AndrewSolomon.com.
or
Not Currently Available for Direct Purchase