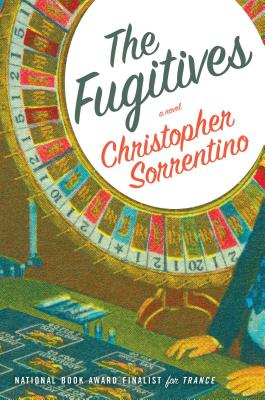 The Fugitives
Hardcover

* Individual store prices may vary.
Other Editions of This Title:
Paperback (2/28/2017)
Description
From National Book Award finalist Christopher Sorrentino, a bracing, kaleidoscopic look at love and obsession, loyalty and betrayal, race and identity, compulsion and free will…

Sandy Mulligan is in trouble. To escape his turbulent private life and the scandal that's maimed his public reputation, he's retreated from Brooklyn to the quiet Michigan town where he hopes to finish his long-overdue novel. There, he becomes fascinated by John Salteau, a native Ojibway storyteller who regularly appears at the local library.

But Salteau is not what he appears to be—a fact suspected by Kat Danhoff, an ambitious Chicago reporter of elusive ethnic origins who arrives to investigate a theft from a nearby Indian-run casino. Salteau's possible role in the crime could be the key to the biggest story of her stalled career. Bored, emotionally careless, and sexually reckless, Kat's sudden appearance in town immediately attracts a restive Sandy.

As the novel weaves among these characters uncovering the conflicts and contradictions between their stories, we learn that all three are fugitives of one kind or another, harboring secrets that threaten to overturn their invented lives and the stories they tell to spin them into being. In their growing involvement, each becomes a pawn in the others' games—all of them just one mistake from losing everything.

The signature Sorrentino touches that captivated readers of Trance are all here: sparkling dialogue, narrative urgency, mordant wit, and inventive, crystalline prose—but it is the deeply imagined interior lives of its characters that set this novel apart. Moving, funny, tense, and mysterious, The Fugitives is at once a love story, a ghost story, and a crime thriller. It is also a cautionary tale of twenty-first century American life—a meditation on the meaning of identity, on the role storytelling plays in our understanding of ourselves and each other, and on the difficulty of making genuine connections in a world that's connected in almost every way.

Exuberantly satirical, darkly enigmatic, and completely unforgettable, The Fugitives is an event that reaffirms Sorrentino's position as an American writer of the first rank.
Praise For The Fugitives…
Praise for The Fugitives:

"The language of The Fugitives is at once remarkable, startling and invisible. I was completely sucked into the worlds of these characters. It takes a master to make me forget I'm holding a book. Well, I forgot that for more than 300 pages. Brilliant."
—Percival Everett

"A powerful and fiercely unsentimental novel that blazes past all the well-worn pieties about love and loss and leaves them in ashes."
—Jenny Offill

"You don't generally read fiction writer Christopher Sorrentino for his plots. You read his novels for the music of his language, the acuteness of his ear for American vernacular, and for the sense that however relaxed his approach to storytelling, he's guiding the reader someplace worth going.... But even in this more story-driven book, Sorrentino finds meaning, melody, grace and more than a little comedy in moments that play out the furthest edges of the plot. It's the texture of what happens between the lines of the story, not the story itself, that sticks in the reader's mind."
— Chicago Tribune's Printer's Row

"Stunning….an entirely new kind of novel with exceptional interior monologues animated by deception, double-dealing and a doomed affair that lends an air of existential dread to the story."
— Los Angeles Times

"But knowingness is a funny thing in The Fugitives, a novel too cunning, and too interested in how manipulatively autobiographical narratives are deployed,to be read as a simple roman à clef. We all know the How We Live Now novel;this is a How We Lie Now novel…. Bullshit is the only system Mulligan knows,and it's a system too entrenched for either him or Kat to escape, let alone find love in. The Fugitives is a novel of that system: It shows us what we're all stuck inside. 'Only in death,' says a ghost, summarily, 'is there time to rue life as fully as life deserves.' This brilliantly cranky book suggests that the ghost might be wrong."
— Bookforum

"Sorrentino proved to be a virtuoso of narrative complexity and acid social commentary in Trance (2005), a National Book Award finalist. In this heady tale of self and identity, vocation and ambition, he demonstrates his wily comedic skills….Generating psychological and cultural insights as bright and stinging as a wielder's sparks, Sorrentino blasts insidious commercialism and corruption, digital narcosis, and the failures of the book and newspaper worlds, while detonating hollow notions of authenticity, ethics, and freedom. A mischievously funny, keenly incisive, and mind-bending outlaw tale."
— Booklist (starred review)

"His name evokes Sorrentino's father's acclaimed novel Mulligan Stew, another tale of a struggling writer whose narrative falls apart. Mulligan's novel suffers neglect as he befriends a swindler and becomes involved with an investigative reporter who's there to uncover the crime; Sorrentino's plot, in contrast, is fine-tuned."
— The Millions

"The Fugitives, rife with Sorrentino's dark wit and acute cultural observations, does not disappoint." (Dana Spiotta, BOMB)

Praise for Trance

"Like Don DeLillo in Libra and Philip Roth in American Pastoral, Christopher Sorrentino has opened the pages of his fiction to the breadth of collective memory, and the result is one of the most humane and haunting novels I've read in years...Sorrentino possesses a searing gaze, a polymath's erudition, and a lover's ear for the frailties of human language."
—Jonathan Lethem

"Trance is a work of startling insight, marvelously and masterfully evoking the grim stuff of true American nightmares."
—Colson Whitehead

"Playful, scathing, gripping, and profound, this book is a meditation and a provocation, full of humor and menace. Sorrentino has broken new ground at the border of fiction and history."
—Sam Lipsyte

"An ambitious, intelligent, and kaleidoscopically opulent book, remarkably evocative of the textures and tones of the seventies. Sorrentino has a talent for creating authentic, microscopic moments that capture the spirit of the era."
—Lydia Millet

"This sprawling work is so ambitious and irreverent that it doesn't fit easily into any genre...Full of descriptions sublime in their precision...Trance is a pleasure ot read -- delightful and often funny."
—Los Angeles Times

"[Sorrentino] remains a virtuoso, and much of the success of this book is due to his writing skill...[He] is an insightful, sensitive writer who makes you believe you're seeing what he's describing."
—Harvey Pekar, The Baltimore Sun

"Sorrentino has something of Don DeLillo's ear for American white noise -- for the hiss and crackle that fills the country's derelict spaces."
—New York Times Book Review

Praise for SOUND ON SOUND

"Sorrentino has used the rock book format (and his superbly pompous 'multitrack' device) as a vehicle for a brilliant and complex novel about remembered truths and modern ennui...gasps of bright poetry...eloquent prose."
—Patrick Barber, Los Angeles Reader

"...reading rock'n'roll has never been a particularly rewarding experience...but by handling submediocre musicians with cynical wit and an inventive kind of non-storytelling--and by being admirably unmindful of SPINAL TAP--Sorrentino gives the rock novel some hope."
—Marc Weidenbaum, PULSE!

"Flawlessly executed...sheer virtuosity...funny, perceptive and dead-on the satirical mark."
—Publishers Weekly

"As a sardonic condemnation of the bloated egos of rock 'n' roll, it's a ten-minute drum solo with flaming cymbals."
—LIT (Chicago)
Simon & Schuster, 9781476795744, 336pp.
Publication Date: February 9, 2016
About the Author
Christopher Sorrentino is the author of five books, including the National Book Award Finalist Trance. His work has appeared in Esquire, Granta, Harper's, The New York Times, Tin House, and many other publications. He lives in New York City.
or
Not Currently Available for Direct Purchase