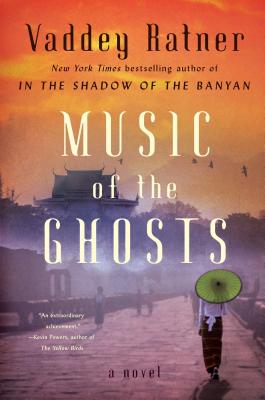 Music of the Ghosts (Hardcover)
A Novel
Atria Books, 9781476795782, 336pp.
Publication Date: April 11, 2017
Other Editions of This Title:
Digital Audiobook (4/10/2017)
Paperback (4/3/2018)
Hardcover, Large Print (8/16/2017)
* Individual store prices may vary.
Description
An astonishing and powerful new novel from PEN/Hemingway finalist Vaddey Ratner.

Leaving the safety of America, Teera returns to Cambodia for the first time since her harrowing escape as a child refugee. She carries a letter from a man who mysteriously signs himself as "the Old Musician" and claims to have known her father in the Khmer Rouge prison where he disappeared twenty-five years ago.

In Phnom Penh, Teera finds a society still in turmoil, where perpetrators and survivors of unfathomable violence live side by side, striving to mend their still beloved country. She meets a young doctor who begins to open her heart, immerses herself in long-buried memories and prepares to learn her father's fate.

Meanwhile, the Old Musician, who earns his modest keep playing ceremonial music at a temple, awaits Teera's visit with great trepidation. He will have to confess the bonds he shared with her parents, the passion with which they all embraced the Khmer Rouge's illusory promise of a democratic society, and the truth about her father's end.

A love story for things lost and things restored, a lyrical hymn to the power of forgiveness, Music of the Ghosts is an unforgettable journey through the embattled geography of the heart and its hidden chambers where love can be reborn.
About the Author
Vaddey Ratner is a survivor of the Khmer Rouge regime in Cambodia. Her critically acclaimed bestselling debut novel, In the Shadow of the Banyan, was a Finalist for the PEN/Hemingway Award and has been translated into seventeen languages. She is a summa cum laude graduate of Cornell University, where she specialized in Southeast Asian history and literature. Her most recent novel is Music of the Ghosts.
Praise For Music of the Ghosts: A Novel…
"Music of the Ghosts is a moving and often gripping exploration of Cambodia's Khmer Rouge regime and its aftermath. Ratner relentlessly shows the devastating impact of traumatic history on families and the nation, but leaves us with a carefully measured hope for insight and renewal."
— Viet Thanh Nguyen, author of The Sympathizer and winner of the Pulitzer Prize

"Music of the Ghosts is a novel of extraordinary humanity in the face of unforgivable culpability. Here, acts of friendship transform into acts of rebellion, and storytelling reveals not only the past, but this moment, when reconciliation and forgiveness are so desperately needed. Vaddey Ratner speaks to the choices confronting all of us, and she does so with compassion, forewarning and courageous wisdom."
— Madeleine Thien, winner of the Scotiabank Giller Prize and author of Do Not Say We Have Nothing

"Few atrocities compare with the almost unimaginable devastation brought to Cambodia by Pol Pot. But Vaddey Ratner, a survivor of the Khmer Rouge regime, has not only created here an unforgettable vision of revolution and genocide, but also a moving portrayal of lives interwoven by loss, Buddhist wisdom and, most important of all, redemption. Music of the Ghosts is a powerful performance."
— Charles Johnson, author of The Way of the Writer and Middle Passage

"Vaddey Ratner's new novel, Music of the Ghosts, is an extraordinary achievement. It is deeply haunting in its evocation of place, profound in the directness with which it confronts age old questions of guilt, regret, and loss, and staggeringly beautiful in its masterful lyricism. A book like this doesn't come around very often. I hope everyone will read it."
— Kevin Powers, author of The Yellow Birds

"A powerful examination of the burdens of survival. Ratner writes with precision and lyricism about lives damaged in one of the darkest episodes in history. A timely, redemptive work."
— Tatjana Soli, author of The Lotus Eaters and the Forgetting Tree

"Ratner stirs feeling--sorrow, sympathy, pleasure--through language so ethereal in the face of dislocation and loss that its beauty can only be described as stubborn....Music of the Ghosts has itself been fashioned by a writer scarred by war, a writer whose ability to discern the poetic even in brutal landscapes and histories may be the gift that helped her reassemble the fragments of a self and a life after such shattering suffering."
— The New York Times Book Review

"A sensitive, melancholy portrait of the inheritance of survival--the loss and pain as well as the healing....an affecting novel, filled with sorrow and a tender, poignant optimism."
— USA Today

"The deeper I read into Music of the Ghosts, the more engrossed I became in the tangled skeins that define her characters' lives, in the history that her fiction illuminates, in the perceptions that could break a reader's heart...That's the stuff of war, and Ratner does not hold back....But she is equally committed to revealing, for us, the endless ways that families can be forged and broken hearts held."
— Chicago Tribune

"Lush with tropical heat and heated emotions...impossible to put down."
— Kirkus Reviews, starred review

"Powerful...haunting, unforgettable."
— Booklist, starred review

"Ratner's sophomore title should place her squarely alongside Yiyun Li, Khaled Hosseini, and Chimamanda Ngozi Adichie, writers who have miraculously rendered inhumanity into astonishingly redemptive literary testimony."
— Library Journal

"Captivating . . . a tragic odyssey of love, loss, and forgiveness in the wake of unspeakable horrors. . . . [Ratner] weaves a moving tale of hope and heartbreak that will accompany readers long after they finish the last page."
— Publishers Weekly

"Themes of loss and hope, survivors and the metaphorical ghosts that follow them, crescendo into a rich finale celebrating the resilience of the human spirit and the permanence of love.... Readers will shed happy and sad tears as they savor this reminder that regardless of past hurts, life is ours to live."
— Shelf Awareness

"A poignant new novel focusing not on the horrors themselves (as was the focus of her fictional debut), but of the implications and stakes for survivors."
— Harper's Bazaar Online

"Her lavish storytelling — complete with pure, honest language and lush, stunning description — is how Ratner will draw readers into her intricately crafted story. Her distinctive, vivid characters and authentic scenes of both peace and war are the highlights of the story. Her skillful weaving of the past and present lives of both Teera and the Old Musician, strung together by poignant musical references, will mesmerize readers. A story that both captures and reveals the heart of its characters, Ratner's latest is a beautiful gem of a read."
— RT Book Reviews

"Lyrical...beautiful and haunting...filled with truth both emotional and factual."
— Book Reporter

"Told with careful lyricism...Occasionally calling to mind Things Fall Apart, another novel about collapsed societies...evokes a world with ghosts aplenty, but far less apt by Ratner's hand to be dismissed as a sideshow."
— BookPage

"A mellifluous composition for two voices in echoing counterpoint."
— Smithsonian BookDragon

"A timely and haunting narrative about the lives facing so many refugees, this riveting novel couldn't have come at a better time."
— Bustle.com
Coverage from NPR
or
Not Currently Available for Direct Purchase