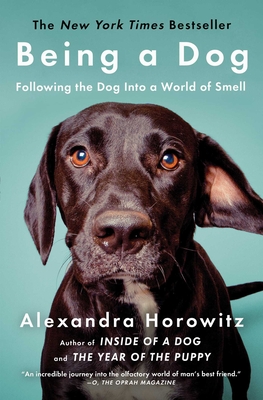 Being a Dog (Paperback)
Following the Dog Into a World of Smell
Scribner, 9781476796024, 336pp.
Publication Date: October 17, 2017
Other Editions of This Title:
Digital Audiobook (10/3/2016)
Hardcover (10/4/2016)
CD-Audio (10/4/2016)
Hardcover, Large Print (2/22/2017)
* Individual store prices may vary.
Description
From the #1 bestselling author of Inside of a Dog—"an incredible journey into the olfactory world of man's best friend" (O, The Oprah Magazine), Alexandra Horowitz's follow-up to her New York Times bestseller explains how dogs experience the world through their most spectacular organ—the nose.

In her "fascinating book…Horowitz combines the expertise of a scientist with an easy, lively writing style" (The New York Times Book Review) as she imagines what it is like to be a dog. Guided by her own dogs, Finnegan and Upton, Horowitz sets off on a quest through the cutting-edge science behind the olfactory abilities of the dog. In addition to speaking to cognitive researchers and smell experts, Horowitz visits detection-dog trainers and training centers; she meets researchers working with dogs to detect cancerous cells and anticipate epileptic seizure or diabetic shock; and she even attempts to smell-train her own nose.

As we come to understand how rich, complex, and exciting the world around us is to the canine nose, Horowitz changes our perspective on dogs forever. Readers will finish this book feeling that they have broken free of their human constraints and understanding smell as never before; that they have, for however fleetingly, been a dog. And, as The Boston Globe says about Being a Dog, "becoming more doglike, not surprisingly, can make anyone's life a little more vivid."
About the Author
Alexandra Horowitz is the author of the #1 New York Times bestseller Inside of a Dog: What Dogs See, Smell, and Know and Being a Dog: Following the Dog into a World of Smell. She teaches at Barnard College, where she runs the Dog Cognition Lab. She lives with her family and two large, highly sniffy dogs, one cat, and one puppy in New York City.
Praise For Being a Dog: Following the Dog Into a World of Smell…
"I'm not entirely certain whether Alexandra Horowitz's Being a Dog has made me want to buy a dog or morph into one—but I do know that it was magical. Horowitz has crafted an utterly engrossing, witty, finely-observed narrative that will make you look at the power of the nose in a wholly new way."
—Maria Konnikova, author of The Confidence Game and Mastermind: How to Think Like Sherlock Holmes

"An incredible journey into the olfactory world of man's best friend."
—O Magazine

"Like a Mary Roach but with a solid scientific background to her credit, Horowitz is a skilled investigative reporter who takes readers into unfamiliar worlds, shares her experiences there, asks probing questions, and makes those worlds come alive. Dog owners curious about the lives of their pets will savor this book, but it deserves a wider audience than just animal lovers."
—Kirkus Reviews

"Fascinating...Horowitz combines the expertise of a scientist with an easy, lively writing style."
—The New York Times Book Review

"Horowitz…explores the way dogs experience the world in this rich and absorbing examination of noses and scents…Both dog lovers and pop science readers will want to stick their noses in this book, and they may find themselves using their noses, like Horowitz and dogs everywhere, to experience the world more vividly."
—Publishers Weekly

"I have fresh appreciation for [my dog's] sniffing behavior."
—The New York Times

"Becoming more doglike, not surprisingly, can make anyone's life a little more vivid."
—Boston Globe

"A delight for dog lovers and anyone who enjoys the smell of breakfast, crayons, rich earth, fresh-baked cookies, and yes, even dogs. . . . Being a Dog is one great book to sniff out."
—Daily Citizen

"Spellbinding...This book will stay with you long after you've finished it."
—Forbes, "The 10 Best Popular Science Books of 2016"