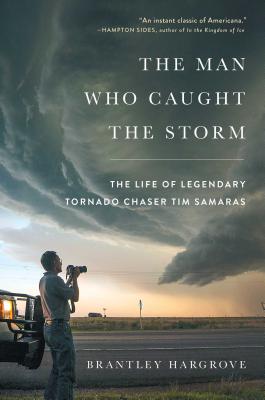 The Man Who Caught the Storm
The Life of Legendary Tornado Chaser Tim Samaras
Hardcover

* Individual store prices may vary.
Other Editions of This Title:
Digital Audiobook (4/2/2018)
Paperback (4/2/2019)
Compact Disc (4/3/2018)
Description
The life and death saga of one of history's greatest storm chasers: a tour-de-force tale of obsession, ingenuity, and the race to understand nature's fiercest phenomenon—the tornado.

"An instant classic of Americana." —Hampton Sides
"Many a novel is not written this memorably." —The Philadelphia Inquirer
"Masterful. This is what man versus nature is all about." —Skip Hollandsworth
"Hargrove is one today's great science writers." —The Washington Post

At the turn of the twenty-first century, the tornado was one of the last true mysteries of the modern world. It was a monster that ravaged the American heartland a thousand times each year, yet science's every effort to divine its inner workings had ended in failure. Researchers all but gave up, until the arrival of an outsider.

In a field of PhDs, Tim Samaras didn't attend a day of college in his life. He chased storms with brilliant tools of his own invention and pushed closer to the tornado than anyone else ever dared. When he achieved what meteorologists had deemed impossible, it was as if he had snatched the fire of the gods. Yet even as he transformed the field, Samaras kept on pushing. As his ambitions grew, so did the risks. And when he finally met his match—in a faceoff against the largest tornado ever recorded—it upended everything he thought he knew.

Brantley Hargrove delivers a masterful tale, chronicling the life of Tim Samaras in all its triumph and tragedy. He takes readers inside the thrill of the chase, the captivating science of tornadoes, and the remarkable character of a man who walked the line between life and death in pursuit of knowledge. Following the tradition of Into Thin Air and The Perfect Storm, Hargrove's debut offers an unforgettable exploration of obsession and the extremes of the natural world.
Praise For The Man Who Caught the Storm: The Life of Legendary Tornado Chaser Tim Samaras…
"In the best biographies of the obsessive dead, like those written by Jon Krakauer, the writer begins to chase whatever his subject, now passed on, has spent his life pursuing. Hargrove is no different. … Hargrove's shared passion allows him incredible access to Tim's world. … The Man Who Caught the Storm manages to be both cinematically thrilling and scientifically wonky."
—Outside

"Hargrove puts you there and you can't get out. Many a novel is not written this memorably. … He invents a kind of writing as tempestuous, fearful, poetic, and concrete as his subject … a tempestuous, true tale of a legendary storm-chaser. … In Brantley Hargrove, a writer to watch, the life of Tim Samaras has gotten a storyteller worthy of all its curious, brilliant, devastating grandeur."
—Philadelphia Inquirer

"With The Man Who Caught the Storm, Brantley Hargrove has given us a thrilling tale of Promethean defiance, one that in our age of superstorms and climate change has much currency today. Pairing rich reporting with an exquisite sense of pacing, Hargrove has chased down the king of the chasers. Here is an instant classic of Americana—a story of tragedy, invention, lore, science, and a most original kind of genius who was irresistibly drawn to one of nature's most awesome and violent mysteries."
—Hampton Sides, author of Ghost Soldiers and In the Kingdom of Ice

"Hargrove is one today's great science writers. His book delivers … He takes the reader not only on a journey through the remarkable life of engineer-explorer Samaras, but also through the beautifully desolate roads of the Plains while on the chase. … The book will surely enthrall … So, sit back and take a journey through America's heartland with one of chasing's legends."
—Washington Post

"Hargrove weaves a tale with just enough background, just enough science and just enough adventure … a narrative that often reads like a thriller."
—Wall Street Journal

"This is what man versus nature is all about. A powerful, vivid, and ultimately heartbreaking investigation into the life of one very brave storm chaser. Brantley Hargrove has given us a masterful biography with all the best attributes of a novel."
—Skip Hollandsworth, author of The Midnight Assassin

"A dangerous journey into the heart of tornadoes … The Man Who Caught the Storm recounts the obsessions and the unlikely achievements of Samaras while also detailing the history."
—The New York Times

"Hargrove makes the reader feel the icy hailstones which precede the blast of wind and smell the lingering ozone. More importantly, he unravels the tragic tale of a man who, like Icarus, exceeded the boundaries of nature."
—Lincoln Journal Star

"An epic … Tim Samaras is one of the most revered storm chasers in history, and through his character and actions, he carved out a legendary life that may never be matched in our world. … Hargrove's intense and intimate research into Tim Samaras' life is on full display in this book, and poring through Tim's story was both enchanting and humbling. … This book perfectly captures chasing's moments. … Prepare to be transported to the Plains and the great tornado hunt through this engaging read."
—U.S. Tornadoes

"A hell of a story, and Hargrove has gotten as close as anyone could hope to its core ... conveyed in prose that flirts with poetry without ever turning purple. … The book also offers a streamlined primer in tornado science, historical and in the making. But it's the moments when monsters coalesce from the ether that both Hargrove and Samaras live for."
—Texas Observer

"The Man Who Caught the Storm is a stunner … Brantley Hargrove has done a masterful job … Hargrove captures the arc of Samaras's life and its many dimensions—tinkerer, sky watcher, family man—with eloquence and respect. Hargrove also brings to a general audience the larger, complex world of research-oriented storm chasing more deftly than any other book I've read. … Hargrove's prose is rich and varied, and he specializes in gem-like descriptions … Five stars out of five."
—Weather Underground

"This gripping book takes you inside Samaras' life and tragic death, relying on hours of interviews with friends and family and chase footage to offer an incredible look at his perilous calling."
—Popular Science

"Maybe you've noticed the news: the climate is angry, and we can look forward to ever more extreme storms. In his fast-moving, page-turning book, The Man Who Caught the Storm, Brantley Hargrove captures an urgent moment in human history: a time when we're in a race not only to understand nature's increasingly raw power, but also to survive it."
—Susan Casey, author of Voices in the Ocean

"Insanely gripping, impossible to put down. This book takes you inside the whirling core of monster tornadoes, and the life of a maverick storm researcher who pushed his luck too far."
—Richard Grant, author of Dispatches from Pluto

"An exemplar of narrative nonfiction. … [Hargrove] is a deft writer who uses evocative prose to provide readers the adrenaline rush of a tornado chase. … Readers from all across the spectrum will enjoy this title."
—Library Journal, Starred Review

"Hargrove does a marvelous job mixing heady science with an engrossing and personal narrative. Nirvana for weather fanatics, the storytelling will appeal to a broad audience, and is infused with the soul of a loving family man on a mission to achieve his dreams, dancing with nature's devil while trying to make the world a safer place."
—Shelf Awareness

"Enthralling … An adroit biography of a thrill-seeking storm chaser … Hargrove refreshingly contributes quality information on what intrigues and motivates storm chasers, their unique camaraderie, and the evolution of the sophisticated tracking equipment in use today."
—Kirkus Reviews

"A vivid, beautifully written, and incredibly reported page-turning tale of a man's obsession with one of the most powerful forces in nature."
—Cowboys and Indians Magazine

"The story of an unlikely legend … A uniquely American tale of adventure, diving into the circumstances and makeup that lead a man to chase what he should be running from."
—Longreads

"Hargrove's writing made my breath stop short. The book's ending had me in tears. A gripping depiction of a modern-day Lancelot out to pierce the heart of tornadoes that bring terror from the sky like ancient dragons."
—Lydia Reeder, author of Dust Bowl Girls

"With the perfect blend of deep reporting, incredible access, and elegant writing, this book reveals the complicated character of the most famous tornado chaser of all time—a man whose drive to finish what he started will ensure that he'll go down in history as a self-sacrificing American hero."
—Michael J. Mooney, author of The Life and Legend of Chris Kyle

"Pulse-pounding … Hargrove's biography will gratify severe-weather fans while memorializing its protagonist."
—Booklist

"A detailed, nuanced portrait of what drove this man into the path of some of the world's most dangerous storms."
—Dallas Morning News

"Insightful … Hargrove not only skillfully presents Samaras's life story but also the collective story of a storm-chasing subculture. … Hargrove paints a complete picture of the engineer while providing lessons on the science behind tornadoes."
—Publishers Weekly

"Essential reading as we enter tornado season."
—The Oklahoman

"A deft blend of humanity and science, achievement and tragedy."
—Amazon Book Review, "Best Biographies and Memoirs of the Month"

"Fascinating … a fast-paced, dynamic account of a man and his obsession, providing us an entrée into a subculture few will ever experience. … The Man Who Caught the Storm is a fitting tribute — and why we read biography. … Hargrove's pacing is perfect, the tension unnerving."
—Lone Star Literary
Simon & Schuster, 9781476796093, 304pp.
Publication Date: April 3, 2018
About the Author
Brantley Hargrove is a journalist who has written for Wired, Popular Mechanics, and Texas Monthly. He's gone inside the effort to reverse-engineer supertornadoes using supercomputers and has chased violent storms from the Great Plains down to the Texas coast. He lives in Dallas, Texas, with his wife, Renee, and their two cats. The Man Who Caught the Storm is his first book.
or
Not Currently Available for Direct Purchase