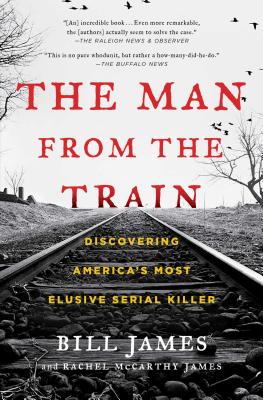 The Man from the Train (Paperback)
Discovering America's Most Elusive Serial Killer
Scribner, 9781476796260, 480pp.
Publication Date: October 9, 2018
Other Editions of This Title:
Digital Audiobook (9/18/2017)
Hardcover (9/19/2017)
Compact Disc (4/2/2019)
* Individual store prices may vary.
Description
An Edgar Award finalist for Best Fact Crime, this "impressive…open-eyed investigative inquiry wrapped within a cultural history of rural America" (The Wall Street Journal) shows legendary statistician and baseball writer Bill James applying his analytical acumen to crack an unsolved century-old mystery surrounding one of the deadliest serial killers in American history.

Between 1898 and 1912, families across the country were bludgeoned in their sleep with the blunt side of an axe. Some of these cases—like the infamous Villisca, Iowa, murders—received national attention. But most incidents went almost unnoticed outside the communities in which they occurred. Few people believed the crimes were related. And fewer still would realize that all of these families lived within walking distance to a train station. When celebrated true crime expert Bill James first learned about these horrors, he began to investigate others that might fit the same pattern. Applying the same know-how he brings to his legendary baseball analysis, he empirically determined which crimes were committed by the same person. Then after sifting through thousands of local newspapers, court transcripts, and public records, he and his daughter Rachel made an astonishing discovery: they learned the true identity of this monstrous criminal and uncovered one of the deadliest serial killers in America.

"A suspenseful historical account" (Publishers Weekly, starred review), The Man from the Train paints a vivid, psychologically perceptive portrait of America at the dawn of the twentieth century, when crime was regarded as a local problem, and opportunistic private detectives exploited a dysfunctional judicial system. James shows how these cultural factors enabled such an unspeakable series of crimes to occur, and his groundbreaking approach to true crime will convince skeptics, amaze aficionados, and change the way we view criminal history. "A beautifully written and extraordinarily researched narrative…This is no pure whodunit, but rather a how-many-did-he-do" (Buffalo News).
About the Author
Bill James made his mark in the 1970s and 1980s with his Baseball Abstracts. He has been tearing down preconceived notions about America's national pastime ever since. He is currently the Senior Advisor on Baseball Operations for the Boston Red Sox, as well as the author of The Man from the Train. James lives in Lawrence, Kansas, with his wife, Susan McCarthy, and three children.

Rachel McCarthy James lives in Lawrence, KS with her husband Jason. She studied creative writing at Hollins University, and her work has previously been featured in publications including Bitch, Broadly, and The New Inquiry. The Man from the Train is her first book.
Praise For The Man from the Train: Discovering America's Most Elusive Serial Killer…
"Impressive . . . an open-eyed investigative inquiry wrapped within a cultural history of rural America."
—Wall Street Journal

"[An] incredible book . . . one of the most readable works of non-fiction I've ever picked up . . . James has a conversational style of writing that draws the reader in, even when he departs from murders to offer short history lessons on 19th century detectives-for-hire (pretty bad), 19th century newspapers (not great) and mob justice (truly horrifying) . . . Even more remarkable than the exhaustive research and addictive narrative, the [authors] actually seem to solve the case and reveal the identity of The Man From the Train. Skeptics may balk, but I'm convinced."
—Raleigh News & Observer

"Truly spectacular . . . The book shines when we get to see the Jameses' thinking. Like the recent Netflix documentary 'The Keepers,' it's fun to watch these amateur detectives solve a puzzle. And solve it they do — after 400 pages, when Rachel discovers the killer's first crime way back in 1898. Did they get it right? I'm pretty sure they did. Either way, the final twist in the story—set 10 years after the Villisca murders on the other side of the Atlantic—gave me chills."
—Minneapolis Star Tribune

"The Man from the Train is a beautifully written and extraordinarily researched narrative of a man who may have killed 95—or more—people, dating back more than a century, mostly in small-town Middle America . . . This is no pure whodunit, but rather a how-many-did-he-do."
—Buffalo News

"[A] suspenseful historical account . . . The strength of the book hangs on [the authors'] diligent research and analysis connecting crimes into the closing years of the 19th century. Even those skeptical at the outset that one man was responsibile for so much bloodshed are likely to be convinced."
—Publishers Weekly (starred review)

"Bill James, with his daughter, Rachel, has done something truly extraordinary. Not only has he solved one of the most tantalizing mysteries in the annals of American crime--the sensational case of the 1912 "Villisca Axe Murders"--but he has tied it to a long string of equally savage, though completely obscure, atrocities. The result is his discovery of a previously unknown serial killer who roamed--and terrorized--the country a century ago. Brilliantly researched and written in James' snappily conversational style, The Man From the Train is a stunning feat of detection, an un-put-downable read, and a major contribution to American criminal history."—Harold Schechter, author of The Serial Killer Files and The Mad Sculptor

"I began The Man on the Train a skeptic. Could the notorious Villisca Murders of 1912, an unsolved crime so well-chronicled over the past century, really be the work of a killer whose victims numbered well into the dozens? But by the end, Bill James & Rachel McCarthy James totally sold me on their reasoning, exhaustive research, and their sly, sober portrait of a justice system totally overmatched by the techniques and monstrosities of a man fitting the serial killer prototype we know almost too well. That they also fingered the culprit and name him is an even more shocking bonus. Don't even think about missing out on this beautifully brilliant, bananas book."—Sarah Weinman, editor of Women Crime Writers: Eight Suspense Novels of the 1940s & 1950s