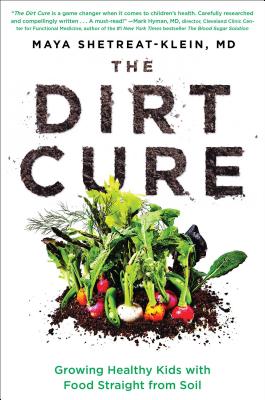 The Dirt Cure (Hardcover)
Growing Healthy Kids with Food Straight from Soil
Atria Books, 9781476796970, 384pp.
Publication Date: January 26, 2016
* Individual store prices may vary.
Description
In the tradition of Michael Pollan, Mark Hyman, and Andrew Weil, pioneering integrative pediatric neurologist Maya Shetreat-Klein, MD, reveals the shocking contents of children's food, how it's seriously harming their bodies and brains, and what we can do about it. And she presents the first nutritional plan for getting and keeping children healthy—a plan that any family can follow.

New alarming studies show the dramatic rise of chronic disease in children—from allergies and ADHD to mental illnesses and obesity. A traditionally trained pediatric neurologist and a parent herself, Dr. Maya encountered the limits of conventional medicine when her son suffered a severe episode of asthma on his first birthday and began a backward slide in his development. Treatments failed to reverse his condition, so Dr. Maya embarked on a scientific investigation, discovering that food was at the root of her son's illness, affecting his digestive system, immune system, and brain. The solution was shockingly simple: Heal the food, heal the gut, heal the brain...and heal the child.

Recent changes in growing and processing food harm kids' gut microbiomes, immune systems, and brains, contributing to chronic disease. Dr. Maya's plan started with the soil, using fresh foods and nature to heal her son from the inside out and the outside in. Since then, she's successfully helped chronically ill patients from around the world. Revealing the profound connections between food, nature, and children's health, Dr. Maya explains how food is constantly changing kids' bodies, brains, and even genes—for better or for worse. She also shares success stories from her practice and tips as a working mother of three on stocking healing foods (from veggies to chocolate!), reading labels, and getting even picky eaters into the new menu. This paradigm-shifting book empowers you to transform your child's health through food and ensure the long-term wellbeing of your kids and the entire family.
About the Author
Maya Shetreat-Klein, MD is an integrative pediatric neurologist with a medical degree from Albert Einstein College of Medicine. Board certified in adult and child neurology as well as pediatrics, she completed the University of Arizona's two-year Fellowship in Integrative Medicine, founded by Andrew Weil, MD, and now serves as faculty. She lectures internationally to medical professionals and laypeople on environmental health and toxins, and healing with food and nature. Dr. Shetreat-Klein lives with her family in New York City, where she runs Brainmending, her healing practice and urban farm.
Praise For The Dirt Cure: Growing Healthy Kids with Food Straight from Soil…
"What happens when a rigorously trained New York City pediatric neurologist learns the truth about health and healing? She gets her hands dirty (literally planting vegetables) and heals not only her son, but her patients as well. The Dirt Cure is an exhilarating book that had me cheering from page one. Don't go the pediatrician without it!"
— Christiane Northrup, MD

"The Dirt Cure is a game-changer when it comes to children's health. Carefully researched and compellingly written… A must read!"
— Mark Hyman, MD Director, Cleveland Clinic Center for Functional Medicine, author #1 New York Times bestseller The Blood Sugar Solution

"Maya Shetreat-Klein's pioneering book, The Dirt Cure, will forever transform the way you think about children's health. At a time when kids are being prescribed more and more medications to treat symptoms, Dr. Shetreat-Klein turns the prevailing paradigm on its head by outlining how fresh food, rich soil, and contact with nature can reverse the growing epidemic of chronic childhood illness. Filled with unexpected twists, fascinating science and hands-on advice, her book gives you all the tools you need to get your kids healthy and keep them that way."
— Andrew Weil, MD

"If you are a parent,or planning to be one, The Dirt Cureis your nutritional bible. Under the wise guidance of Dr. Shetreat-Klein, youcan save your kids from a vast array of physical/emotional chronic illnesses,not only now when they're still young but for the rest of their (longer andhealthier) lives."
— Dr. David Edelberg, author of The Triple Whammy Cure

"Dr. Shetreat-Klein has written a tour de force prescription for creating a more nourishing environment to fight and prevent chronic disease in kids and adults. The Dirt Cure upends many cherished but flawed notions that have crept insidiously into the collective consciousness of citizens of the technological age. She combines cutting-edge science and medicine with common sense to illustrate the intimate, visceral connection between the health of the natural world that surrounds us—our terrain—and our own health. After reading this book, you'll understand that we are not isolated from the chemical fabric that connects all life on our planet. As the environment sickens, so do we. As the environment thrives, so do our children, and so do we."
— Robert K. Naviaux, MD, PhD, Co-director, The Mitochondrial and Metabolic Disease Center (MMDC),UCSD School of Medicine

"This is a reader-friendly book, and Shetreat-Klein powerfully lays out the case for why bleach, hand sanitizers, fluoride, ibuprofen. and acetaminophen aren't all they're cracked up to be. She convincingly argues the case for a dirt-filled but chemical-free life."

"The text is full of scientific information presented in a fun and informative way, giving concrete evidence that good food can transform one's life."

"Delves into research that suggests that spending time around farms, parks and other green spaces can benefit children in surprising ways, protecting against allergies, enhancing immune function and potentially even improving attention span and academic performance."

"A must-read for anyone who cares about what goes into their and their children's bodies. The information is clearly laid out... The Dirt Cure is a book to highlight, annotate, and study with ...so much useful advice on healing from the inside out.... Should be required reading for anyone over the age of 13, and most especially parents with children suffering from illness, chronic or otherwise."
or
Not Currently Available for Direct Purchase