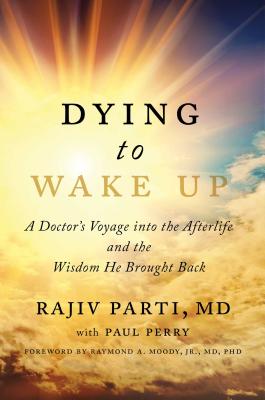 Dying to Wake Up
A Doctor's Voyage into the Afterlife and the Wisdom He Brought Back
Hardcover

* Individual store prices may vary.
Other Editions of This Title:
Digital Audiobook (8/22/2016)
Paperback (8/15/2017)
Description
A rare glimpse into heaven, hell, and previous lives—Dr. Rajiv Parti's near-death experience brought him on a journey through the afterworld, leading to a spiritual awakening that transformed his career, his lifestyle, and even his fundamental beliefs.

Before his near-death experience, Dr. Rajiv Parti was a wealthy man of science with a successful career as the Chief of Anesthesiology at the Bakersfield Heart Hospital in California. He demanded the same success from his son, whose failures provoked episodes of abuse from Dr. Parti. All in all, Dr. Parti was the last man to believe in heaven or hell—that is, until he saw them with his own eyes.

When Dr. Parti had his near-death experience on the operating table, he first watched his own operation from the ceiling—even recalling a joke told by his doctors during his surgery. He was greeted by archangels and his deceased father who led him through the tortures of hell and revealed the toxic cycle of violence that has plagued his family for generations. He even reviewed the struggles of his previous lives which, in many ways, reflected those he still faced in the present. Finally, he experienced heaven. From the angels, he learned lessons of spiritual health that they insisted he bring down to earth—to do so, Dr. Parti knew he had to change his ways.

After his near-death experience, Dr. Parti awoke a new man. He gave away his mansion, quit his career, opened a wellness clinic, and completely turned around his relationships with his family. To this day, he still converses with angels and spreads their wisdom to the living.

In this remarkable true story of spiritual transformation, Dr. Parti provides rare details of heaven, hell, the afterlife, and angels. In sharing the lessons and eternal truths from the Divine that changed him forever, Dr. Parti offers his audience the opportunity to attain peace and live a better life here on Earth.
Praise For Dying to Wake Up: A Doctor's Voyage into the Afterlife and the Wisdom He Brought Back…
"One of the most astounding near death experiences I have heard."
— Raymond Moody, MD, bestselling author of Life After Life

"This is one is one of the most amazing NDEs I've everheard, not just for the experience itself, but for the difference it has madein Dr. Parti's life."
— Dannion Brinkley, New York Times bestselling author of Saved by the Light

"Dr. Parti's NDE is powerful, deeply spiritual, and transformative, not just for the man who experienced it, but for the person who reads about it, too."
— Anita Moorjani, New York Times bestselling author of Dying to Be Me

"Healed by his near-death experience, Dr. Rajiv Parti has become a healer himself—a true doctor of the soul. The story of his amazing transformation from a materialistically-obsessed anesthesiologist to a spiritual teacher is one of the most inspiring I have encountered in nearly forty years of researching NDEs."
— Kenneth Ring, Ph.D., author of Lessons from the Light

"Dr. Rajiv's NDE is amazing, and the shift he made in his life afterwards will melt your heart. Buy this book so that you too will wake up."
— Beverly Brodsky, President, San Diego Chapter, International Association of Near Death Studies (IANDS)

"I love Rajiv Parti's story. It's full impact was revealed to me when Rajiv found himself in hell. His father and guide, took him by the hand and led him out of hell. His father gave him a meaningful and significant message I will always remember."
— Larry Merrill, Facilitator, IANDS, Mesa, Arizona

"Dr. Rajiv Parti's experience of consciousness was one of the most profound I have heard. He traveled from hell to heaven, and learned what life is really about. Dr. Parti has much to teach us about the meaning of life and why we are here."
— Ellie Schamber, Ph.D., Leader of Marin IANDS

"Dr. Parti's story is extraordinary, not just because his near-death experience was so profound and evidential, but because as a physician, he links science and spirit in an account that bridges both worlds."
— Terri Daniel, Founder of the Death Awareness Institute and The Afterlife Conference

"Dying to Wake Up serves as a spiritual wake-up call. Far more than the riveting account of a Near Death Experience, Rajiv Parti's powerful story is filled with wisdom and Truth that speaks directly to the soul."
— Suzanne Giesemann, evidence-based medium and author of Messages of Hope and Wolf's Message
Atria Books, 9781476797311, 240pp.
Publication Date: August 23, 2016
About the Author
Rajiv Parti, MD, is a world-renowned specialist in pain management with over thirty years as a cardiac anesthesiologist. In addition to being Chief of Anesthesiology at Bakersfield Heart Hospital for more than a decade, Dr. Parti is founder of the Pain Management Institute of California. Dr. Parti's study in complementary and alternative medicine has led him to formulate an integrative approach to total wellness, especially pain management, stress, and depression. He tours the country extensively, holding workshops to demonstrate methods of healing to help others overcome addiction, depression, chronic pain, and even cancer.

Paul Perry has cowritten four New York Times bestsellers, including Evidence of the Afterlife, Closer to the Light, Transformed by the Light, and Saved by the Light.
or
Not Currently Available for Direct Purchase