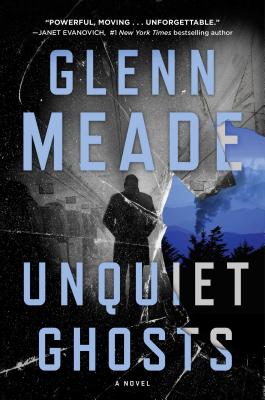 Unquiet Ghosts
A Novel
Hardcover

* Individual store prices may vary.
Description
"Powerful, moving...unforgettable." —Janet Evanovich, #1 New York Times bestselling author

"Glenn Meade doesn't miss a beat…A high-octane game-changer." —Steve Berry, New York Times bestselling author of The 14th Colony

Eight years ago, her husband and children were killed in a plane crash. Now, new evidence reveals that they didn't die—her husband deliberately vanished—and that he knows a secret the powerful forces will stop at nothing to keep hidden.

Kathy Kelly's world was shattered when a plane carrying her husband—an Iraq War veteran and devoted father—and her two children vanished from the sky one night. No trace of the plane was ever found.

Eight years later, Kathy has struggled to rebuild her life, but then wreckage of his plane is found in the wilderness of Great Smoky Mountain National Park—hundreds of miles from where her husband's plane should have been. The pilot perished in the crash, but there is no sign of Jack or the children. Could they have made it out alive after all? But if so, where have they been all this time? Where are they now?

As Kathy searches for any clue about what happened to her family, the investigation uncovers some unsettling clues—including a briefcase containing millions of dollars in cash, a priceless mask stolen from an Iraqi museum, and a clue that links Jack's disappearance with the suspicious death of Kathy's mother years ago.

But she soon learns that others have been looking for the wreckage and its occupants for a long time. Others who are determined to make sure she never finds her family and that they remain dead. Shadowy, powerful people who will kill for what was on board—a secret her husband was the keeper of. A secret that reaches back into the past and into the highest echelons of wealth and power, all the way to the White House.

This breathless, pulse-pounding thriller examines the very real billions in cash and priceless artifacts that vanished into the pockets of powerful American men during the Iraq war, and examines the extreme lengths some people will go to protect the secrets of what really happened to all that money.
Praise For Unquiet Ghosts: A Novel…
"As usual Glenn Meade doesn't miss a beat. He knows what thriller readers crave — that heady mix of sizzle, punch, and danger — and he delivers in a high-octane game-changer."
— Steve Berry, New York Times bestselling author of The 14th Colony

"Glenn Meade is number one among my favorite authors. A powerful, moving story, razor sharp plot, unforgettable characters, roller coaster emotions--if I could pick one book for you to read this year, this is it."


— Janet Evanovich, No 1 Best Selling Author of One for the Money

"A harrowing journey… [a] saga of a military family damaged by the horrors of war."
— Publishers Weekly

"Meade has a real knack for creating lifelike, compelling characters and placing them in situations that are simultaneously larger than life yet believable."
— Booklist

"A riveting thriller in the tradition of Day of the Jackal . . . what a white-knuckler it is. . . . The good old-fashioned swashbuckling suspense never lets up . . . A major accomplishment."


— Washington Post Book World, on Snow Wolf

"Rich in period detail, crisply plotted and paced, SNOW WOLF runs well ahead of the pack."


— People, on Snow Wolf

"Consistently absorbing . . . Deftly drawn characters . . . The sweep of a historical romance and the power of a classic heroic quest."


— New York Times Book Review, on Snow Wolf

"Fast, sly, and slick, this thriller delivers the goods—tension, action, plot twists—until the smoke finally clears."


— Booklist, on Brandenburg

"Chilling . . . Another literate and suspenseful thriller from an estimable storyteller who proves that beginner's luck had nothing to do with his impressive debut."


— Kìrkus Reviews, on Brandenburg

"With a plot that screams, a controversial edge, and characters with attitude and something to prove, this has all the makings to be the next Da Vinci Code."
— Publishers Weekly on The Second Messiah

"A thrill a minute. A cross between Indiana Jones and Dan Brown. Thriller readers will love this book."
— The Midwest Book Review, on The Second Messiah

"Puts a fresh spin on the mystery surrounding the deaths of the Romanovs, in particular the possible escape of princess Anastasia."


— --Publishers Weekly, on The Romanov Conspiracy
Howard Books, 9781476797410, 432pp.
Publication Date: July 11, 2017
About the Author
Glenn Meade was born in 1957 in Finglas, Dublin. His novels have been international bestsellers, translated into more than twenty languages, and have enjoyed both critical and commercial success.
or
Not Currently Available for Direct Purchase