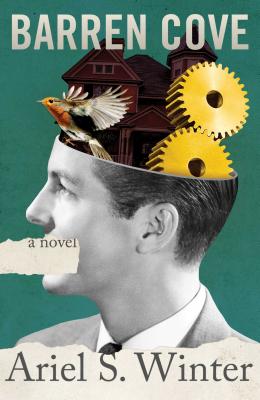 Barren Cove
A Novel
Hardcover

* Individual store prices may vary.
Other Editions of This Title:
Paperback (5/16/2017)
MP3 CD (7/5/2016)
Description
In Los Angeles Times Book Prize nominee Ariel S. Winter's Barren Cove, humans are nearly extinct and robots are now the dominant life-form on Earth.

The aged robot Sapien is the recent victim of a debilitating accident. The socially acceptable thing to do in robot culture is deactivate, but Sapien is not ready to end his life. Instead he orders spare parts for himself and rents a remote beach house in order to repair and ponder why he wants to go on. While there, he becomes obsessed with his landlords, the peculiar robot family living on the rambling estate perched at the top of the cliff. He is convinced that the elusive and enigmatic Beachstone, the head of the family, holds the answers to his existential quandary. Invoking the works of the great supernatural and science fiction writers Mary Shelley, Isaac Asimov, and Philip K. Dick, Barren Cove is a gothic tale in an unusual future.
Praise For Barren Cove: A Novel…
"Providing further evidence of the futility of genre labels, BARREN COVE is a thoughtful and affecting family drama that just happens to be about robots. Winter's vision of a machine-ruled dystopia is a quiet country manor where a few mechanical people search for meaning in the mysteries of their programming. An unsettling portrait of humanity as seen through the eyes of its creations."
— Isaac Marion, New York Times bestselling author of WARM BODIES and THE LIVING

"BARREN COVE is a touching and funny and skillfully written novel and an original take on science fiction. I'm not a great fan of this genre, but I can see, with this one book, how Mr. Winter could make me one. The writing is clean and highly readable; the characters are believable, despite being robots; the dialog is ear-perfect, and the plot never sags or lets up for a minute. I had a great time reading it."
— Stephen Dixon, National Book Award nominated author of FROG and INTERSTATE

"A meticulously imagined story that reads like The Wasp Factory soldered into Do Androids Dream of Electric Sheep. The pages really skittered by. Genuinely literary science fiction."
— Natasha Pulley, author of the internationally bestselling THE WATCHMAKER OF FILIGREE STREET

"Bold, innovative and thrilling."
— Stephen King

"Extraordinary…seductive, even sinister….like some glittering spiderweb that catches the eye of an admiring fly."
— Marilyn Stasio, The New York Times

"An absolute astonishment."
— Peter Straub

"Wildly, audaciously original."
— James Frey, author of A Million Little Pieces

"A delight."
— Alice Sebold

"Marvelous."
— The Washington Post

"A testament to style…[a] triumph."
— The Los Angeles Times

"If there was ever a born writer, Mr. Winter is one…sharp, smart, original, intensely interesting and ingenious."
— Stephen Dixon, author of and National Book Award finalist for FROG

"Audacious and astonishingly executed….immersive, exhilarating, and revelatory."
— Booklist (starred review)

"Brilliant."
— Library Journal (starred review)

"Weaves a uniquely dreamy spell, and a lingering one. Lyrical, unexpected, and curiously affecting…a story that lodges uneasily in the heart and mind."

"A quietly brilliant look at what it means to be human. This deserves to be a classic."

"From the first line to the last, I loved every page, my brain lighting up in strange and wonderful ways."

"Ariel S. Winter has created a masterful work in Barren Cove. His writing style flows beautifully and ensnared me before I quite comprehended where he was taking me."

"Winter's plot-line is drenched in risk, but he's able to pull it off via layered characters who speak in universal tones about the world which we share."
Atria/Emily Bestler Books, 9781476797854, 224pp.
Publication Date: April 26, 2016
About the Author
Ariel S. Winter was a finalist for the Los Angeles Times Book Prize, the Shamus Award, and the Macavity Award for his novel The Twenty-Year Death. He is also the author of the children's picture book One of a Kind, illustrated by David Hitch, and the blog We Too Were Children, Mr. Barrie. He lives in Baltimore.
or
Not Currently Available for Direct Purchase