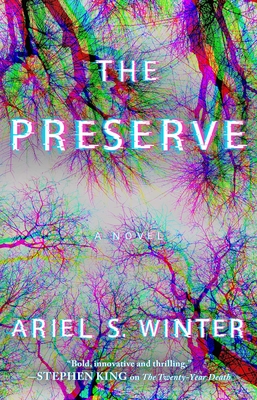 The Preserve
A Novel
Paperback

* Individual store prices may vary.
Other Editions of This Title:
Library Binding, Large Print (2/1/2021)
Description
The critically acclaimed author of the "bold, innovating, and thrilling" (Stephen King) novel The Twenty-Year Death and the "brilliant" (Booklist, starred review) novel Barren Cove returns with a dark and compelling mystery set in the near future.

Decimated by plague, the human population is now a minority. Robots—complex AIs almost indistinguishable from humans—are the ruling majority. Nine months ago, in a controversial move, the robot government opened a series of preserves, designated areas where humans can choose to live without robot interference. Now the preserves face their first challenge: someone has been murdered.

Chief of Police Jesse Laughton on the SoCar Preserve is assigned to the case. He fears the factions that were opposed to the preserves will use the crime as evidence that the new system does not work. As he digs for information, robots in the outside world start turning up dead from bad drug-like programs that may have originated on SoCar land. And when Laughton learns his murder victim was a hacker who wrote drug-programs, it appears that the two cases might be linked. Soon, it's clear that the entire preserve system is in danger of collapsing. Laughton's former partner, a robot named Kir, arrives to assist on the case, and they soon uncover shocking secrets revealing that life on the preserve is not as peaceful as its human residents claim. But in order to protect humanity's new way of life, Laughton must solve this murder before it's too late.

The Preserve is a fresh and futuristic mystery that is perfect for fans of Westworld and Blade Runner.
Praise For The Preserve: A Novel…
"Winter reveals his world slowly and subtly, forcing you to follow his trail of clues even as his detectives follow their own—unraveling two mysteries at once. In sparse, hardboiled prose, he invests real warmth into a human/robot friendship and finds time between shootouts to ask fascinating questions about the future of both species."

— Isaac Marion, New York Times bestselling author of WARM BODIES

"Winter does his worldbuilding gracefully… Robots may not be so different from humans in this fast-paced futuristic mystery."
— Kirkus Reviews

"In what's bound to be one of the most creative works of the year, most humans are long-dead from plague, and the few that are left have decided to embark upon an experiment—they will live together, in a community of humans, known as 'The Preserve.' Soon enough, the murder of a cyborg threatens to disrupt relations between humans and robots, and one of the last human police officers must use the creativity bots haven't yet discovered how to mimic in order to solve the crime."
— CrimeReads, "The Most Anticipated Crime Books of Fall"

"Full of smart commentary about the current state of America, Ariel S. Winter's THE PRESERVE is set in a not-too-distant future after a plague led to a robot uprising."
— PopSugar, "Best New Books of November"

"THE PRESERVE has thematic echoes of Isaac Asimov's R. Daneel Olivaw stories, C. Robert Cargill's Sea of Rust, and Daniel H. Wilson's Robopocalypse, but at the same time it carves out its own niche, presenting a postapocalyptic world that is technologically robust (quite similar to our own in many ways) and socially complex. Fascinating, and, with its talk of organized antirobot groups and 'human supremacists,' definitely relevant to today's readers."
— Booklist

"This dark, sprawling story is sure to keep you up at night and leave your head spinning."
— The Portalist

"Fascinating on many levels...very thought-provoking."
— BookReporter

"[A] Blade Runner-meets-Westworld style world... The Preserve is a quick and enjoyable read that treats the AI concept with originality. It surpasses the tropes of typical dystopian novels by drawing readers into mystery rather than the hopelessness of the human race. And the easy, caring relationship between Jesse and Kir remains at the forefront of the story, adding a layer of complexity by evoking sympathy for both sides of the conflict."
— San Francisco Review of Books

"Equal parts noir and sci-fi, The Preserve is a smart little page-turner that gets its hooks into you early and keeps you guessing."
— The Philadelphia Inquirer

"If you're into dystopian books with robots, plagues, and an intense sci-fi mystery, then The Preserve is for you."
— Mystery & Suspense Magazine

"An eerily relevant tale for our times."
— Cultured Vultures

*Best Books of the Month**
— Liz & Lisa Book Blog
Atria/Emily Bestler Books, 9781476797885, 256pp.
Publication Date: November 3, 2020
About the Author
Ariel S. Winter was a finalist for the Los Angeles Times Book Prize, the Shamus Award, and the Macavity Award for his novel The Twenty-Year Death. He is also the author of the children's picture book One of a Kind, illustrated by David Hitch, and the blog We Too Were Children, Mr. Barrie. He lives in Baltimore.