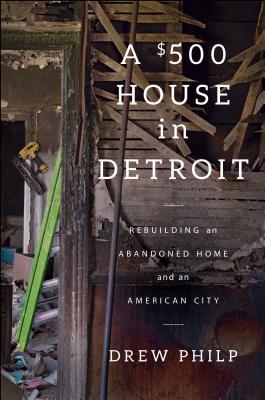 A $500 House in Detroit
Rebuilding an Abandoned Home and an American City
Hardcover

* Individual store prices may vary.
Other Editions of This Title:
Digital Audiobook (4/10/2017)
Paperback (4/10/2018)
Description
A young college grad buys a house in Detroit for $500 and attempts to restore it—and his new neighborhood—to its original glory in this "deeply felt, sharply observed personal quest to create meaning and community out of the fallen…A standout" (Kirkus Reviews, starred review).

Drew Philp, an idealistic college student from a working-class Michigan family, decides to live where he can make a difference. He sets his sights on Detroit, the failed metropolis of abandoned buildings, widespread poverty, and rampant crime. Arriving with no job, no friends, and no money, Philp buys a ramshackle house for five hundred dollars in the east side neighborhood known as Poletown. The roomy Queen Anne he now owns is little more than a clapboard shell on a crumbling brick foundation, missing windows, heat, water, electricity, and a functional roof.

A $500 House in Detroit is Philp's raw and earnest account of rebuilding everything but the frame of his house, nail by nail and room by room. "Philp is a great storyteller…[and his] engrossing" (Booklist) tale is also of a young man finding his footing in the city, the country, and his own generation. We witness his concept of Detroit shift, expand, and evolve as his plan to save the city gives way to a life forged from political meaning, personal connection, and collective purpose. As he assimilates into the community of Detroiters around him, Philp guides readers through the city's vibrant history and engages in urgent conversations about gentrification, racial tensions, and class warfare.

Part social history, part brash generational statement, part comeback story, A $500 House in Detroit "shines [in its depiction of] the 'radical neighborliness' of ordinary people in desperate circumstances" (Publishers Weekly). This is an unforgettable, intimate account of the tentative revival of an American city and a glimpse at a new way forward for generations to come.
Praise For A $500 House in Detroit: Rebuilding an Abandoned Home and an American City…
"In this impassioned memoir, a young man finds a community flourishing in a city so depopulated that houses are worth less than a used Chevy.…Philp ably captures the frontier feel of Detroit as he laboriously rehabs his ruined house from foundation to roof. His homebuilding narrative is engrossing….The book shines [in its depiction of] the 'radical neighborliness' of ordinary people in desperate circumstances."
—Publishers Weekly

"[Philp] quickly becomes an involved resident, using creativity, resourcefulness, ingenuity, and positive thinking to create a place for himself in a depressed city…highly recommended for general readers interested in the history and resurgence of Detroit and other U.S. cities."
—Library Journal

"Engrossing…Philp is a great storyteller, and he has done a good job of documenting his struggles to carve out a home. It's also easy to see why he intends to stay."
—Booklist

"[A] deeply felt, sharply observed personal quest to create meaning and community out of the fallen city's 'cinders of racism and consumerism and escape.' Philp ably outlines the broad issues of race and class in the city, but it is the warmth and liveliness of his storytelling that will win many readers. A standout in the Detroit rehab genre."
—Kirkus Reviews, starred review

"Lots of young bohemian types are fascinated by Detroit—land of the fabled $500 house!—but few take the plunge as headily as Drew Philp did, not only buying his own place but renovating it from the inside out, getting to know the neighbors, and learning about one of America's most fascinating cities as only a true resident can. Philp writes about his experience with sensitivity, humility and humor, and his voice is a necessary addition to the literature of the Motor City."
—Mark Binelli, author of Detroit City is the Place to Be

"Downright eloquent and deeply moving. Beyond the sheer, compelling force of Philp's writing, his account is insistently honest and full of insight. No shortcuts. No unrealistic fantasies. No pretenses of the sort that made my nerves twitch before I gave up on the literature of Nightmare Detroit. Philp the 23-year-old kid comes alive convincingly, in all of his confused but determined effort to rebuild a house and sink roots. He captures the city in all of its horrors and hopes, contradictions and blind faith."
—Frank Viviano, eight-time Pulitzer Prize-nominee, and National Geographic writer since 2001

"An important and powerful memoir that looks at the struggles and great efforts being spent on breathing life into a decayed city, and delves into the complicated and diverse people trying to carve out better futures."
—New York Journal of Books

"A fascinating inside look….Philp writes with exuberance and sincerity....Inspiring."
—Minneapolis Star-Tribune
Scribner, 9781476797984, 304pp.
Publication Date: April 11, 2017
About the Author
Drew Philp's work has been published both nationally and internationally and has appeared in publications, including BuzzFeed, The Detroit Free Press, Metrotimes, Corp! Magazine, the Bakersfield Californian, and the Michigan Daily. He lives in Detroit with his dog, Gratiot. A $500 House in Detroit is his first book.
or
Not Currently Available for Direct Purchase