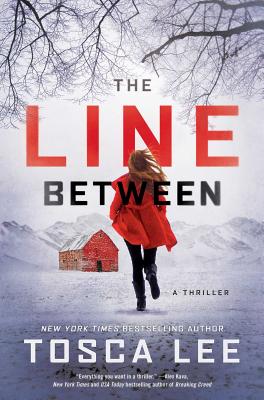 The Line Between
A Novel
Hardcover

* Individual store prices may vary.
Other Editions of This Title:
Digital Audiobook (1/28/2019)
Paperback (8/13/2019)
Compact Disc (1/29/2019)
Description
In this frighteningly believable thriller from New York Times bestselling author Tosca Lee, an extinct disease re-emerges from the melting Alaskan permafrost to cause madness in its victims. For recent apocalyptic cult escapee Wynter Roth, it's the end she'd always been told was coming.

When Wynter Roth is turned out of New Earth, a self-contained doomsday cult on the American prairie, she emerges into a world poised on the brink of madness as a mysterious outbreak of rapid early onset dementia spreads across the nation.

As Wynter struggles to start over in a world she's been taught to regard as evil, she finds herself face-to-face with the apocalypse she's feared all her life—until the night her sister shows up at her doorstep with a set of medical samples. That night, Wynter learns there's something far more sinister at play and that these samples are key to understanding the disease.

Now, as the power grid fails and the nation descends into chaos, Wynter must find a way to get the samples to a lab in Colorado. Uncertain who to trust, she takes up with former military man Chase Miller, who has his own reasons for wanting to get close to the samples in her possession, and to Wynter herself.

Filled with action, conspiracy, romance, and questions of whom—and what—to believe, The Line Between is a high-octane story of survival and love in a world on the brink of madness.
Praise For The Line Between: A Novel…
"VERDICT: Lee's perfectly crafted dystopian thriller will keep readers up all night and have them begging for a sequel."
— Library Journal (Starred Review)

"A tight, fast-paced thriller, with a winding, twisty plot and an intrepid protagonist."
— Booklist

"[A] moving dystopian thriller... Lee gets readers to invest in the characters, particularly her well-defined and sympathetic lead."
— Publishers Weekly

"THE LINE BETWEEN blurs the line between science fiction and terrifying real science. Tosca Lee gives us a cautionary tale that is beautifully written and deeply unnerving!"
— Jonathan Maberry, New York Times bestselling author of V-WARS and PATIENT ZERO

"The perfect blend of spellbinding and heart stopping, The Line Between is an absolute must-read. Tosca whips up a thriller that is emotionally wrenching yet utterly believable, the kind of story that is sure to leave readers breathless and begging for more."
— Nicole Baart, New York Times bestselling author

"Everything you want in a thriller: suspense, intrigue and best of all, a truly captivating protagonist to cheer on. Throw in a white-knuckled race from Chicago to Colorado over backroads that this author obviously and respectfully knows well. This one's a slam-dunk that'll keep you reading, non-stop until the very last sentence."
— Alex Kava, New York Times and USA Today bestselling author

"A fast-paced and deeply human story. Tosca Lee has put together a terrifying apocalyptic scenario, made all the more real through the eyes of a protagonist who comes to life on the page."
— Patrick Lee, New York Times bestselling author of RUNNER

"Relevant and frighteningly real, The Line Between is an infectiously good read. Be prepared to lose sleep."
— Brenda Novak, NYT and USA Today Bestselling Author of FACE OFF

"An utterly immersive tale of apocalyptic cult manipulation and all-too-possible infectious epidemics, this story will have readers holding their breath on every page and dearly wishing for their own basement survivalist shelter. Perfect, chilling entertainment."
— Lydia Kang, bestselling author of A Beautiful Poison

"An edge-of-your-seat, nonstop, apocalyptic rollercoaster of a thriller! As only she can, Tosca Lee pulls the reader in and refuses to let go until the final heart-pounding page!"
— J.D. Barker, International Bestselling Author of The Fourth Monkey

"Wynter's daring escape draws the reader into a maze of intrigue and false realities, as a bona fide apocalypse grips humanity. This frighteningly topical page-turner from Tosca Lee is a wild ride that will leave you breathless."
— Maria Frisk, Producer, Radar Pictures

"A tremendous thrill-ride that is sure to linger long after you turn the last page. With compelling and memorable characters, this is a true run-for-your-life, end-of-the-world, amazingly realistic tale full of twists and turns that will have your heart-pounding."
— E. C. Diskin, bestselling author of Broken Grace

"Tosca Lee nailed the twists and turns in this masterfully crafted thriller."
— Steena Holmes, NYT and USA Today bestselling author of The Forgotten Ones

"Shades of The Handmaid's Tale and The Walking Dead blend together in an epic novel of depth and power. Tosca Lee's The Line Between is a breathtaking story of a woman who rises above her own dark past to stop civilization from descending into madness. Brilliant."
— K.J. Howe, international bestselling author of The Freedom Broker and Skyjack

"Smartly written, tautly paced, with an utterly irresistible protagonist, The Line Between is pure exhilaration on a page."
— Emily Carpenter, bestselling author of Burying the Honeysuckle Girls

"The Line Between is a nail-biter.... one horrific thriller fans will want to read. The conflicting urges rampant in the story resonate with our world today, making this both a great read as well as a cautionary tale."
— Nancy Kilpatrick, award-winning author of the Thrones of Blood series

"THE LINE BETWEEN by Tosca Lee had me captivated from page one!... I give this book 5 stars and plan to keep it in my Bug Out Bag, along with my MREs, first aid kit and Swiss Army knife."
— Merrie Destefano, author of VALIANT

"A true wordsmith, Tosca has crafted another page-turner, a nonstop thrill ride that will leave you breathless."
— Steven James, bestselling author of Every Wicked Man

"A deftly crafted dystopian novel showcasing author Tosca Lee's impressive flair for blending conspiracy and romance with action and paranoia level scepticism in an all too believable near future, THE LINE BETWEEN is one of those exceptional works of literature that will linger in the mind, memory, and nightmare dreams of the reader long after the book itself has been finished and set back upon the shelf."
— Midwest Book Review
Howard Books, 9781476798622, 384pp.
Publication Date: January 29, 2019
About the Author
Tosca Lee is the award-winning New York Times bestselling author of The Progeny, Firstborn, Iscariot, The Legend of Sheba, Demon: A Memoir, Havah: The Story of Eve, and the Books of Mortals series with New York Times bestseller Ted Dekker. She received her BA in English and International Relations from Smith College. A lifelong adventure traveler, Tosca makes her home in the Midwest with her husband and children.
or
Not Currently Available for Direct Purchase