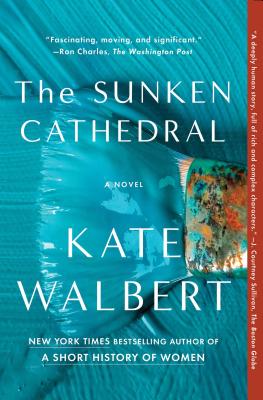 The Sunken Cathedral
A Novel
Paperback

* Individual store prices may vary.
Other Editions of This Title:
Digital Audiobook (6/8/2015)
Hardcover (6/9/2015)
Description
From the highly acclaimed, bestselling National Book Award nominee, a "funny…beautiful…audacious…masterful" (J. Courtney Sullivan, The Boston Globe) novel about the way memory haunts and shapes the present.

Marie and Simone, friends for decades, were once immigrants to the city, survivors of World War II in Europe. Now widows living alone in Chelsea, they remain robust, engaged, and adventurous, even as the vistas from their past interrupt their present. Helen is an art historian who takes a painting class with Marie and Simone. Sid Morris, their instructor, presides over a dusty studio in a tenement slated for condo conversion; he awakes the interest of both Simone and Marie. Elizabeth is Marie's upstairs tenant, a woman convinced that others have a secret way of being, a confidence and certainty she lacks. She is increasingly unmoored—baffled by her teenage son, her husband, and the roles she is meant to play.

In a chorus of voices, Kate Walbert, a "wickedly smart, gorgeous writer" (The New York Times Book Review), explores the growing disconnect between the world of action her characters inhabit and the longings, desires, and doubts they experience. Interweaving long narrative footnotes, Walbert paints portraits of marriage, of friendship, and of love in its many facets, always limning the inner life, the place of deepest yearning and anxiety. The Sunken Cathedral is a stunningly beautiful, profoundly wise novel about the way we live now—"fascinating, moving, and significant" (Ron Charles, The Washington Post).
Praise For The Sunken Cathedral: A Novel…
"The Sunken Cathedral is a gem of a novel—lyrical, ominous, and unexpectedly funny. Kate Walbert has somehow managed to write an elegy for a Manhattan that still exists, and characters who—like most of us—would prefer not to think about their impending doom."
— Tom Perrotta, author of The Leftovers

"Kate Walbert's frightening, timely novel follows an achingly particular cast, small flames unexpectedly doused, so that the prevailing uncertainty of what it is to be alive rises like the waters flooding coasts. The insufficiencies of sheltering-in against Sudden Weather turn Who We Are Stories into Who Are We plaints, yet Walbert is wise and funny and compassionate, and she gifts The Sunken Cathedral with birds and strokes of blue. 'Much to learn from blue,' a painter considers, and much to learn from this ambitiously made, great fiction."
— Christine Schutt, author of Florida and All Souls

"The Sunken Cathedral is impressionistic, a book of drifting shadows and blazing clarity; Kate Walbert has written a gorgeous and moving requiem for a people and a city that are not yet lost. A magnificent achievement."
— Lauren Groff, author of Fates and Furies

"Hypnotic…though the novel seems to be set in the present,it feels more menacing than our current world, with sudden, dangerous stormsand terrorism drills in school. An unconventional and unsettling novel withvivid imagery and passages of pure poetry."
— Library Journal, starred review

"[A] sense of a remembered world that lives on just beneath the ever-changing surface is at the heart of Kate Walbert's stunning new novel, The Sunken Cathedral. A powerful elegy for a fading New York City and for the planet as a whole, it is also a deeply human story, full of rich and complex characters…[Walbert] writes with such precision that she's able to pack 80 years worth of personal and world history — war, climate change, marriage, parenthood, friendship, death,grace, love, petty betrayal, and sudden violence — into a slim volume. She's also very funny… the footnotes work beautifully…audacious…masterful."
— J. Courtney Sullivan, The Boston Globe

"Walbert writes unlike anyone I've read before, imbuing each of her finely-tuned sentences with stunning detail. Trust me: You won't ever have been more eager to read the footnotes in your life."
— Bustle

"Insightful…Like so many elements of this rich new novel, its title points backward and forward… though Walbert never allows her narrative to dissolve into stream of consciousness, she manipulates time and space as though they were as viscous as oils. And she allows the central plot to drip off the edges of this canvas. That effect is structurally emphasized by footnotes that read like little prose poems of ineffable grace... Some of these notes are long, taking up more than two pages, and some contain incidents as moving and significant as anything in the main text of the novel,a strategy that implicitly challenges what's central and what's tangential in our lives… Walbert's narrative method is a gentle lesson in empathy, a reminder that it's only artifice and egotism that give us the misimpression that we're the central protagonist of the life we're composing."
— Ron Charles, The Washington Post

"Kate Walbert's TheSunken Cathedral paintsan elegant picture of a LowerManhattan neighborhood and its citizens, at risk from both 'suddenweather' and relentless gentrification."
— Shelf Awareness

"Walbert tunes in toa complex chorus of female characters in contemporary Manhattan, a cityrecently altered by climate change, tragedy and new wealth...The tapestry ofvoices weave a rich pattern, and the novel is strengthened by Walbert's use offootnotes, which allow her characters' thoughts to move freely from the presentto the past, uncovering private or previously unshared memories…TheSunken Cathedral is a reference to a piano sonata by Debussythat itself alludes to the mythical story of a cathedral that rises up from thesea. Like Debussy's impressionistic music, the novel is poetic, full of lyricalimagery and subtle shifts of tone. Ambitious,elegiac and occasionally even funny, TheSunken Cathedral is an emotionally resonant story of people caught ina time of unease and change—and a striking portrait of the way we livenow."
— Lauren Bufferd, BookPage

"[A] shimmering newnovel…At its heart is a wonderful pair of widowed French-born friendswho both survived World War II, married Americans, and raised their onlychildren together…Walbert has beenrightly celebrated for her ability to capture the variety and vulnerability ofwomen's lives with a combination of lyricism and brawn…In TheSunken Cathedral, she again creates multiple narrative strands whicheventually dovetail as satisfyingly as tightly fitted joints on awell-constructed rocking chair. But then she takes her remarkable technical prowess to a newlevel with long footnotes…This literal subtext forms a secondary narrativeline that cleverly reflects the way attention is so often fragmented…abeautiful tribute to a city that's continually in flux."
— Heller McAlpin, NPR.org

"Kate Walbert's fourth novel, The Sunken Cathedral, makes a music that is dissonant, haunting, vibrant, moving and wise. It may be her best work yet, and may spark youto go find all her prior books… Walbert packs everything into [a] series ofbraided narratives: deliciously human, memorable characters; the sensuousphysical world ('a collection of wet smells, furtive cigarettes, coffee'); atart omniscience (though points of view alternate) shepherding a brisk pace.Best, she infuses The Sunken Cathedral(an apt, eerie image) with a sense of time's relentlessness (figuring often asthreatening weather): how it pools and eddies, drowns or sweeps away what oncemattered — and how we respond to our arbitrary placement in it… Time isdeepened in these pages by commentaries or expansions in the form of longfootnotes — a form I've rarely liked elsewhere but which works powerfully here…Walbert's past oeuvre has notably examined — in a spiky, oblique prose style —the predicaments of women. She accomplishes that here again brilliantly, butthis time her style allows easier entry, and her scope widens… Sharp, richly imagined, The Sunken Cathedral serves — like much of Walbert's work —as a lovely manifesto: Attention must be paid."
— Joan Frank, The San Francisco Chronicle

"Walbert is a writerwith the power to alter your view of the world and of what constitutes story…The Sunken Cathedral is an experience, afriend, an intellectual companion, a jewel with many facets…a collection ofobservations and impressions, a carefully curated collection of words that theauthor has polished to a brilliant shine."
— Martha Sheridan, The Dallas Morning News

"Kate Walbert not only sees vanishing women — a pair ofwidows in their 80s, the suddenly uncertain mother of a teenage son, amiddle-aged art historian with visions of a drowning city — but paints theirlives in indelibly rich and vibrant colors in her stunning new novel, The Sunken Cathedral… Walbert conjures [the] past as she embodiesthe present, in shimmeringly lovely prose embedded with jewellike details.Marie's story becomes, in essence, a love story, although the heartbreaking endof one: She is the sole survivor of a happy marriage. Walbert capturesperfectly Marie's precise sense of loss."
— Colette Bancroft, Tampa Bay Times

"[Walbert] gives us prose that is poetic, luscious, and utterly exquisite, while remaining both accessibleand elusive. She also litters her story with footnotes…these tidbits addextra color to an already brilliantly vibrant mosaic…I haven't read a book thisbeautifully written since Ondaatje's The English Patient…I cannot recommend it more highly."
— Davida Chazen, BookBrowse

"In The SunkenCathedral, Kate Walbert renders an impressionistic portrayal of animperiled New York, whose residents live with the threat of weather surges andterrorism in a city that is at once mythical and real…[a] brilliant allegory… fascinating characters and theirbackstories propel the novel from serenity to angst, as each character preparesfor the coming deluge."
— Joseph Peschel, St. Louis Post-Dispatch

"Kate Walbert sees in a manner that exalts the everyday into poetry and gives our deepest desires an unexpected and brilliant expression. She is among our very best writers, which The Sunken Cathedral makes abundantly clear."
— Ann Packer, author of The Children's Crusade and The Dive from Clausen's Pier
Scribner, 9781476799360, 224pp.
Publication Date: March 29, 2016
About the Author
Kate Walbert is the author of seven works of fiction: She Was Like That, longlisted for the Story Prize and a New York Times Notable Book of the Year; His Favorites, an Atlantic Monthly Best Book of the Year; The Sunken Cathedral; A Short History of Women, a New York Times Book Review 10 Best Books of the Year and finalist for the Los Angeles Times Book Prize; Our Kind, a National Book Award finalist; The Gardens of Kyoto; and the story collection Where She Went. Her work has appeared in many publications, including The New Yorker, The Paris Review, The Best American Short Stories, and The O. Henry Prize stories. She lives with her family in New York City.


or
Not Currently Available for Direct Purchase