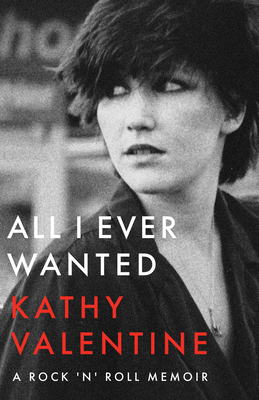 All I Ever Wanted
A Rock 'n' Roll Memoir
Hardcover

* Individual store prices may vary.
Other Editions of This Title:
Digital Audiobook (4/6/2020)
Paperback (8/3/2021)
Description
Runner-up, Carr P. Collins Award for Best Book of Non-Fiction, 2021
Go-Go's bassist Kathy Valentine's story is a roller coaster of sex, drugs, and of course, music; it's also a story of what it takes to find success and find yourself, even when it all comes crashing down.
At twenty-one, Kathy Valentine was at the Whisky in Los Angeles when she met a guitarist from a fledgling band called the Go-Go's—and the band needed a bassist. The Go-Go's became the first multi-platinum-selling, all-female band to play instruments themselves, write their own songs, and have a number one album. Their debut, Beauty and the Beat, spent six weeks at the top of the Billboard 200 and featured the hit songs "We Got the Beat" and "Our Lips Are Sealed." The record's success brought the pressures of a relentless workload and schedule culminating in a wild, hazy, substance-fueled tour that took the band from the club circuit to arenas, where fans, promoters, and crew were more than ready to keep the party going.
For Valentine, the band's success was the fulfillment of a lifelong dream—but it's only part of her story. All I Ever Wanted traces the path that took her from her childhood in Texas—where she all but raised herself—to the height of rock n' roll stardom, devastation after the collapse of the band that had come to define her, and the quest to regain her sense of self after its end. Valentine also speaks candidly about the lasting effects of parental betrayal, abortion, rape, and her struggles with drugs and alcohol—and the music that saved her every step of the way. Populated with vivid portraits of Valentine's interactions during the 1980s with musicians and actors from the Police and Rod Stewart to John Belushi and Rob Lowe, All I Ever Wanted is a deeply personal reflection on a life spent in music.
Praise For All I Ever Wanted: A Rock 'n' Roll Memoir…
Valentine recounts in vivid detail the gloriously debauched path of the Go-Gos through early rock success…[she] captures both the carefree bliss of being young, beautiful, rich and talented, and the darkness that such freedom can breed.
— Los Angeles Times

[A] vibrant new autobiography.
— Washington Post

[An] excellent recent memoir.
— New York Times

All I Ever Wanted starts off with raw memories of her nightmarish Texas youth, then flips into a wild Eighties rock & roll ride. It all starts with her childhood dream: 'To be in a kickass band with a gang of like-minded girls and claim the life I wanted for myself.'
— Kirkus/Rolling Stone, "Best Music Books of 2020"

[An] excellent memoir...As well as telling the enthralling saga of how the Go-Go's got big through hard work, hard partying and great tunes, this is Valentine's personal bout of forensics. Her arc has a candour, clarity and retrospective warmth born of sobriety and therapy. Valentine can write.
— The Guardian

[All I Ever Wanted] is wonderful. It's also an easy read, the prose as rhythmic and pulsating as [Valentine's] musicianship…All I Ever Wanted isn't a Rocky-like tale of victory, with a final act which sees The Go-Go's on top of the world conquering all comers. This is the story of a musician, a lifer, who simply refused to quit.
— L.A. Weekly

In her candid new book, All I Ever Wanted…Valentine reflects on the highs of global stardom, the lows of substance abuse, and the aftermath of one of the '80s great pop bands.
— Austin Monthly

A revealing new book…[All I Ever Wanted is] not a dirty tell-all of life in the Go-Go's, but rather a cathartic analysis of [Valentine's] own life. The struggles and successes that made her the strong, sober, self-sufficient, musician and mother that she is today.
— Please Kill Me

For those who enjoy the name-dropping in a celebrity's book, Valentine has lots. From John Belushi to Rod Stewart, Lenny Kravitz to the Rolling Stones, she shares her adventures with some of the biggest names in music and movies. For those who love a good rags-to-riches story, there's poverty, loneliness, drugs, love, fame, heartbreak, happiness and finally contentment. And for those into music history, Valentine takes us through her songwriting and playing with the Textones, the Go-Go's and the Delphines, how she wrote her first song, "Can't Stop The World," and probably her most well-known tune, "Vacation," and how guitar has always been her first love.
— Glide Magazine

Raw and engrossing…Far from judgmental or cloying, All I Ever Wanted is a candid and self-aware memoir that provides a street view of a remarkable time in both Austin and LA's musical histories as well as a thoughtful perspective on the pressures, successes and failures of the music business and what it means to be a bold and hungry young woman within it.
— Ovrld

Valentine recounts in candid detail her life's ups-and-downs, including some unsettling revelations.
— Page Six

An open and often surprising read.
— Billboard

[A] frank and open autobiography.
— Houston Press

All I Ever Wanted...reads like the audio book to the Go-Go's 1981 game changer, Beauty & the Beat, which spent six full weeks at No. 1 and remains the only chart-topper entirely written and recorded by a group made up entirely of women. Documenting not only the decade leading up to the music's DIY revolution locally, the ripping read blooms into full technicolor once Valentine moves to L.A. and replaces the GG's departing bassist. Sex, drugs, and you-know-what ensues. She got the beat.
— Austin Chronicle

[A] riveting new book.
— PopMatters

[A] raw and moving autobiography.
— Forbes

A story well-told with music always at the forefront.
— Los Angeles Daily News

All I Ever Wanted…is as good as rock and roll memoirs get.
— Under the Radar

[A] beautifully written memoir.
— The Wrap

All I Ever Wanted is brutally honest, bold and unflinching…[Valentine] is not afraid to be raw and vulnerable as she opens up about the highest highs and lowest lows in her life in a witty and candid manner.
— Digital Journal

[All I Ever Wanted] is different from every rock autobiography I've ever read...what really makes All I Ever Wanted interesting, is it's the viewpoint of a girl/woman, how she wanted to be in rock and roll, which was dominated by men, and found a way to succeed. We hear all about sexism in the business, but rarely through the eyes of those who made it.
— The Lefsetz Letter

All I Ever Wanted, a shockingly candid, at times difficult to read, book is full of incredible stories and anecdotes...As tough as [All I Ever Wanted] can be at times, it is ultimately a story of triumph.
— SPIN

With frank, jarringly unsentimental storytelling, Valentine reclaims not only the band's narrative, but more importantly, her own.
— Texas Observer

It's a remarkable story, and Valentine's sharp wit makes All I Ever Wanted a welcome page-turner...Throughout, Valentine's strong voice carries an unforgettable story. When you finish All I Ever Wanted, you'll be even more impressed with the author and her badass bandmates.
— The Current

Texas grit pervades [All I Ever Wanted]…as [Valentine] balances poignant personal anecdotes with canny observations about the benighted music industry.
— Houston Chronicle

Revealing and moving...For lovers of the Go-Go's music, you'll find plenty to enjoy here. But All I Ever Wanted goes far beyond that into the details of Valentine's turbulent formative years, her triumphs and struggles within her iconic band, and how she pulled out of the darkest times in order to tell this tale, honestly and unflinchingly.
— American Songwriter

In the archives of music history, there are many gaping holes still being filled in decades later—holes where the stories of non-white, women, and non-binary musicians have been glossed over. Valentine's book arrives as an essential piece of painting the true, complete picture of rock's history, demonstrating what it means to be a woman in a band when you're not the singer.
— Vanyaland

The honesty and bravery that permeate All I Ever Wanted transcend genre conventions of normal rock bios. It's a hell of a debut, and a harbinger of greatness to come.
— Razorcake

Whenever I read a celebrity memoir, I ask myself, 'Why does this story matter? What can readers learn from this?' There has to be more to a celebrity memoir than just tales of sex, drugs, name dropping, fame, and survival. What Valentine provides is not only a thorough accounting of her harrowing childhood, her hard-fought rise to stardom, subsequent collapse and redemption; she provides a window into an important part of rock history...This memoir is both a gripping and entertaining read and an important addition to the history of American music.
— Brooklyn Rail

[Valentine's] frank, fast-paced memoir (family dysfunction, drugs, rock chauvinism) tells what it was really like to be in her band.
— Financial Times

[All I Ever Wanted] is bursting with raucous girl-powered sex, drugs, and rock and roll, but is also heroically honest, with chapters detailing childhood trauma, sexual assault, and struggles with addiction.
— BUST

[A] spirited yet poignant story…What's so powerful about [Valentine's] story is not just how she overcomes addiction and the legacy of a difficult childhood, but how The Go-Go's find their way back to each other, and how, in its own dysfunctional way, the rock 'n' roll family looks after its own.
— Mojo

Valentine delivers an account that's both loving and lurid.
— Oakland Press

[A] terrific recent memoir.
— The Wrap

A feminist rock 'n' roll coming-of-age story for the decades...Whether you're a fan of the Go-Go's or a reader who wants to be enamored with a musician's wordcraft, this is the book for you...Kathy Valentine's writing style is out of this world. Her ability to craft buzzing metaphors and similes had me re-reading and gasping with delight...At its heart, the memoir is a powerful narrative about women who rock, resisting the standard tropes of the sexist music industry.
— Louder Than War

[Valentine's] book is thoughtful, honest, full of information, and very musical.
— Wolf Trap

An unsentimental, inspiring recollection of life in the Go-Go's…[an] intelligent and layered memoir...With the gift of time, therapy, and a lot of reflection, Valentine tells her story clearly and insightfully.
— Washington Independent Review of Books

All I Ever Wanted is a raw and unflinching look at the origins of Valentine's desire to belong to a chosen family—a sisterhood.
— Moms.com

One of the finest memoirs I have ever read.
— Guitar Girl Magazine

[A] satisfying memoir...Throughout All I Ever Wanted, Valentine writes in a straightforward style about her struggles and triumphs. Her matter-of-fact, it-happened-to-me tone keeps her account of her eventual sobriety from wallowing in the sanctimony that can mar such accounts. On the page, she is compulsively readable, displaying the self-assured competence and grace of her playing, which makes the successes that close out the narrative especially satisfying.
— The Arts Fuse

A bluntly told but lovingly proud and ultimately triumphant memoir.
— Minneapolis Star-Tribune, "15 holiday gifts for music lovers"

[An] entertaining and eloquent memoir...It doesn't hold in back in candidly detailing the highs and lows of being in a hugely successful band as well as Valentine's own personal struggles with substance abuse.
— Forbes

An utter delight…[Valentine] really makes you feel it all: the ups, the downs, the parties, the drugs, the heartbreaks, the thrill of being family in a groundbreaking, hugely successful band.
— Austin Chronicle, "Top Books of 2020 That Struck a Literary or Musical Chord"

Kathy Valentine tells [the Go-Go's] story in a jaw-dropping memoir that doesn't paper over any of the rough spots. The band's record-setting run was messy, it was raucous, it was righteous. In short, it was pure rock and roll.
— The Current, "Best music books of 2020"

A well written and, more unusually for rock memoirs, very well balanced account, covering recording, performing, songwriting, guitar playing, band and record business dynamics, and personal life and passions without leaning too hard or too long on any aspect.
— Folkrocks, "Top 25 (Or So) Rock Books of 2020"

Reading All I Ever Wanted...was a balm during a tough year. Valentine writes about her upbringing in 1970s-era Austin with stinging clarity, and the recollections she shares of her time with the Go-Go's make for an electrifying page-turner. The restorative power of music buoyed Valentine during the most trying moments in her life, and her story provided me with a much-needed dose of optimism—and the hope that we'll convene together again one day at a show, lighters and sweating cups of beer held high in the air.
— Texas Monthly, "Ten Texas Books We Loved in 2020"

Valentine's account of her tenure with the Go-Go's is solid — starting with her replacing original bassist, Margot Olavarria, just prior to the band's meteoric rise — but I found her pre-Go-Go's musical exploits (Violators, Painted Lady, Textones) just as interesting. There's always something really entertaining and endearing about punk rock underdog stories.
— S.W. Lauden, "Favorite Rock Reads of 2020"

What makes this book different than the thousands upon thousands upon thousands of other rock books, really, is Valentine's authorial voice. All I Ever Wanted succeeds – not only as the story of a rock 'n' roll band, but as a story, period. Anyone would probably enjoy reading this one – even smart people who aren't interested in rock books. She really is a good writer...[Valentine] deftly avoids the easy traps of cliché and self-focused melodrama that have dogged so many rocker-cum-autobiographers before her. Valentine takes herself and her expression quite seriously, thank you. And she knows how to turn an artistically wrought phrase, too.
— Stomp and Stammer

Impressive…One of the reasons it is such a powerful read is that Valentine largely resists the temptation to descend into spilling the dirt. Instead she personalises events and recognises her own problems and fallibilities.
— Spill Magazine

A fast-paced but thorough memoir with all the best and worst sides of sex, drugs and rock and roll. It's sensational without sensationalizing.
— Austin Woman

[All I Ever Wanted] is packed with bombshells from the rocker's time in the spotlight.
— New York Post

[All I Ever Wanted] has its share of salacious rock 'n' roll stories, but it is Valentine's honest and unflinching account of growing up unsupervised in a single-parent household that is the most engrossing—and difficult—to read...Valentine speaks candidly about her addiction, her destructive behavior, and the people she hurt, taking full responsibility for her actions. Despite her negligent upbringing, there are no complaints or accusations. This is perhaps All I Ever Wanted's strongest statement: acceptance without resentment.
— The A.V. Club, "The 15 most essential music bios (and autobiographies) so far this century"

In this warm and well-paced memoir, Kathy Valentine of The Go-Go's tells her life story with profound openness and honesty. All I Ever Wanted actively avoids sensation and scandal while never veering away from sharing intensely personal details…It's every bit a classic tale of the life of successful working musician, but it avoids cliches through the use of a rueful and authentic bittersweetness.
— Treble
University of Texas Press, 9781477312339, 304pp.
Publication Date: March 31, 2020
About the Author
Kathy Valentine is a working musician and songwriter known for being part of the all-female band the Go-Go's. She wrote or cowrote many of the band's most renowned songs, including "Vacation" and "Head Over Heels." In addition to playing music and writing songs, Valentine has worked as an actor, public speaker and spokesperson, and producer. In 2017 she created "She Factory," an event series to raise money for women-centered nonprofits. She currently lives in her hometown of Austin with her daughter, where she plays in a band and is completing her first college degree.