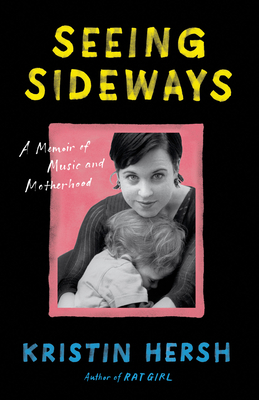 Seeing Sideways
A Memoir of Music and Motherhood (American Music Series)
Hardcover

* Individual store prices may vary.
Description
Doony, Ryder, Wyatt, Bodhi. The names of Kristin Hersh's sons are the only ones included in her new memoir, Seeing Sideways. As the book unfolds and her sons' voices rise from its pages, it becomes clear why: these names tell the story of her life.
This story begins in 1990, when Hersh is the leader of the indie rock group Throwing Muses, touring steadily, and the mother of a young son, Doony. The chapters that follow reveal a woman and mother whose life and career grow and change with each of her sons: the story of a custody battle for Doony is told alongside that of Hersh's struggles with her record company and the resulting PTSD; the tale of breaking free from her record label stands in counterpoint to her recounting of her pregnancy with Ryder; a period of writer's block coincides with the development of Wyatt as an artist and the family's loss of their home; and finally, soon after Bodhi's arrival, Hersh and her boys face crises from which only strange angels can save them. Punctuated with her own song lyrics, Seeing Sideways is a memoir about a life strange enough to be fiction, but so raw and moving that it can only be real.
Praise For Seeing Sideways: A Memoir of Music and Motherhood (American Music Series)…
The rock musician recalls episodes from her prolific and unconventional career—as a mom...Inimitable, unsinkable, kooky, and full of love for her boys.
— Kirkus

Seeing Sideways is written in an elliptical, poetic style that makes it easy for readers to become caught up in her stories…[Hersh] is a good enough writer to interest people who may never have listened to her music. The astringent survivor's wisdom that runs through Seeing Sideways will be of value to parents of unconventional children and as well as those struggling with mental illness.
— The Arts Fuse
University of Texas Press, 9781477312346, 280pp.
Publication Date: May 4, 2021
About the Author
Kristin Hersh is a solo artist and founding member of the bands Throwing Muses and 50 Foot Wave. She is the author of Don't Suck, Don't Die: Giving Up Vic Chesnutt and Rat Girl, which was named one of the ten best rock memoirs ever written by Rolling Stone.