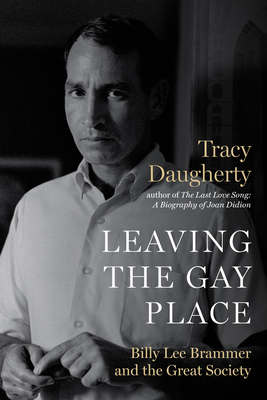 Leaving the Gay Place
Billy Lee Brammer and the Great Society
Hardcover

* Individual store prices may vary.
Other Editions of This Title:
Paperback (2/4/2020)
Description
Acclaimed by critics as a second F. Scott Fitzgerald, Billy Lee Brammer was once one of the most engaging young novelists in America. "Brammer's is a new and major talent, big in scope, big in its promise of even better things to come," wrote A. C. Spectorsky, a former staffer at the New Yorker. When he published his first and only novel, The Gay Place, in 1961, literary luminaries such as David Halberstam, Willie Morris, and Gore Vidal hailed his debut. Morris deemed it "the best novel about American politics in our time." Halberstam called it "a classic . . . [a] stunning, original, intensely human novel inspired by Lyndon Johnson. . . . It will be read a hundred years from now." More recently, James Fallows, Gary Fisketjon, and Christopher Lehmann have affirmed The Gay Place's continuing relevance, with Lehmann asserting that it is "the one truly great modern American political novel."
Leaving the Gay Place tells a sweeping story of American popular culture and politics through the life and work of a writer who tragically exemplifies the highs and lows of the country at mid-century. Tracy Daugherty follows Brammer from the halls of power in Washington, DC, where he worked for Senate majority leader Johnson, to rock-and-roll venues where he tripped out with Janis Joplin, and ultimately to back alleys of self-indulgence and self-destruction. Constantly driven to experiment with new ways of being and creating—often fueled by psychedelics—Brammer became a cult figure for an America on the cusp of monumental change, as the counterculture percolated through the Eisenhower years and burst out in the sixties. In Daugherty's masterful recounting, Brammer's story is a quintessential American story, and Billy Lee is our wayward American son.
Praise For Leaving the Gay Place: Billy Lee Brammer and the Great Society…
The book is by turns a strong, clear biography (with shades of rock n roll memoir), a poetic ode to various places and people in midcentury Texas and an oral history, all of it plugging in to an increasingly turned-on, tuned-in and dropped-out Brammer.
— Texas Observer

A comprehensive and compelling account of a life lived by a unique character against the background of a tumultuous era.
— Texas Monthly

Daugherty recounts Brammer's saga and the times in which he lived in compelling fashion, which makes Leaving the Gay Place one of this year's best nonfiction books about Texas.
— Dallas Morning News

Mr. Daugherty paints a persuasive picture of a young man as an ambitious novelist, feeling the frustration, in draft after draft, of trying to get a book exactly right.
— Wall Street Journal

[A] superbly gauged and powerfully evocative new biography.
— Bookforum

Stellar…For decades, the questions longtime devotees of The Gay Place have asked are: Where did this one-of-a-kind masterpiece come from? And what the hell happened to its author? Daugherty's biography tells us.
— The American Interest

Daugherty does a very good job of describing both the promise and the sheer waste of Brammer's life.
— Western American Literature

Daugherty offers those interested in the rise and fall of American liberalism and [Lyndon] Johnson a unique and personal window into this turbulent time.
— Journal of Southern History

[Daugherty] has produced a rigorously researched and highly readable portrait that should expand interest in [Billy Lee Brammer], no small achievement when dealing with a figure whose standing in his home state is (in true Texas fashion) both immense and shrouded in obscurity...In Leaving the Gay Place, Texas has gotten the thoughtful, flesh-and-blood account of this larger-than-life border-crosser it has long awaited.
— Resources for American Literary Study

A captivating new biography.
— Porter House Review
University of Texas Press, 9781477316351, 448pp.
Publication Date: October 17, 2018
About the Author
<p>Tracy Daugherty has written biographies of Joan Didion, Joseph Heller, and Donald Barthelme, as well as four novels, six short story collections, a book of personal essays, and a collection of essays on literature and writing. His stories and essays have appeared in the <em>New Yorker</em>, <em>Vanity Fair</em>, the <em>Paris Review</em> online, <em>McSweeney's</em>, <em>Boulevard</em>, <em>Chelsea</em>, the <em>Georgia Review</em>, <em>Triquarterly</em>, the <em>Southern Review</em>, and many other journals. Daugherty has received fellowships from the Guggenheim Foundation, the National Endowment for the Arts, Bread Loaf, Artsmith, and the Vermont Studio Center. A member of PEN and the Texas Institute of Letters, he is a five-time winner of the Oregon Book Award. At Oregon State University, Daugherty helped found the Masters of Fine Arts Program in Creative Writing and is now Distinguished Professor of English and Creative Writing, Emeritus.</p>
 
or
Not Currently Available for Direct Purchase