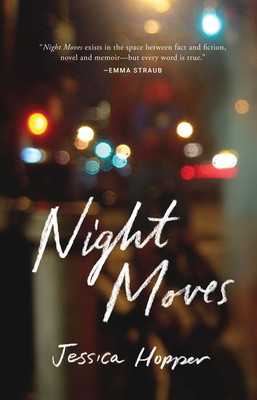 Night Moves
Paperback

* Individual store prices may vary.
October 2018 Indie Next List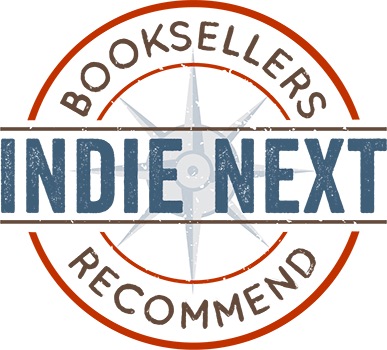 "Like reading the diary of your best friend from the best time of your life, Night Moves is a music-as-literature, literature-as-muci bildungsroman set in Chicago's indie music underground, but it's everywhere, the moment the gentrification and glass luxury condos began to take over everything original in this country, a fading glimpse at youth gone by in the slow burn into adulthood that we've all shared, all of us who've ever ridden a bike through our town late at night, watching the lights glowing, to a playlist of our own creation inside our own heads."
— Will Evans, Deep Vellum Books, Dallas, TX
View the List
Description
Written in taut, mesmerizing, often hilarious scenes, Night Moves captures the fierce friendships and small moments that form us all. Drawing on her personal journals from the aughts, Jessica Hopper chronicles her time as a DJ, living in decrepit punk houses, biking to bad loft parties with her friends, exploring Chicago deep into the night. And, along the way, she creates an homage to vibrant corners of the city that have been muted by sleek development. A book birthed in the amber glow of Chicago streetlamps, Night Moves is about a transformative moment of cultural history—and how a raw, rebellious writer found her voice.
Praise For Night Moves…
Though the entries jump around and there's no sense of time passing. . . As the book goes on the humor is tougher, the point of view sharper, the writer's purchase on her city like a fist closing.
— Rolling Stone

[Night Moves is] about a special blend of being present and feeling simultaneously nostalgic, looking at a block in any city that you love so much, and thinking of everything that's already changed and will change.
— NPR

These universal stories could be about your city's rock clubs and bookstores. But it's Hopper's scene, and she shares it with sweetness and immediacy, like a long letter from that pal who always helps you schlep your bike home.
— Pitchfork

A love letter to the city, [Night Moves is] also a glimpse into Hopper's friendships and her time navigating the scene that she was documenting in her public work.
— New York Times

In this lively and funny collection, [Hopper] bears vivid witness to an industrial punk landscape that is both crumbling and evolving beneath her bare feet.
— Kirkus

Rather than bogging readers down with the mundanity of the everyday, Hopper cuts right to the good stuff again and again, like a Lungfish record. Unlike Higgs and company, though, there's no repetition here, just a collection of lovely moments depicting a time in a place with a tight group of friends.
— Razorcake

Hopper is ever-quotable, gut-checkingly deep, and laugh-out-loud funny.
— Booklist

[Night Moves is] the perfect book for recapturing that lightning-like feeling of being young and wild and free, of feeling music in every part of your body.
— Nylon

A slim memoir born out of a Chicago music critic's personal journals from the 2000s—complete with bad nights, good punks, bad lofts, good sets, bad weather, good music, and a keen observer's eye.
— Lit Hub

Hopper digs into the minutiae of her neighborhood in order to find reasons to love it more. The prose itself feels free, like being young in a city—the length and moodiness of the days, the sudden highs and lows, the importance of seemingly unimportant things.
— Bookforum

[Night Moves] offers a specific and singular glimpse of the city, and a window into a point in time that now seems long past.
— Vol. 1 Brooklyn

This lovely and succinct memoir by music critic Jessica Hopper reads as if the coolest girl you know has let you take a peek at her personal diary.
— Vulture

Night Moves isn't your typical memoir and maybe that's because Hopper isn't your typical writer. Her precise attention to detail, infatuation with the Midwest, and her uncompromising, all-encompassing love of music make this book a joy to read. Though the book is short, your favorite entries will stick with you long after you finish.
— Paste Magazine

In chapters as meandering as her bike rides and walks through the city, the book's nonlinear structure enhances the sense of discovery that Hopper herself feels as she finds her way and her voice.
— Chicago Tribune

A funny, elegantly written book of essays about [Hopper's] life and the punk scene in Chicago in the 2000s.
— The Stranger

An enliving, heartening read, wriggling with its own vitality as irresistibly as On the Road.
— 3:AM Magazine

Night Moves revels in subtle but wholly Chicago moments. . . Hopper understands her fleeting interactions with both friends and strangers as representative of the rhythm of the city—and she often describes them with an agile sense of humor.
— Chicago Reader

The writing feels immediate, as if it were jotted down right after Hopper got home from one of her urban adventures.
— The Capital Times

Hopper paints a vivid impression of what the city was like in the mid-aughts for a creative writer coming into her own.
— Chicago Magazine

Companionship is the primary language through which Hopper maps Chicago and her experiences within it. . . Her patchwork of insights brings truth at a distance — the city itself is nothing without the way we talk about it.
— Passion of the Weiss

[Night Moves] reads like a wry, deeply felt love letter to friends, bikes, and Chicago night air.
— The Current

[Night Moves] does something we need books to do in 2018—it gives readers a neutral space to kick around thoughts of their own glory days by omitting dates and fame, root causes of anxiety.
— Houston Chronicle

The poetry and absurdity of existence are constant companions in the pages of Night Moves.
— Longreads

A charming ode to friendship, aging and what it means to truly love the place you call home.
— Juan Vidal

A whirl of gigs, clubs, day jobs, zines, record shops, lame parties, showing up at a Hold Steady video shoot, toting your broken bike through the streets, watching the industrial zone turn into yuppie jizz discos.
— Rolling Stone, Best Music Books of 2018

In [Hopper's] words, seemingly normal everyday things take on a colorful and lively turn.
— Brooklyn Based

Hopper might be focused on Chicago in Night Moves, but anyone who's ever loved local music will find themselves in this book.
— Pacific Northwest Inlander

Hopper's diaristic memoir is…a celebration of life, rebellion, music, and friendship, and it'll make nostalgics of anyone who reads it.
— Nylon, Best Books to Give

A really joyful portrait of cycling around the city, going to punk shows, seeing gentrification happening and being aware that you're part of it, mourning what's disappearing, but also valuing the new.
— Five Books

Hopper's writing is impressionistic and anecdotal (with the sort of eye for detail which makes every scene jump off the page and appear as a set piece built right in front of you).
— Passion of the Weiss

Night Moves is a dozen thorny roses for the city that keeps blowing its windy-ness beneath her darkly comic wings.
— PopMatters

The equivalent of a cinema vérité film, with scenes slipping in and out of focus and a chronology deliberately jumbled…[Night Moves] is a series of gritty, unpolished, candid vignettes that allow readers to glimpse a city experienced by a young woman who is both part of the underground music scene and an observer of it, with a wary eye and wry humor.
— Library Journal

Hopper collects the detritus and reassembles a city strung along a train bridge and overheard musics…Turning her ear to sonic echoes, Hopper remakes that Chicago here—that city already far gone.
— Rain Taxi

[Night Moves] may be best evoked in an image of Hopper and a friend walking their bikes home late at night, trying to think up an old band's back catalogue: 'Aging longers waxing nerdy in the night light.'
— Adroit Journal
University of Texas Press, 9781477317884, 184pp.
Publication Date: September 18, 2018
About the Author
<p>Jessica Hopper is a music critic and the author of <i>The First Collection of Criticism By A Living Female Rock Critic</i>. She was formerly the Editorial Director at MTV News, and an editor at Pitchfork and Rookie. Her essays have appeared in Best Music Writing for 2004, 2005, 2007, 2010, and 2011. Her book <i>The Girls' Guide to Rocking</i> was named one of 2009's Notable Books For Young Readers by the American Library Association.</p>
Book Videos