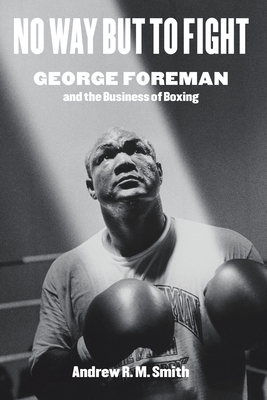 No Way but to Fight
George Foreman and the Business of Boxing (Terry and Jan Todd Series on Physical Culture and Sports)
Hardcover

* Individual store prices may vary.
Description
Olympic gold medalist. Two-time world heavyweight champion. Hall of Famer. Infomercial and reality TV star. George Foreman's fighting ability is matched only by his acumen for selling. Yet the complete story of Foreman's rise from urban poverty to global celebrity has never been told until now.
Raised in Houston's "Bloody Fifth" Ward, battling against scarcity in housing and food, young Foreman fought sometimes for survival and other times just for fun. But when a government program rescued him from poverty and introduced him to the sport of boxing, his life changed forever.
In No Way but to Fight, Andrew R. M. Smith traces Foreman's life and career from the Great Migration to the Great Society, through the Cold War and culture wars, out of urban Houston and onto the world stage where he discovered that fame brought new challenges. Drawing on new interviews with George Foreman and declassified government documents, as well as more than fifty domestic and international newspapers and magazines, Smith brings to life the exhilarating story of a true American icon. No Way but to Fight is an epic worthy of a champion.
Praise For No Way but to Fight: George Foreman and the Business of Boxing (Terry and Jan Todd Series on Physical Culture and Sports)…
An insightful life study...Smith's captivating narrative suggests that Mr. Foreman is much more than the outsize roles he has played…[No Way but to Fight] makes it plain that the man who was once one of the rarest of power punchers is also one of those rare celebrities who seem to have learned from their vast experience.
— Wall Street Journal

Unquestionably, [Smith] did his homework, including research into declassified government documents, and he takes readers to far-flung locales, including Zaire in 1974 or the famous 'Rumble in the Jungle' with Muhammad Ali…students of the sport will find plenty to chew on.
— Kirkus

Comprehensive…[Smith's] analysis reaps insights and dispels misconceptions, bringing forth little-known details about the great fighters of Foreman's era.
— Foreword Reviews

A compelling glimpse into the career of a true American success story.
— Booklist

[A] well-researched account…Foreman fans and those who remember his Rumble in the Jungle will enjoy this adept look at the champion's life inside the ring.
— Library Journal

[No Way but to Fight] will fill a need for information about all of Foreman's life story.
— All Sports Books

Excellent…a superbly well-researched account of George Foreman's eventful life…This is a cracking story and while Foreman's life has been dissected before, Smith's account, which includes fresh interviews with the man himself as well as extracts from recently declassified government documents, rates as perhaps the best.
— Bristol Post

[A] fascinating, colorful new biography…From an era when boxing's influence reverberated across the United States and the globe, to when Foreman became better known for his infomercials than what he accomplished in the ring, No Way but to Fight uses the boxer as a lens to show a changing society. Smith emphasizes Foreman's ability to reshape and adapt his image while also nothing the athlete's complexities. He writes of a boxer who ultimately triumphed in the most unvirtuous of sports.
— Texas Observer

In No Way but to Fight, Smith…shows that from his upbringing in Houston's Fifth Ward to his role as a spokesman for the Foreman Grill, Foreman always fought to redefine himself along with the times. Smith's telescoping view showcases a Foreman that played with different personalities—including American patriot, soul man, and evangelical preacher—in order to achieve success at distinct stages of his life...No Way but to Fight will appeal to readers interested in the links between money, race, and prize fighting in the United States.
— New Books Network: Sports

Smith's major achievement is situating Foreman's life in boxing within the broader social, economic and political dimensions of America and other parts of the boxing globe...[Smith] has a superb understanding of what happens both inside and outside the ring, and of the larger-than-life characters who strut boxing's parade. He is also a master wordsmith, enlivening his analysis with wonderful turns of phrase. [No Way but to Fight] provides a masterful warts and all account of the life and career of George Foreman, and the dark arts of the world of boxing.
— Newtown Review of Books

Biographies of heavyweight boxing champions have the potential to attract both a general and an academic readership. Andrew R. M. Smith's accessible prose and narrative pace achieve this difficult balance, and his study of George Foreman provides important perspective in a market saturated by studies of Muhammad Ali.
— Southwestern Historical Quarterly

Smith captures all [Foreman's] twists and turns in [No Way but to Fight]...Smith's examination of Foreman is less of a straight biography than it is a look at the changing business of boxing from the 1960s to the 1990s, using his career as a lens through which to look at those shifts. This is a successful approach at points, particularly when looking at how the Job Corps helped set the stage for his boxing career and why so many of his major fights took place overseas. It provides a depth to the topic at hand and any reader is sure to learn a ton about the details of his life and career here...a certainly worthwhile and thoughtful read.
— FanSided

Smith skillfully details the intricacies of the business of boxing while chronicling Foreman's boxing career. Both the sport management community and casual readers will find No Way but to Fight an engaging read...Like Foreman himself, No Way but to Fight has the potential for wide appeal...Sport management faculty members will find the book useful for the abundance of illustrative examples that can be gleaned from the book thanks to Smith's meticulous research of Foreman's career.
— Journal of Sport Management

Smith has penned a fight saga that followers of the 'sweet science' of boxing will enjoy reading for its blow-by-blow detail of George Foreman's climb from amateur to two-time heavyweight boxing world champion.
— Journal of American History

The chameleon-like nature of Foreman's image makes him a slippery subject for a biographer, but Smith deftly charts the boxer's evolution from his initial appearance in the limelight as the symbol of patriotic African American athletes at the contentious 1968 Olympics to the grandfatherly television figure of the early twenty-first century...An excellent account of both the public and private George Foreman...a strong monograph that deserves a wide audience in academia and beyond.
— Journal of Sport History

No Way But to Fight makes a persuasive case for Foreman's importance in the rise of the itinerant global boxing champion, providing a wider context for understanding this phenomenon beyond merely crediting [Muhammad] Ali...as the athlete who solely made this happen. The book is very strong at explaining the nature of the boxing business, how big fights are financed, and how venues are chosen...No Way but to Fight reveals that Foreman was a great actor, a great reinventor, who did indeed have a second act that Ali never did...What No Way but to Fight makes clear, much to its credit, is that Foreman learned that life, like boxing, is not about outshining your opponent but outlasting him.
— Journal of African American History
University of Texas Press, 9781477319765, 400pp.
Publication Date: January 10, 2020
About the Author
Andrew R. M. Smith is an assistant professor of sport management and history at Nichols College. Originally from Guelph, Ontario, he lives with his wife and daughters in Woodstock, Connecticut.