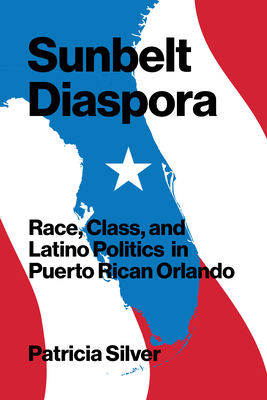 Sunbelt Diaspora
Race, Class, and Latino Politics in Puerto Rican Orlando
Hardcover

* Individual store prices may vary.
Description
Puerto Ricans make up half of Orlando-area Latinos, arriving from Puerto Rico as well as from other long-established diaspora communities to a place where Latino politics has long been about Cubans in Miami. Together with other Latinos from multiple places, Puerto Ricans bring diverse experiences of race and class to this Sunbelt city. Tracing the emergence of the Puerto Rican and Latino presence in Orlando from the 1940s through an ethnographic moment of twenty-first-century electoral redistricting, Sunbelt Diaspora provides a timely prism for viewing how differences of race, class, and place play out in struggles to claim political, social, and economic ground for Latinos.
Drawing on over a decade of ethnographic, oral history, and archival research, Patricia Silver situates her findings in Orlando's historically black-white racial landscape, post-1960s claims to "color-blindness," and neoliberal celebrations of individualism. Through the voices of diverse participants, Silver brings anthropological attention to the question of how social difference affects collective identification and political practice. Sunbelt Diaspora asks what constitutes community and how criteria for membership and legitimate representation are negotiated.
Praise For Sunbelt Diaspora: Race, Class, and Latino Politics in Puerto Rican Orlando…
Silver offers a groundbreaking perspective on the recent social history and politics of [Orlando] by unravelling the dynamics of race, class and place-making in the development of a heterogeneous community...The true value of this book is its ability to scrutinize the unseen sociopolitical realities that shape Puerto Ricans and other Latinxs' efforts for community organization and political participation in this new place. Silver has made an impressive contribution to fields of Latinx migration and politics by focusing on the recent history of the understudied area of central Florida. Researchers, students, and a wider audience will be fully satisfied with the vivid life histories of this well-written book.
— The Independent Scholar

Throughout Sunbelt Diaspora, Silver demonstrates how Puerto Ricans and, more generally, other Latinos have affirmed their presence in spite of their circumscribed political and social positioning in the imagined community of the United States, Florida, and Orlando...The expanse of data collected and examined in this study, combined with an insider-outsider perspective integrated throughout and critiques informed from perspectives in Puerto Rican and Latino studies make Sunbelt Diaspora an original contribution to the literature on Latinos in the region and provide a space for this work to engage in dialogue with comparative studies on Latinos in traditional and nontraditional urban destinations.
— US Latina & Latino Oral History Journal
University of Texas Press, 9781477320457, 320pp.
Publication Date: April 15, 2020
About the Author
Patricia Silver is an anthropologist affiliated with the National Coalition of Independent Scholars. For more than a decade, she has conducted ethnographic, oral history, and archival research about Puerto Rican experiences in Orlando, with an emphasis on sociocultural heterogeneity and collective identification. Silver holds a PhD in cultural anthropology from American University. She has published her findings in numerous academic journals and authored expert testimony as part of a 2014 federal case against Orange County, Florida, for diluting the Latino vote during redistricting.