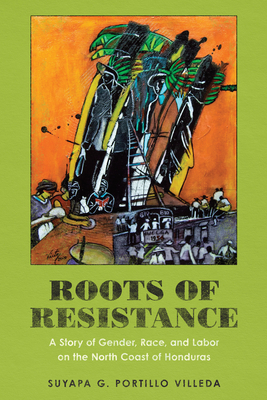 Roots of Resistance
A Story of Gender, Race, and Labor on the North Coast of Honduras
Hardcover

* Individual store prices may vary.
Description
Winner of the 2021 Sara A. Whaley Prize of the National Women's Studies Association (NWSA)
On May 1, 1954, striking banana workers on the North Coast of Honduras brought the regional economy to a standstill, invigorating the Honduran labor movement and placing a series of demands on the US-controlled banana industry. Their actions ultimately galvanized a broader working-class struggle and reawakened long-suppressed leftist ideals. The first account of its kind in English, Roots of Resistance explores contemporary Honduran labor history through the story of the great banana strike of 1954 and centers the role of women in the narrative of the labor movement.
Drawing on extensive firsthand oral history and archival research, Suyapa G. Portillo Villeda examines the radical organizing that challenged US capital and foreign intervention in Honduras at the onset of the Cold War. She reveals the everyday acts of resistance that laid the groundwork for the 1954 strike and argues that these often-overlooked forms of resistance should inform analyses of present-day labor and community organizing. Roots of Resistance highlights the complexities of transnational company hierarchies, gender and race relations, and labor organizing that led to the banana workers' strike and how these dynamics continue to reverberate in Honduras today.
Praise For Roots of Resistance: A Story of Gender, Race, and Labor on the North Coast of Honduras…
This is an ambitious project with many strengths. First and foremost, Portillo succeeds in recovering the voices of women workers... Portillo's work on
domestic relations reveals rich ground for future studies on the interplay of labor and gender in banana zones...Portillo has succeeded in writing a bottom-up study of the 1954 strike that will be of interest to scholars interested in integrating women workers' stories into broader labor histories.
— The Americas
University of Texas Press, 9781477322185, 432pp.
Publication Date: April 20, 2021
About the Author
Suyapa G. Portillo Villeda is an associate professor of Chicana/o-Latina/o Transnational Studies at Pitzer College and a member of the intercollegiate department of Chicanx Latinx studies at the Claremont Colleges Consortium.