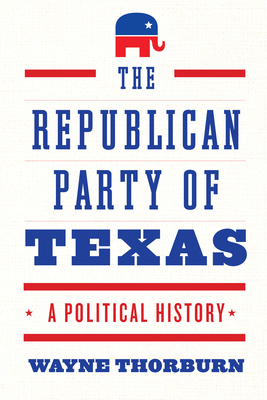 The Republican Party of Texas
A Political History
Hardcover

* Individual store prices may vary.
Description
On July 4, 1867, a group of men assembled in Houston to establish the Republican Party of Texas. Combatting entrenched statewide support for the Democratic Party and their own internal divisions, Republicans struggled to gain a foothold in the Lone Star State, which had sided with the Confederacy and aligned with the Democratic platform. In The Republican Party of Texas, Wayne Thorburn, former executive director of the Texas GOP, chronicles over one hundred and fifty years of the defeats and victories of the party that became the dominant political force in Texas in the modern era.
Thorburn documents the organizational structure of the Texas GOP, drawing attention to prominent names, such as Harry Wurzbach and George W. Bush, alongside lesser-known community leaders who bolstered local support. The 1960s and 1970s proved a watershed era for Texas Republicans as they shored up ideological divides and elected the first Republican governor and more state senators and congressional representatives than ever before. From decisions about candidates and shifting allegiances and political stances, to race-based divisions and strategic cooperation with leaders in the Democratic Party, Thorburn unearths the development of the GOP in Texas to understand the unique Texan conservatism that prevails today.
Praise For The Republican Party of Texas: A Political History…
Students of American politics will find Thorburn's history valuable.
— Kirkus

[A] granular blow-by-blow account...Political historians will appreciate the fine-grained details.
— Publishers Weekly

In presenting a long timeline with pivotal turning points, [Thorburn] offers a panoramic view of Lone Star politics...Thorburn aims for a deeply-researched take on how Republicans were for a long time the underdogs, striving for a definitive 'two-party' state until they gained dominance.
— Sightlines

Thorburn's book is most useful as a tightly organized, semi-official record of the party's growth in Texas, written with apparent evenhandedness by a major participant in the state GOP. More significantly for non-Texans, it's useful as a stimulus to reflection on the nature of partisan dominance and its potential decay or reversal.
— Law & Liberty
University of Texas Press, 9781477322512, 496pp.
Publication Date: June 1, 2021
About the Author
Wayne Thorburn is a former executive director of the Republican Party of Texas and the author of Red State: An Insider's Story of How the GOP Came to Dominate Texas Politics and A Generation Awakes: Young Americans for Freedom and the Creation of the Conservative Movement.