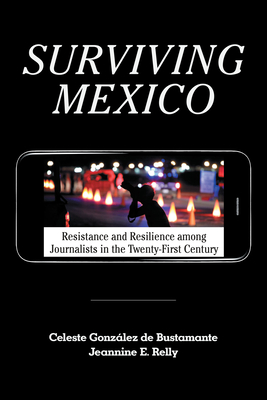 Surviving Mexico
Resistance and Resilience among Journalists in the Twenty-first Century
Paperback

* Individual store prices may vary.
Other Editions of This Title:
Hardcover (7/20/2021)
Description
Since 2000, more than 150 journalists have been killed in Mexico. Today the country is one of the most dangerous in the world in which to be a reporter. In Surviving Mexico, Celeste González de Bustamante and Jeannine E. Relly examine the networks of political power, business interests, and organized crime that threaten and attack Mexican journalists, who forge ahead despite the risks.
Amid the crackdown on drug cartels, overall violence in Mexico has increased, and journalists covering the conflict have grown more vulnerable. But it is not just criminal groups that want reporters out of the way. Government forces also attack journalists in order to shield corrupt authorities and the very criminals they are supposed to be fighting. Meanwhile some news organizations, enriched by their ties to corrupt government officials and criminal groups, fail to support their employees. In some cases, journalists must wait for a "green light" to publish not from their editors but from organized crime groups. Despite seemingly insurmountable constraints, journalists have turned to one another and to their communities to resist pressures and create their own networks of resilience. Drawing on a decade of rigorous research in Mexico, González de Bustamante and Relly explain how journalists have become their own activists and how they hold those in power accountable.
Praise For Surviving Mexico: Resistance and Resilience among Journalists in the Twenty-first Century…
A book filled with stories of horror—and of hope.
— Texas Observer

A meticulously researched study…[Surviving Mexico] is made lively and moving by the many interviews with Mexican journalists and media owners who themselves tell the stories of the dangers and at times, the horrors, that working reporters routinely face in many parts of Mexico.
— ReVista: Harvard Review of Latin America

Urgently indispensable...Based on more than 160 interviews with journalists, activists, and academics across several regions of the country, González de Bustamante and Relly present a highly readable account of the myriad dangers faced by journalists in Mexico, the impact of trauma and violence on their lives, and how individuals and collectives have organized to meet the challenges of working in such a dangerous place.
— Nieman Lab

Surviving Mexico is a much-needed book that offers a wide scope for understanding the endemic violence against Mexican journalists. It will be useful for scholars and journalists interested in understanding the harsh conditions that news workers have to constantly face when doing their jobs. The book's central arguments and discussions are consistent with broader debates on media in the Global South, where emergent democracies struggle with post-authoritarianisms and populisms.
— Journal of Latin American Studies
University of Texas Press, 9781477323694, 304pp.
Publication Date: July 20, 2021
About the Author
Celeste González de Bustamante is an associate professor at the University of Arizona School of Journalism, where she directs the Center for Border and Global Journalism. She is the author of "Muy buenas noches": Mexico, Television, and the Cold War and coeditor of Arizona Firestorm: Global Immigration Realities, National Media, and Provincial Politics.
Jeannine E. Relly is a professor with the School of Journalism and School of Government & Public Policy (with courtesy) at the University of Arizona. She is affiliated with the Center for Latin American Studies. Before joining academia, she worked as a journalist for news outlets in the Caribbean, the Mexico-US borderlands, and several US states. She is the director of Global Initiatives at the UA School of Journalism.