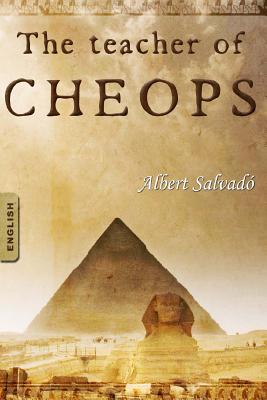 The Teacher of Cheops
Paperback

* Individual store prices may vary.
Description
Winner of the NESTOR LUJ N HISTORICAL NOVEL PRIZE. "I was nervous about this book. Finding a good novel in translation from the tiny state of Andorra, nestling in the Pyrenees between Spain and France, was always going to be tricky... I was in for a pleasant surprise... Salvad has certainly done his homework: the book is painstakingly researched... By and large, the level of detail and historical knowledge is well-handled... The text itself felt professional and slick... this is a highly readable light novel... powerful flashes of insight into human greed, pride and ambition..." (ANN MORGAN, Andorra: Buried treasure, A Year of Reading the Word, http: //ayearofreadingtheworld.com/2012/02/22/andorra-buried-treasure/, London, february 22, 2012) This is the history of the time of Pharaoh Snefru and Queen Hetepheres, the parents of Cheops, who built the largest and most impressive pyramid of all. It is also the story of Sedum, a slave who became Cheops' teacher, the high priest Ramosi, and how the first pyramid came to be built. Sebekhotep, the great wise man of that time, said, "Everything is written in the stars. Most of us live our lives unaware of it. Some can read the stars and see their destiny. But very few people learn to write in the stars and change their destiny." Ramosi and Sedum learned to write in them and tried to change their destinies, but fortune treated them very differently. This is a tale of the confrontation between two men's intelligence: one fighting for power, the other struggling for freedom. Other critics' opinions: "It is a long time since a prize was so justly awarded. THE TEACHER OF CHEOPS deserves every honour... An intrigue that develops at a good pace without causing anxiety... A restrained and inspired piece of writing; an outstanding, intelligent and well-constructed novel." (RAM N VENTURA, El Peri dico) "Salvad develops the mystery with great skill in his novel." (JACINTO ANT N, El Pa s) "Salvad presents a story about power and knowledge through a fast-paced plot combining intrigue, love, mystery, murder and adventure." (ROSA Ma PI OL, La Vanguardia) "Albert Salvad displays seasoned writing skill in this novel... A very well-organised plot... A straightforward, effective style that is a pleasure to read... He achieves accuracy in his writing." (IGNASI ARAGAY, Avui)
Createspace Independent Publishing Platform, 9781477430002, 210pp.
Publication Date: May 12, 2012
About the Author
I borned in Andorra la Vella (1951, Principality of Andorra). Andorra is one of the smallest countries in the word. The country, in the middle of the Pyrenees (between France and Spain), in winter is covered with snow and the national sport is skiing. We are the little Switzerland. I'm industrial engineer and writer. I live at 4500 feets high, in a house in the woods, where I write my books. I've writen children's stories, essays and novels. I'm particularly known for my historical novels. I love to mix reality, fiction and mystery with exquisite subtlety, that always wrap by feelings. I have books published into several languages: Catalan, Spanish, English, French, Portuguese, Greek, Slovak, Czech ... I'm regarded as having breathed new life into the historical novel in the Catalan language. I'm very happy for this title.