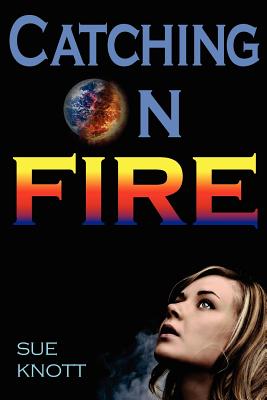 Catching On Fire (Paperback)
Createspace Independent Publishing Platform, 9781477450499, 304pp.
Publication Date: May 12, 2012
* Individual store prices may vary.
Description
From Kirkus Reviews:
Quirky, paranormal adventure...inventive first novel...provocative thesis...Knott's sharp comedic sense permeates her writing...imaginative tale peppered with adventurous escapades...
Read full review at: https: //www.kirkusreviews.com/book-reviews/sue-knott/catching-on-fire/
From Goodreads reviews:
"One of the best books I have read..I wasn't able to put it down...I wish I could know what the characters are doing now..." Vivianna
"I don't think I've read anything this unique in a while." Sage
"I recommend this to any type of reader, no matter what genre of book you tend to enjoy " Andrea
________________
Visions of a horrific, dystopian future have been tattooed on Rachel's brain for as long as she can remember. She believes the strange symbols attached to those visions are the key to avoiding that future. When she discovers someone else shares the same visions, she dedicates herself to finding other seers and unlocking the mystery of the symbols. Her quest grows in urgency as the present appears to increasingly resemble the path to the future she fears.
During her quest, Rachel discovers that answers -- and love -- are elusive. And people are not always as they appear.
Blurring the line between reality and fiction, this novel combines elements of romance, mystery, intrigue, and science in a way that should appeal to a wide variety of readers.
Set in Buffalo, NY, and Tortola, BVI Suitable for mature young adults as well as adult readers.
About the Author
Sue Knott has been writing professionally for more years than she cares to admit. She is the doting mother of a teen son and the long-suffering wife of an equally long-suffering (but much crankier) husband. She has also been "mom" to a bunny (now deceased) and an extremely energetic Siberian Husky who jumps on her keyboard when she's busy writing. She has had a varied and successful career as an advertising copywriter. She has lived in Pittsburgh, PA; NYC; LaCrosse, WI; Scranton, PA; and currently makes her home in upstate NY. Occasionally she tries her hand at stand-up comedy, though she is in complete and total terror whenever she takes the stage. Sue is an avid gardener and wishes she had time to pursue craft projects or even just to clean her house. Sue has a sweet tooth. She wears a size 9 shoe. She collects art glass. She recycles. She sewed her own wedding gown (big mistake). She revels in the outdoors and longs to be on the beach. She prattles on at the keyboard. She is a safety nutcase. And she loves to Zumba.